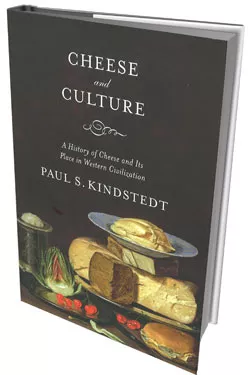 As a cheese scientist, Paul Kindstedt is disappointed in Homer. The Odyssey includes one of history's first detailed descriptions of rennet-assisted cheesemaking, in the sequence where Odysseus and his men steal cheese from Polyphemus the Cyclops. But the specifics are a little spare for Kindstedt's tastes.
"Sometimes [Homer] leaves out important parts. He's a poet — he didn't need to get all the details," says Kindstedt, a University of Vermont food-science professor and codirector of the Vermont Institute for Artisan Cheese. He regrets that Homer's narrator didn't note whether the Cyclops added salt to his cheeses and took no pains to describe the cooking process. Still, Kindstedt believes that, whoever Homer really was, he had first-hand knowledge of cheesemaking processes in either coastal Asia Minor or Sicily. The poet provides enough information for Kindstedt to conclude that the cheese Odysseus and his men ventured into the cave to steal was probably an ancestor to modern Pecorino Bagnolese or Caprino d'Aspromonte.
That's just one of the nuggets that obsessed Kindstedt in the nearly 10 years he spent researching the social, religious and medical history of cheese from prehistory to today. The result is his new book, Cheese and Culture: A History of Cheese and Its Place in Western Civilization, released by Vermont publisher Chelsea Green.
The process began in 2003, says Kindstedt, while he was at work on his previous book, the definitive American Farmstead Cheese: The Complete Guide to Making and Selling Artisan Cheeses. Seeking some historical context for modern artisan cheesemaking, the author decided to write a chapter or two about the origins of cheese. He soon realized that all-consuming project would be a book in itself.
The story of cheese begins shortly after 7000 B.C., when pottery was an exciting technological advance and humans were just starting to keep and milk cattle. Neolithic man, however, was lactose intolerant. Adults only began producing the lactase necessary to digest dairy around 5500 B.C.
How does Kindstedt know this? Genetic analysis. "All this new information is rolling out in the archaeological realm. Archaeogenetics, archaeobotany, archaeochemistry…" Kindstedt says. "The timing for writing this book has been just magnificent." As he began researching, he says, "new revelations had just come out to fill in a lot of the blanks of the historical and prehistorical record." And revelations are still coming: "By the time you finish reading the book, there will be new information to incorporate," says Kindstedt, who is planning a second edition loaded with fresh data. "That's exciting. My work isn't done."
Despite all the facts Kindstedt was able to dig up, it was important to him not to produce a cheese trivia book, he notes. He wanted to weave the stories into a history that spanned the period from the birth of agriculture and the Fertile Crescent to the modern rebirth of artisan cheesemaking.
Kindstedt was surprised to find that one of the dominant recurring themes in his story was religion — or "the intertwining of religious expression with cheese history from start to finish," says the author, himself a practicing Christian. Cheese has "always been intertwined with spiritual features of the place and time," he notes.
Kindstedt begins nearly every chapter in the book with a Bible verse focused on cheese. Most important is one from Job, begging God to pity him: "Did you not pour me out like milk and curdle me like cheese, clothe me with skin and flesh and knit me together with bones and sinews? … Why then did you bring me out of the womb?" This description of human conception as curdling cheese wasn't just a metaphor; it was ancient science. Aristotle's theory of the beginning of life advanced the same notion of semen coagulating menstrual blood into a fetus — comparing it to rennet, cardoon or fig sap. Think about that the next time you cut some cheddar.
But curds were also important in many religions outside the Judeo-Christian world. Says Kindstedt in Cheese and Culture, "According to the Roman writer Pliny, Zoroaster subsisted on cheese for twenty years in the Persian desert as he sought spiritual enlightenment." Cheese was an important bloodless offering in the Greek tradition. High-maintenance priestesses of Athena were only allowed to eat imported, aged cheese — the fresh stuff just wouldn't do. Long before that, the Hittites used cheese in celebratory rituals.
Kindstedt tells Seven Days he's even noticed a strong spiritual component in modern alternative agriculture. And, as a major figure on the front lines of the movement, he should know.
In 1986, when he arrived at UVM fresh from earning his PhD in food science at Cornell, Kindstedt's focus was on making large-scale "commodity" cheesemaking more efficient. That began to change in 1988, when officials at what's now known as the Vermont Agency of Agriculture, Food and Markets asked him to teach a three-day workshop for new farmstead cheesemakers.
At first, says Kindstedt, he "really felt threatened" by grassroots cheesemaking, balking at the lack of oversight and the idea of selling a product made from raw milk. "At that time, this eclectic group of artisan cheesemakers [was] really looked down upon with fear and arrogant, condescending attitudes among academics," he says. "They were doing things in a very different way from the train of progress in American cheesemaking."
What changed Kindstedt's attitude was getting to know the personalities behind the cheese. Far from reckless flakes, the scientist says, he found the cheesemakers to be "really sharp folks who want to do a good job."
So he committed to the path of mentoring newbies to Vermont's burgeoning cheese scene, which eventually led to the establishment of UVM's Vermont Institute for Artisan Cheese, the United States' only center devoted to that subject. Its courses of study include beginning and advanced certificate programs in cheesemaking. Milk and cheese chemistry and food safety are major components of the curriculum, but so is sensory evaluation — taught by Monserrat Almena-Aliste, whose expertise lies in tasting cheese, yogurt, coffee and chocolate.
As a scientist, Kindstedt admits he's more interested in why and how cheese is made than how it tastes. "It's exhausting to become encyclopedic when it comes to cheese," he says. "To experience all those cheeses and speak with authority — I can't do that."
Yet. Kindstedt is always expanding his knowledge base; right now, he's especially eager to head to Turkey to taste some of its native cheeses. In Cheese and Culture, he postulates that the very first, Neolithic cheeses tasted similar to simple, acid-coagulated çökelek. For now, Kindstedt can only rely on the description of a Turkish colleague he met at a meeting in Sicily last fall. "It's powerful," he says. "[Ancient near-Eastern cheeses] tend to be very strong flavors, very foreign, that most of us would not be accustomed to."
After all, the expert points out, cheesemaking is simply controlled rotting. Bacterial developments caused by particular environmental circumstances, such as the hot Anatolian sun, can create a taste wholly unfamiliar to Vermonters accustomed to a cold-weather, cave-aged curd.
That artisan model is where cheese is headed in the future, at least in the Green Mountains, says Kindstedt. "We can't sell the lowest-price cheese ... in the country," he explains. "The survival of cheese in Vermont will depend on not producing the lowest-cost cheese but cheese that can command the price. Value-added cheese that can be sold at a higher price to make it economically feasible."
Kindstedt names Cabot Creamery as a model of how he hopes growth in Vermont cheese production will look in the next century. He admires the company's connection with farmers and smaller cheesemakers and is particularly impressed with the partnership between Cabot and the Cellars at Jasper Hill in Greensboro. As many cheese heads know, that collaboration, which began in 2003, resulted in the revived popularity of ultranutty and tangy clothbound cheddar. "Now we have a whole new category that didn't exist 15 years ago," says Kindstedt.
But, as any good historian will tell you, to know our future, we must first know our past. For his next project, Kindstedt has plans to examine a cheese chronology closer to home. He and fellow UVM faculty members recently wrote a grant proposal for a multidisciplinary study of the history and sociology of Vermont cheese.
Local cheese history may not feature many Cyclops encounters, but it's alive — and edible — around us. Vermonters still slice into Crowley Cheese, which began manufacturing in 1824. Grafton Village Cheese Company and Cabot Creamery also date to the 19th century.
"I would love to write a book on what happened," Kindstedt says. And we would love to read it.