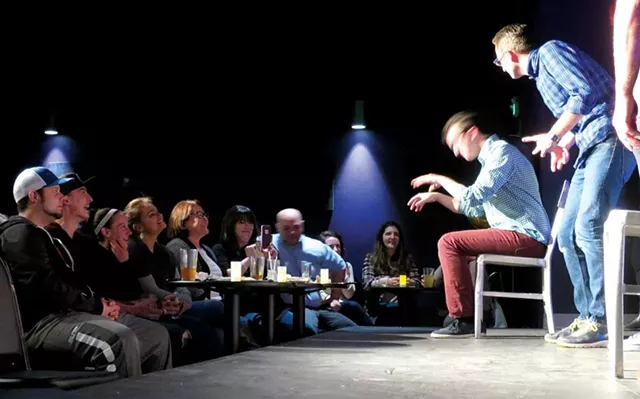 File: Matthew Thorsen
Vermont Comedy Club
Burlington's bustling live music scene is the stuff of legend — turn to page 70 for more on that. But our nightlife goes beyond killer tunes. And let's face it: Sometimes you crave a band-free alternative. Read on to discover another equally entertaining side of the Queen City — one that'll make you laugh, think, sing and come back week after week.
The Joke's on You
A priest, a rabbi and a horse walk into a Burlington bar. They sit down, order a few drinks and laugh hysterically all night long. (Rimshot!) OK, so our punch lines need some work. Fortunately, we can leave the funny business to the city's legion of hilarious standup, improv and sketch comedians.
The heart of the comedy scene is the Vermont Comedy Club. Since 2016, the ha-ha hot spot has been drawing some of the best and brightest talent in the country, from cutting-edge up-and-comers to established stars like Marc Maron, Nikki Glaser and Hari Kondabolu, to name a few. Stop by, too, for recurring series such as the Open Mic and improv Indie Rumbles every Wednesday, and the Thursday Mainstage Show with VCC's house long-form improv team, the Unmentionables. You can even join the fun at a standup or improv class.
Other options include the Monday Comedy & Crêpes series at the Skinny Pancake, the lively Comedy Open Mic every Tuesday at Drink, and the semiregular Pullin' Yo Chain and Cup of Comedy series at Radio Bean. For more offbeat and experimental fare, try Revelry Theater, a tiny black box that offers an array of comedy shows, with a particular focus on improv.
101 Main St.
Burlington, VT
802-859-0100
Performing Arts, Nightclub and Bar
What's the Story?
The same priest, rabbi and horse walk into another Burlington bar. They each get up onstage and relay personal, heartwarming stories of adversity and redemption, told with skill, wit and charm. (We'll go ahead and retire this bit now.)
As anywhere, storytelling nights are hugely popular in Burlington. Many fall under the purview of the Moth, a national nonprofit storytelling organization — you might have heard its weekly National Public Radio show, "The Moth Radio Hour." ArtsRiot hosts a monthly Moth-affiliated StorySLAM. Also monthly is Storytelling VT at the Light Club Lamp Shop, where local bards spin true-life yarns every first Tuesday.
Those with more literary aspirations would do well to check out the weekly Lamp Shop Lit Club — say that five times fast, we dare you — also at the Lamp Shop. Every Monday, poets and writers gather for an open reading with occasional featured guests.
Location Details
ArtsRiot
400 Pine St.
Burlington, VT
802-540-0406
Nightclub, Performing Arts, Events Venue and Gallery
Get Smart
Pop quiz, hot shot: How many trivia nights are there in the greater Burlington area? If you answered "a bazillion," congrats! (We also would have accepted "a gazillion.") We're honestly not sure how many brainiac bar nights there are in this town. But there's no shortage of opportunities to show off your knowledge of 16th-century Chinese architecture, 1970s Swedish disco bands, obscure French cinema and foods that start with the letter Q.
You can enter a battle of wits almost nightly at our local bars. But some of our favorite weekly trivia nights include the occasionally themed Tuesday games at ArtsRiot and Waterworks Food + Drink, Wednesday's sports and entertainment trivia at City Sports Grille, and the granddaddy of 'em all in BTV: Trivia Mania Thursdays at Nectar's.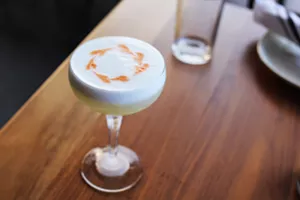 20 Winooski Falls Way
Chittenden County
Winooski, VT
802-497-3525
American (New)
Tune Out
Do you belt Jeff Buckley's "Hallelujah" in the car with dreams of "The Voice" stardom? Can you sing along to Lynyrd Skynyrd's "Free Bird," A-ha's "Take on Me" and Lil Nas X's "Old Town Road"? Can you read? We're guessing you kill at karaoke, then.
Much like trivia, karaoke is a staple at area watering holes. But not all karaoke nights are created equal. On Mondays, head to Manhattan Pizza & Pub. Popular with the musician and artist crowds, the talent level at "Hattie's" is high. Strive to win a T-shirt at Godfather Karaoke every Wednesday at SideBar. For a more low-key hump day (hump night?) experience with classic-rock flair, try the Old Post. Fridays, hit up the St. John's Club, which is also the only night the lakeside club is open to the public. For the classic experience, look no further than JP's Pub, which hosts karaoke Wednesday through Saturday.
167 Main St.
Burlington, VT
802-658-6776
Pub Food and Nightclub
Moving Pictures
Been a while since you've seen Close Encounters of the Third Kind, Raiders of the Lost Ark or the original version of Psycho? Get your classics fix every Tuesday at Main Street Landing. For more high-brow fare, check out the monthly film series curated by the Vermont International Film Festival, which features acclaimed movies from both home and abroad, also at Main Street Landing. VTIFF's annual multiday fest in October features films from Vermont and around the world.
Film fetishists flock to schlock at Cinema Casualties. The monthly-ish series specializes in sleaze: think B-movie horror, grindhouse flicks and other cult classics. Catch it — if you dare — at ArtsRiot.
In the warmer months, pull up for a double (or sometimes triple) feature at the kitschy-cool Sunset Drive-In in Colchester. Check out Merrill's Roxy Cinemas downtown for the latest in art house — and the best movie theater popcorn around. For mainstream movies, Palace 9 in South Burlington and Majestic 10 in Williston are fine options. And when the next 3D mega-blockbuster hits, get thee to the gigantic T-Rex Theater in Essex Junction. It's the closest you'll get to IMAX without going to Montréal.
60 Lake St.
Burlington, VT
802-540-3028
Events Venue
222 College St.
Burlington, VT
802-864-3456
Movie Theater