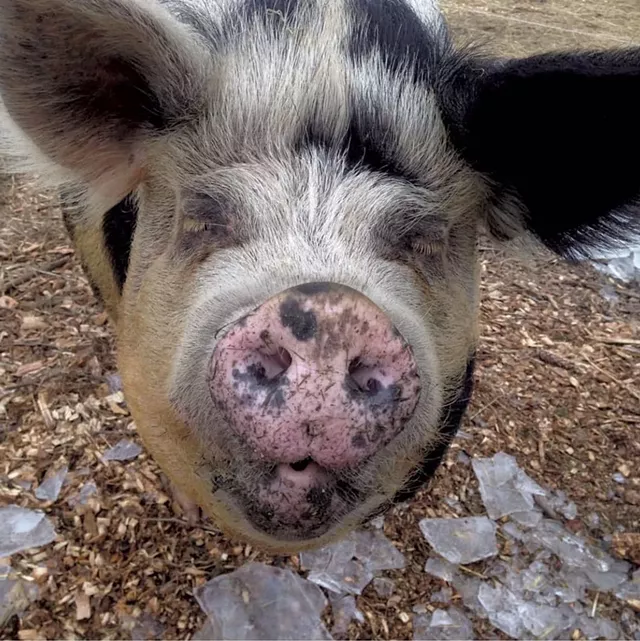 Teach the children. We don't matter so much, but the children do ... Give them the fields and the woods and the possibility of the world salvaged from the lords of profit. Stand them in the stream, head them upstream, rejoice as they learn to love this green space they live in, its sticks and leaves and then the silent, beautiful blossoms.
— Mary Oliver, Upstream
On a sunlit spring Wednesday, Village Schoolers sprint from the grassy knoll above Bread & Butter Farm back to farm central for a particularly special lunch. The kids, ages 7 to 12, are still buzzing with stories from the day's activities, or "guilds," when they are greeted by farm owner, Corie, and her four-person lunch team.
Mentors and students alike struggle not to rush to the bounty of taco shells, chorizo, freshly harvested cilantro, cheddar cheese, sour cream and salsa, as Corie signals for a quiet moment. This lunch, she explains, is special not just because of the abundance of deliciousness, but because the chorizo itself came from Gertie, beloved great-great-grandmother pig on the farm.
The resulting quiet is dense. Though not everyone will choose to partake of Gertie's meat, the meal all of a sudden becomes personal, tangible, important. We take a silent moment together to honor her life, her role in the farm family, and the responsibility of carrying on her energy within ourselves. As we sing our song of gratitude for the day's meal, I look around and think, What an amazing community this is.
Bread & Butter Farm is the site of three hoophouses, two outdoor gardens, a herd of cattle and pigs, a flock of chickens, summer camps, and a community Burger Night on summer Fridays. Once the site of a major dairy operation, the Shelburne farm is also home to Village School, a farm, food and forest school where I serve as a mentor. This program combines farm work, outdoor skills, mentorship and community building within a context of collective responsibility for life on the farm.
Some students who participate are homeschooled; others leave their schools one day a week to attend Village School. As their year on the farm unfolds, they discover their ability to contribute to and take responsibility for life on the farm. And as connections to farm animals deepen, questions emerge: Why can't the farm keep animals for their whole lives? Who decides which ones live or go to slaughter? How can we eat animals that we've cared for, loved and connected with?
There are no simple answers. In a culture where animals are either beloved pets at home — fed and cared for through the end of their lives — or unrecognizably packaged for sale in the supermarket, making the connection that all meat, indeed all food, comes from once-living beings is simply not a comfortable realization for many young people. In my own case, it prompted a few weeks of vegetarianism after a family fishing trip in middle school. Similarly, a few Village Schoolers decided to take a break from eating meat after Gertie went to slaughter.
And yet, this realization is a chance to confront the truth that people are always a part of the world we live in — that we must take food as energy into our bodies, and this food comes from life, whether plant or animal. Taking life is an essential part of forwarding life itself. Whether the harvest of spinach from the hoophouse, baby greens in the farm store, or Gertie going to slaughter, energy transfer is a core part of what it means to be alive.
This is why we sing gratitude before Village School lunch each day, to honor the lives taken to sustain our own, and to set an intention to carry this energy forward into love and care for the lives on and around the farm. Understanding where our food comes from — literally pulling it from the earth, plucking it off a vine or tree, or caring for an animal that provides eggs, milk or even its body, as meat — is a privilege we take seriously.
Alongside the ethical weight is the joy: the delight of on-the-fly snacking on salad greens in the garden, of sirloin steaks flash-grilled over a wood fire by beaming 10-year-olds, of hand-carrying food and water to the families of pigs loving their new hedgerow habitat. And the deepest joy: seeing young people growing and unfolding their best selves through this work.
Village Schoolers learn to feel the messiness and wonder of life itself. To care for the spinach grown in the hoophouses, and also to harvest it for community lunch. To learn how cattle enrich soil as they travel from pasture to pasture, and feel the joy with which they run into fresh fields. To deeply grieve the loss of Gertie, but to honor her life by taking her into themselves as food they prepare for each other. Or, maybe, by deciding to take a break from eating meat, to see how their feelings settle as time goes on!
Through all of this, we hope to invite the sentiment that the Earth — and life itself — is not something to be claimed as a resource, but something to tend, appreciate and grow alongside. Getting real about food — where it comes from, how it's grown, tended and harvested — helps people of all ages realize a connection with the Earth, its richness, beauty and gifts. That, in turn, helps bring us back into a relationship of gratitude, appreciation, and care for life itself and our part within it.
Looking around at this community of young people enjoying lunch together in the warm spring sun, the feeling of gratitude is inescapable: How lucky we are to be in this work together.