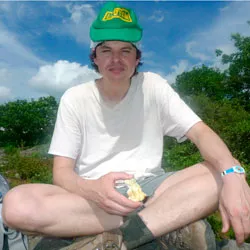 Deep in the middle of a two-hour conversation with Chris Weisman, one thing has become clear: The guy just wants to be understood. At the moment, he's trying to explain why he isn't on a plane to Los Angeles.
You see, Weisman has just returned from driving his friends Kyle Thomas and Ruth Garbus to the airport. They're his bandmates in Happy Birthday, a project that revolves around Thomas' arty, indie-pop songs. In 2009, Thomas signed a record contract with Seattle indie label Sub Pop, and he and Garbus are currently on a West Coast tour to promote their first record, with friend Allen Bleyle on bass. Though Weisman had an integral role in arranging and recording the album — contributing the Beatles-esque harmonies, complex chords and an instrument of his own invention, the "inverted-tuning" guitar — he'll be running a rock camp for teenagers at the Portsmouth Music and Arts Center in Portsmouth, N.H., while his bandmates are driving around out west.
So, why is Weisman staying home? It's complicated. For one thing, he's an ardent environmentalist. Touring involves burning a lot of fossil fuels. And in any event, he doesn't like the on-the-road lifestyle: driving all day, going into a dark bar, playing a short show, trying to find a place to sleep, waking up and leaving town, only to do it all over again. And again. Then there's the simple fact that he'd rather do other things.
"I basically like to make music all the time," Weisman says. "With touring, the sliver of time that you actually get to devote your energy to playing is very little. And writing? Just forget about it. Whereas, on a normal day in Brattleboro, I have a few lessons to teach, then I have hours and hours and hours to write or practice or record, or, if I'm not inspired, to take a walk up the mountain. So, I just really, really like my life here a lot."
Weisman, a self-described Beatles fanatic, grew up in New Hampshire, where he and childhood friend Ben Stamper (of Ben + Vesper) first recorded albums under the name CLOV using their high school music teacher's four-track. Weisman went on to study music theory and jazz guitar at the University of New Hampshire. In a theory class, he met Ryan Power, now known as one of Burlington's busiest jacks-of-all-musical-trades.
"Chris would either be in the front, answering all the questions, or in the back row sleeping," Power recalls from his living room/recording space in Shelburne. "And I thought, Who is this guy who knows all these answers? He's so arrogant. He seems like such an asshole." Power laughs out loud at the memory. Soon enough, the two realized they had a lot in common and started spending nearly every day together, playing jazz guitar and practicing improvisation. Now, as Power puts it, "We're essentially brothers."
After college, Weisman dedicated himself to teaching guitar lessons, writing songs and recording albums on a four-track. He calls his style "post-Beatles songwriting," and draws from the Fab Four's late period to create his own harmonically adventurous, idiosyncratic and psychedelic pop music.
"In high school, I was a psychedelic-song guy. Then I went to college and became a jazz guy," Weisman explains. "And ever since that, I've always had this dichotomy between the two where I am, like, Maybe I should just be a straight-up free-jazz musician and really work on it and try to get an academic position somewhere. Or, I really shouldn't try to do jazz stuff, because everyone in indie rock hates jazz. Fortunately, I never really make it completely into one of the camps. But I have been cursed with trying to decide between them."
In 2007, Weisman tried to make that decision. He had gone through a big breakup and had decided to stop writing pop songs and dedicate himself to becoming a "Wire magazine guy" (referring to the British experimental-music publication). He worked on a book of 100 "nonmusical patterns" — a visual-pattern system for learning and playing the guitar — and recorded an experimental album.
In January 2008, while he was mixing the album with Power, Weisman realized he had made a mistake.
"It was boring, conceptually, because it was pure," he admits. "Like, now I'm a Wire magazine guy, rather than me being my messy self with the two contradictory things: the pop-song stuff and this jazz stuff, too. And I realized that this whole idea of quitting writing songs was just a total mistake."
Weisman returned to his parents' house in New Hampshire and in less than two weeks recorded an album of songs he called Bicycle Operator and Coach. It ignited a remarkably prolific three years during which Weisman has moved to Vermont, recorded seven albums — including two doubles — and collaborated on another called Northern Songs with Burlington-based experimental musician Greg Davis, as well as on Happy Birthday's debut album in 2009.
Davis, who owns and operates Autumn Records, released a compilation of Weisman's songs, called Tape Walk, in 2009, and the cassette double album Fresh Sip early this year. He'll release Weisman's upcoming double album Transparency & the Other Compass this fall.
"Chris does a great job of adhering to traditional pop forms, but also subverting them in super-unique ways," says Davis. "Sometimes the average listener might hear one of Chris' tunes as a pop song, but then some people might be, like, 'That's weird,' because it doesn't sound right. But he's just extending the pop-songwriting language out of a long lineage of people, and working with different degrees of complexity, and finding new colors and things to work with harmonically and melodically."
And yet, even with his prolific output, Weisman remains largely unknown. He claims to be comfortable with that, even though he recognizes that touring with Happy Birthday could help put his music on the map.
"When I'm recording, it's almost like I'm making a time capsule that I sort of send out into the world on its own," he says. "And I kind of like it to travel on its own engine. And it might take a really, really long time, and it might only find a very few people in the long run, but that's OK to me. Whereas, when I'm out there and I'm really trying to push it more, it fills me with anxiety, like, Why am I not successful?" Weisman continues, "But the minute I give up, I get all excited, like, Oh, man, maybe someday this song will be the cult favorite of this certain person in 50 years."