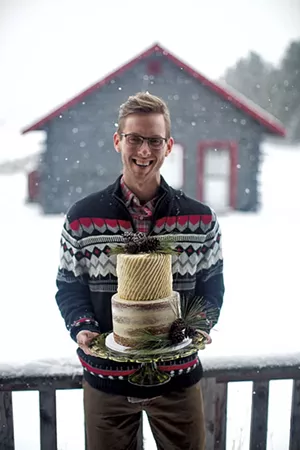 Courtesy Of Thomas Mccurdy
Thomas McCurdy
At their best, the holidays are a time to unwind. Sure, there's the inherent madness of bouncing from one holiday party to the next, traveling to visit far-away family, hosting over-the-top feasts and shopping, shopping, shopping. But once everyone's assembled in the same place, there's not much to do aside from cook, eat and bask in the glow of each other's company.
I like to do my basking with a good book in hand, even if I'm just looking at the pictures or reading the same paragraph over and over while half-engaging in conversation.
For recommendations on this year's holiday reading, I chased down a handful of Vermont food and beverage folks — a chef, a farmer, two bakers and a barkeep — and asked them what's been burning down their bookshelves.
Their picks range from classic authors such as Fannie Farmer and Alice Waters to tomes on Iranian home cookery and a history of salt.
Thomas McCurdy, baker and co-owner, Ardelia Farm & Co., Irasburg
One of my favorite cookbooks from the past few years is Standard Baking Co.: Pastries, by Alison Pray and Tara Smith from Portland, Maine [Down East Books, 2012]. The brownie recipe I've adapted to be my own comes from this book, and all the rustic tarts. They demystify a lot of things [about baking] that would be intimidating for many home bakers. It's just beautifully done.
And you can't really talk cookbooks without talking about Dorie Greenspan. I just love her stories. In Dorie's Cookies [Rux Martin/Houghton Mifflin Harcourt, 2016], the recipes are all so perfect. I've made a bunch of them, and everything turns out great. It's huge, too — more than 500 pages of cookie recipes — and so well organized. I love it.
And it's not for everybody, but David Lebovitz's The Perfect Scoop: Ice Creams, Sorbets, Granitas, and Sweet Accompaniments [Random House, 2007]. I've made probably half the recipes in this book. It's my go-to for my cute little countertop ice cream maker.
They just released a revised, updated 10th anniversary edition, which has recipes for homemade cones and bowls. I've gifted this book to I don't know how many people over the years.
A non-baking book I've read is Michael Solomonov and Steven Cook's Zahav: A World of Israeli Cooking [Rux Martin/Houghton Mifflin Harcourt, 2015]. Zahav was a favorite restaurant of ours in Philly, and it's been so fun to watch it blow up. Our really good friend Mike Persico shot the photos for the book, and it's just beautiful. We've had a couple Israeli dinner parties using exclusively recipes from that book. It's also one of those books where you can sit down with a cup of coffee and just read it like a novel.
And for a cool Vermont connection, [Butterworks Farm's] Jack Lazor's nephew Drew Lazor is a good friend of ours in Philly. He released a book earlier this year called Session Cocktails: Low-Alcohol Drinks for Any Occasion [Ten Speed Press, 2018]. It's a smaller book of thoughtful low-alcohol cocktails; we got a copy early in the summer, and it was super fun.
Kate Wise, bartender, Juniper and the Great Northern, Burlington; owner/founder, Wise Consulting
Courtesy Of Kate Wise
Kate Wise
I love Death and Co.: Modern Classic Cocktails [by David Kaplan and Nick Fauchald; Ten Speed Press, 2014], but it can be so daunting to the home bartender. It's a great reference, though, and when I'm having the bartending equivalent of writer's block, it's nice to flip through and see the flavors they're putting together. I use it more for inspiration than a direct I'm going to make that drink sort of book.
And David Wondrich — I love reading everything he writes. His Imbibe!: From Absinthe Cocktail to Whiskey Smash, a Salute in Stories and Drinks to "Professor" Jerry Thomas, Pioneer of the American Bar Featuring the Original Formulae [Perigee Trade, 2007], goes through so many classic cocktails, and variations on the cocktails: where the drinks come from, where the names come from, how this spirit became what it is. It's peppered with liquor histories and techniques and how to make syrups — so it's not just like, here's a bunch of cocktails.
On vacation a few weeks ago, [Hotel Vermont beverage manager Matt Farkas] recommended Salt: A World History [Penguin Books, 2003] by Mark Kurlansky. I've been obsessed with this book; I haven't been able to put it down. It just talks about the history of salt and humanity — going back to the Phoenicians and ancient Chinese cultures and through the modern age.
Blair Marvin, baker and co-owner, Elmore Mountain Bread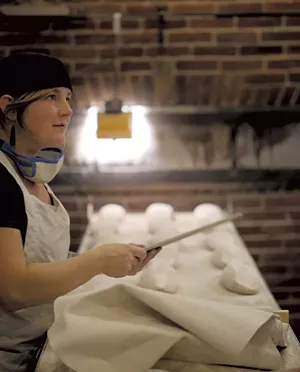 Courtesy Of Blair Marvin
Blair Marvin
The one book that I always go back to — and look to, if someone needs to know the fundamentals of baking — is Jeffrey Hamelman's Bread: A Baker's Book of Techniques and Recipes [Wiley, 2004]. He's the director of the King Arthur Flour bakery and he lives in Hartford, Vt., and he's the greatest guy who wrote the best baking book, as far as I'm concerned. It's my bread bible.
For new reading, this year Tara Jensen wrote a book called A Baker's Year: Twelve Months of Baking and Living the Simple Life at the Smoke Signals Bakery [St. Martin's Griffin, 2018], and it's lovely. She worked at Red Hen Baking for years, but she lives in North Carolina now. The book kind of embodies the current bread movement and how people are falling in love with bread again. It's deeply personal — about her relationships with life and her work — but it's also a baking book and has really accessible and beautiful recipes.
The other book — the one I've not gotten into yet, but it's sitting and staring at me and it'll be a Christmas-piece-of-time thing for me — is The Noma Guide to Fermentation [Artisan, 2018] by René Redzepi and David Zilber. It just came out, and it's beautiful. It's the next-level nerdy fermentation guide for all kinds of amazing things. It's pretty stellar.
Cara Chigazola-Tobin, chef and co-owner, Honey Road, Burlington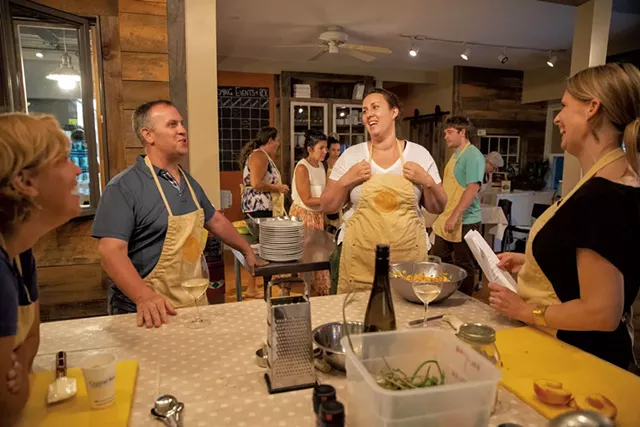 File: James Buck
Cara Chigozola-Tobin
I obviously gravitate to the Eastern Mediterranean stuff. A lot [of the recipes are] stews and roasts, so it's not heavy-duty, complicated French cooking. The excitement of a dish comes from the spices you use, which makes it really approachable for a home cook. Michael Solomonov and Steven Cook's Israeli Soul: Easy, Essential, Delicious [Rux Martin/Houghton Mifflin Harcourt, 2018] came out this year, so that's been a big one for me.
Also, Cooking in Iran: Regional Recipes and Kitchen Secrets [by Najmieh Batmanglij; Mage Publishers, 2018]. It's a big, beautiful, thick book with lots of information. I love when people go deep on traditional cooking. Super-cheffy stuff is cool, but I want to know how was it made at home first, then elevate it to a restaurant-quality dish.
I still like Istanbul and Beyond: Exploring the Diverse Cuisines of Turkey [by Robyn Eckhardt; Rux Martin/Houghton Mifflin Harcourt, 2017]. It really blew my mind when I first got it. A friend of mine wrote it, [and] it's one of the most in-depth books about Turkey as a whole, but then she breaks it down into each region and gives some history and climate and geography — just awesome. It's a really informative book. All Eastern Mediterranean books always end up having the same hummus and baba ghanoush and tabbouleh, but this one went way beyond that.
And Bottom of the Pot: Persian Recipes and Stories by Naz Deravian [Flatiron Books, 2018] is a really amazing, beautiful book that I was pretty excited to get. It's super colorful, and the recipes are pretty standard but done really well.
Margaret Loftus, co-owner, Crossmolina Farm, West Corinth
Courtesy Of Margaret Loftus
Margaret Loftus
I have a really hard time following recipes. I think, I don't really need to do that, I'm just going to do this instead. But I see recipes as inspiration. I am a big fan of Deborah Madison; her Vegetarian Cooking for Everyone [Broadway, 1997] is, like, my Joy of Cooking. I am not a vegetarian — we raise and sell meat — and that is my favorite cookbook besides a 1930 reprint of Fannie Farmer's [1896] Boston Cooking School Cookbook [Little, Brown and Company], which I use a lot as well.
I go to Alice Waters' The Art of Simple Food: Notes, Lessons, and Recipes from a Delicious Revolution [Clarkson Potter, 2007] for a lot of ideas.
And my favorite farm-to-table book is The Vermont Farm Table Cookbook: 150 Home Grown Recipes from the Green Mountain State [Countryman Press, 2013] by Tracey Medeiros. There are so many "what to do with your CSA" cookbooks out there, but this is a really good one. It's [organized by season], and because the recipes come from real Vermont farms, they're totally based on what's actually available. It's not like when you go to Cook's Illustrated and they have a "spring dish" with peas in it — up here we don't get peas until July. My actual fantasy is to get a recipe in the next edition, if they ever do a next edition.