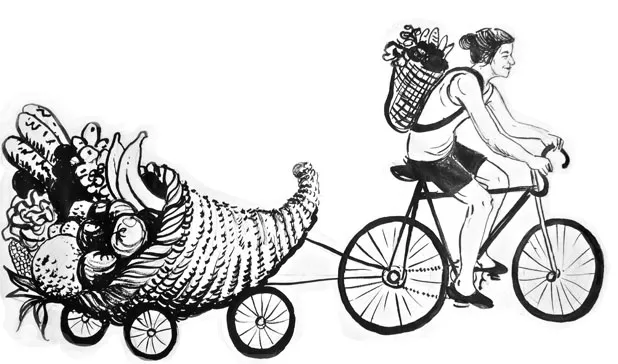 Two Sundays ago, I went to City Hall Park for a free meal offered by Food Not Bombs. In Orlando, Fla., this organization is currently at the center of a battle over public space; the city's mayor, Buddy Dyer, has been quoted as calling its members "food terrorists." Since June, Orlando police have arrested more than two dozen members of FNB as they fed the hungry in Lake Eola Park, on the grounds that they run afoul of a law that requires permits for serving food in public spaces and caps those permits at two per year.
Does the Burlington chapter of FNB pose a threat to public safety? I headed to the park to find out.
I found neither terrorists nor fierce political activists, but simply two friendly young women perched on the edge of the fountain beside a meager arrangement of hot dishes and bread. Three or four people hovered near the serving dishes slowly spooning broccoli into their bowls. The organizers and the diners chatted amicably, as if they were all longtime friends.
A young man with one pant leg missing and half his head shaved went back for seconds. Another fellow had dreadlocks so heavy that he had to tilt his head as he ripped open a hot-sauce packet and poured it over his vegetables with evident glee.
I tried some broccoli-and-corn stir-fry and grabbed a slice of bread. The donated bread was old enough that I expected it to be as crusty and unappetizing as tree bark, but it still had flavor and volume. I was delighted to bite into a forkful of fresh salad greens that crunched instead of wilting.
According to current coordinator Cecile Reuge, the group receives generous vegetable donations from local farms such as Diggers' Mirth Collective Farm and Healthy City Youth Farm in Burlington, and Bread and Butter Farm in Shelburne. Other donations come from Burlington's City Market, Red Onion, Klingers Bread Company and, occasionally, August First. The donations consist of surplus vegetables, fruits and bread that the group transforms into simple dishes such as salads, casseroles and stir-fries.
Reuge, a tall, sturdy college student with a short, blond bob, says FNB has no strict hierarchy or organization, but rather a loose pattern of "natural succession." Collectively, the duties of the group entail gathering food donations, preparing a few dishes and transporting the food by bicycle in five-gallon buckets or massive metal pots to City Hall Park each Sunday. Reuge's fellow coordinator for the summer is Sydney Stieler, who sat by the fountain telling jokes and plucking songs on the borrowed guitars of traveling musicians.
Since FNB does not ask for monetary donations, members need to buy many of their food-preparation supplies — such as oil, spices, flour and sugar — out of pocket. Diners use either their own bowls and forks or donated dishware.
The Burlington chapter of FNB has been around for more than a decade. Reuge says a current goal is to sustain it by increasing publicity and fundraising. The group recently made an effort to expand by partnering with Bike Recycle Vermont, a nonprofit organization that hosted wintertime meals at its space at 664 Riverside Avenue.
FNB was founded in 1980 in Cambridge, Mass. One of the original founders, Keith McHenry, was among those arrested this summer in Orlando. The concept — which, according to FNB's website, consists of "sharing free vegan and vegetarian meals with the hungry in over 1000 cities around the world to protest war, poverty and the destruction of the environment" — became an international grassroots movement. Reuge said she is passionate about it because "healthy food is a right, not a privilege."
So far, the Burlington group hasn't run into any municipal resistance, unlike its counterpart in Orlando. The members, usually student activists, take steps to stay in the city's good graces. For instance, they don't "serve" the homeless or the hungry, but provide food and allow people to serve themselves. They eat alongside their attendees to reduce the stigma that usually separates charity workers from charity recipients. The eaters are encouraged to clean their own dishes in a bucket of soapy water.
I certainly did not walk away from the park feeling scared for my life. Rather, I expect to join the cast of regulars who frequent these Sunday feasts, along with a recovering alcoholic with an incessant giggle who calls himself "Eric the Terrible" and a band of self-described "gutter punks" from New Orleans.