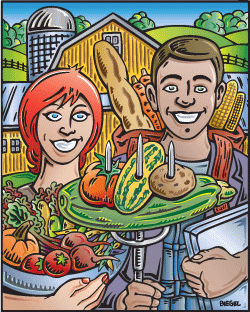 More and more students at Vermont colleges have a new course of study — food. And no, that doesn't mean trying to decide between chicken fingers and veggie lo mein in the cafeteria.
Nor does it mean learning to cook. In a general sense, "food studies" examines food as a key component of culture, along with its links to health and the environment — making the field what academics call "interdisciplinary." Since New York University added the country's first Food Studies degree program in 1996, the new discipline has been making its way into institutions of higher education.
Meanwhile, the study of agriculture, which has always had its place at certain schools, is undergoing its own transformation. There's a new trend toward educating prospective farmers with a combination of traditional classroom studies and hands-on labor — and a focus on environmentally friendly practices.
Although food-themed courses are popping up at many area schools, the University of Vermont, Green Mountain College and Sterling College are at the forefront of the movement. UVM is carving out a national niche in the field of food systems, while the other two schools highlight sustainable agriculture.
Here's a brief look at how these three institutions are serving it up…
University of Vermont
As a land-grant institution, UVM has always had a stake in agricultural education. But the school's recent announcement of plans to establish a Food Systems "spire of excellence" means that its 12,000 undergraduate and graduate students are about to see their sustenance-related academic options multiply.
UVM defines a "spire of excellence" — of which there are currently three — as a field in which the school "can be nationally and internationally renowned," says Rachel Johnson, associate provost for faculty and academic affairs. Over the next year, she says, the school will be "recruiting for 30 new tenure-track positions." Seven of the new professors will teach at least some food-related courses or engage in research related to the "spire."
If all goes well, says Nutrition and Food Sciences (NFS) professor Amy Trubek — also a trained chef and an expert on the concept of terroir — the university will add a Food Systems master's degree in 2011. (An undergraduate minor in the topic was implemented in 2008.) Several of Trubek's classes, including one tentatively titled "Society, Politics and Food Systems," will be included in the graduate degree's core requirements.
Trubek, a trained anthropologist, believes it's crucial that the study of food cover numerous academic fields. "You cannot capture the human food experience within one discipline. It's impossible," she says.
Vernon Grubinger, a vegetable and berry specialist for the UVM Extension, chaired the committee that crafted the Food Systems proposal for the administration. When he learned how many food-themed courses were already being taught at the university — "400 relevant courses across 44 departments" — he says he was "blown away."
The medical school, for example, is doing groundbreaking research on the links between nutrition and health, while students in the sociology department might learn the ins and outs of why different social groups make the choices they do at the supermarket. "We need to coordinate all this effort better," Grubinger says.
What kinds of classes are currently offered? Everything from "Caribbean Food, Culture and Music" — taught by Caribbean Corner owner Patrick Brown — to dean and NFS professor Cynthia Belliveau's course on "Environmental Cooking."
"We have waiting lists for our classes," Belliveau says of hers and a culinary-themed course taught by Trubek. Over the last few years, Belliveau notes, "There's been this gigantic surge of interest" in how food is grown and how its production affects the environment. "When we brought Michael Pollan here," she recalls of the bestselling foodie author (The Omnivore's Dilemma, In Defense of Food, Food Rules), "he said, '[Vermont is] the epicenter of the food-systems movement.' If we are," Belliveau suggests, "we better start articulating what food systems means."
Green Mountain College
When visitors approach GMC's 22-acre Cerridwen Farm, one of the first things they see is a classic Vermont barn. But the weathered structure is anything but ordinary. On its roof are solar panels, and the energy collected heats water for the farm's small dairy operation.
Blending ancient agricultural practices, such as oxen driving, with new technology — including work on season extension — is part of GMC's raison d'être. Located in the southern Vermont town of Poultney, the small school has long been lauded for its focus on being "green." Recently, to feed students' growing appetites for information about environmentally friendly farming, GMC added some new programs. Two years ago, it introduced a 12-credit, 13-week "summer food and farming intensive." Starting this fall, the college will offer an interdisciplinary degree in "Sustainable Agriculture and Food Production."
Students in the ag program will learn how to make pickles, harvest hay without using petroleum and slaughter livestock — all skills that will help them start their own sustainable farming operations.
But, according to communications director Kevin Coburn, feeding the animals and spending time in the fields is only part of the school's programs. "There's a strong classroom component," he notes. To maintain the balance between experiential and theoretical learning, GMC's 820 undergrads, who choose between 22 majors, must all complete a 37-credit, environmentally themed core of liberal-arts classes.
Offerings for ag majors include "Sustainable Regional Food Systems," "Biodiversity Issues in Agriculture" and "Animal Ethics."
Being part of Vermont's localvore community is important, too. "We really see [the school] as part of the statewide local food movement," Coburn says. For example, the "Family Farm Forum" program, which is open to the public, invites experts such as sheep farmer Linda Faillace and author Joan Dye Gussow to speak on important ag topics. The Rutland Area Farm and Food Link (RAFFL) holds meetings at the school.
According to Coburn, the farm is a crucial part of the school's culture, even for students majoring in unrelated fields. "Eggs that are gathered in the morning are served in the dining hall," he says. "Food scraps are taken back to the farm for compost and for slop for the pigs. It's a very neat closed cycle."
Sterling College
Located in rural Craftsbury Common, Sterling College is a pretty unusual institution. For starters, it boasts a composting outhouse, provides bikes for people to ride around campus, and has its own sawmill. With only 125 students and a commitment to a "work-learning-service" educational model — which means students are required to earn money toward tuition with on-campus jobs — the school aims to seamlessly meld hands-on coursework with community service and classroom education.
The year-round Sustainable Agriculture program teaches learners to work with draft horses and untangle the principles of small-business management. They grow food for a small CSA, as well as for the school's cafeteria. Approximately a quarter of the fare served by Sterling's chefs is raised on-site — an amount that college president Will Wootton says will continue to increase over time. The rest is sourced from area producers.
With new hire Anne Obelnicki on the team as director of sustainable food systems, the school is preparing to sharpen its foodie focus. Obelnicki, who has a degree from the Culinary Institute of America and a master's in "Agriculture, Food and Environment" from Tufts University, will teach courses and run Sterling's year-round cafeteria.
Although she just started a month ago, Obelnicki has already helped make 55 gallons of pickles in a variety of flavors. Her menus, which mix homey and exotic fare, include international specialties such as pad Thai and udon noodles, as well as fun, themed meals. Recently, students were treated to classic diner cuisine made almost entirely with food from the on-campus farm.
No matter which degree they're pursuing, the students get a say in what they eat on campus. Says Obelnicki: "There was a big food survey before I came, and people said they would rather eat less meat than eat factory-farmed meat ever again."
In the summer, Obelnicki will be the lead instructor for a new, five-week "farm-to-kitchen-to-table" program, which includes visits to bakers and cheesemakers, as well as book discussions and cooking classes. Wootton developed the curricular overview; Obelnicki is tasked with drilling down the specifics.
In addition to providing unusual courses of study, the Sterling approach allows students to follow their passions in self-designed classes. Next semester, for example, Obelnicki will oversee an independent study centered on ducks. After investigating the best practices for raising and butchering the fowl — and discussing their place in history and culture — the student will work with her to turn the duck meat into value-added products — and dinner.
Both Obelnicki and Wootton say they feel lucky to be in the greater Hardwick area, near businesses such as Pete's Greens, High Mowing Organic Seeds and Jasper Hill Farm. "It's like the whole community is full of incidental adjunct faculty," Obelnicki enthuses.
Despite the emphasis on hands-on labor, Wootton hopes the quality and creativity of a Sterling education will give graduates the tools they need for the responsibilities of public-policy making or starting their own farms. "The last thing I want to promise someone who invests in a four-year education is, 'You're going to be a really great farmhand,'" he says.