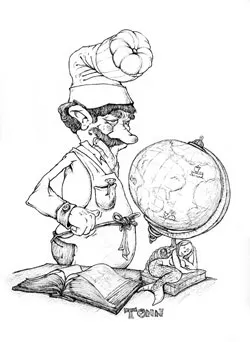 The greater Burlington area is stuffed with eateries — nearly 120 restaurants in the city proper — but that doesn't mean an adventurous diner can find Ethiopian injera or sup on Swedish specialties. Many cultures and cuisines are underrepresented in the Green Mountains, or not represented at all.
Last March, we asked a few folks around town to identify what's missing from the menu. We reported what they'd like to see — and taste — in an article called "Cuisine Dreams." Some food fantasies have come true for people, and a few more promise to be fulfilled in the near future. Others, not so much: To sate cravings for Spanish, traditional Greek, African or regional Mexican cuisine, local folks still have to head for Boston or Montréal.
Luckily, we've also gotten some eating options we didn't know we needed, such as a crêperie with fondue nights and a bunch of places to get brisket. Then there's the urban salad bar and café called New Moon, run by a circumspect religious nonprofit. Another notable newbie: the a brew pub, an espresso bar, a diner, a Mexican restaurant and a localvore café. At this rate, the Granite City could end up with more eateries than the Queen City!
Here's a rundown of the "Cuisine Dreams" that came true in the last 12 months, plus our own suggestions for '08.
Dreams fulfilled, or soon to be:
• Jewish Deli
Dana Kaplan of The Smittens grew up in New York. Here in Burlington, she just wanted wanted to be able to get a good chocolate babka. Oy!
When the Oasis Diner reinvents itself as the Sadie Katz Deli in February, Vermonters will finally have a place to buy matzo ball soup, latkes and pastrami-piled sandwiches on rye.
• Steakhouse?
Chef Steve Bogart of A Single Pebble noted the absence of a high-end steakhouse. Very un-Chinese.
The Three Tomatoes Trattoria Restaurant group came this close to opening a steakhouse on Church Street last year. When the plan fell through, two others stepped up to the grill. The Scuffer Steak & Ale House, with its flat-screen TVs and casual ambiance, appeals to sports fans and families. The Blue Cat Café, an intimate eatery ideal for dates, is currently working on moving from an Italian menu to one focused on carne. The restaurant will serve quality cuts with local side dishes and a bouquet of wine-pairing options.
• Vegetarian/Vegan
"A restaurant ought to reflect the character of a city," observed City Market General Manager Clem Nilan. Given Burlington's "enlightened lifestyle," he noted a need for more meatless cuisine.
Though the project is lagging behind schedule, Owen Hoppe and Sam Lai of China Express plan to open a vegan joint in the Old North End sometime soon.
• Vietnamese?
Caterer Kate Hays asked for more authentic Asian. Hot-and-sour fish soup, anyone? ?
When Pho Dang opened last June in Winooski, it gave Asian food aficionados a thrill — there's nothing like a bowl of steaming soup spiked with lime juice and chile sauce. Soon Burlington's ethnically diverse Old North End will have its very own noodle nook, called Pho Hong, in the old Global Markets location on North Winooski.
On our 2008 wish list:
• Gastro-pub?
We've got the craft beers, but not the high-end pub food to go with 'em. The British Isles are beating our butts when it comes to serving mugs of foamy ale with sexed-up simple fare: Think homemade pickles, rustic salads, herbed roast chicken and burgers with luxe toppings. And, of course, hand-cut French fries with a selection of dipping sauces.
•Traditional Yankee fare
It shouldn't be hard to locate a good plate of baked beans or freshly made corned beef 'round these parts, but it is. Living in the heart of New England, somehow we still lack a place to get the hearty, made-from-scratch food that nourished our forebears. It may not be as sexy as tapas or as exotic as Pho, but well-made, reasonably priced comfort food is a must for any town that sees six months of winter.
•Northeastern European/?Russian cuisine
Chittenden County has a reasonable representation of Balkan properties, such as Essex Junction's Café Mediterano and Euro Restaurant and the newer Euro Corner in Burlington. These joints have introduced Vermonters to homemade pita stuffed with evapi and onions, smoked-meat sandwiches with crumbly cheese and ajvar — a bittersweet vegetable spread — and lots of exotic pastries.
But we still lack Eastern European fare from countries with shorter growing seasons and colder climates: think Poland, the Ukraine and Russia. Far from the mild Mediterranean, folks thrive on grass-fed meats, fermented dairy products, root vegetables and copious quantities of cabbage — all stuff that localvores adore. Plus, nothing warms you up after cross-country skiing like a big bowl of beefy borscht dolloped with sour cream. And maybe a few pierogi for good measure.
• Raw bar
Barring dramatic climate changes, Vermont will stay landlocked — for now. Luckily, we're close enough to the coast to get delightfully fresh seafood. Try the sashimi at B-town's Asiana House for proof. Or the mahi-mahi flown in from Hawaii at Tilley's Cafe. Given our proximity to the beach, there's no reason we shouldn't have a real raw bar 'round these parts. Not only are raw oysters a traditional New Year's Eve delicacy; they'd spread joy year-round — after all, the slippery bivalves reputedly lube the libido.
And, although raw-food purists might disagree, I wouldn't complain if the place offered a creamy clam chowder and a meaty lobster roll.