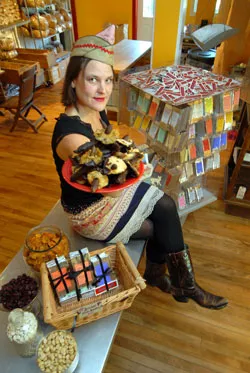 Jeb Wallace-Brodeur
Steph Rieke
In the back room of Nutty Steph's Chocolate Shop, at Camp Meade in Middlesex, a machine whirs as it stirs a deep vat of melted dark chocolate. Across the room, a smaller device turns gooey white chocolate into a perpetual waterfall, perfect for coating a piece of dried pineapple or a cluster of macadamia nuts. Owner Steph Rieke, wearing a magenta shirt, matching lipstick and a bright green bandana, is showing visitors how to make bars.
With a smudge of chocolate on the tip of her nose, Rieke, 28, presides over a workshop that's more like Willy Wonka's than Lake Champlain Chocolates'. But there are no Oompa-Loompas here — and, despite her wacky moniker and some of her odder inventions, Rieke is a serious young businesswoman. New to the cacao biz, she's learning as she goes.
To ensure that the chocolate will stay glossy as it cools, Rieke "tempers" it with a little help from a machine that beeps when she needs to perform a new step. "I'm not really a master chocolatier," she admits. "The machine tells me what to do."
Next the sweet stuff gets ladled into molds. "You haven't seen the vibrator yet!" Rieke exclaims.
Since this woman sells a concoction called "Tropical Intercourse," which consists of a chewy dried banana poked through a ring of pineapple and dipped in chocolate, double entendres are in the air. Rieke lines the molds up on a metal table and flips a switch. The table begins to thrum, and the chocolate quickly spreads across each mold. Seems the vibrator merely eliminates air bubbles. Next stop for the chocolate: into the fridge to harden.
Nutty Steph's chocolate factory, which opened to the public on September 9, shares a building with the Red Hen Baking Company and Café. The space is compact, but Rieke is making it work. In the storefront, she sells milk, white and dark chocolate bars in flavors such as "Coffee & Donuts" and "Dates in White," as well as a panoply of hand-rolled truffles, coated pretzel sticks and fruits.
The back room, where she does the manufacturing, looks like a big kitchen equipped with specialized machinery; racks hold massive bars of chocolate, boxes of dried fruits and nuts and various exotic spices and flavorings. Rieke wants to offer as many unique flavors as possible, a goal that inspires experiments with unusual combos such as cheddar and guava paste and — at this reporter's suggestion — Hungarian smoked salami and hot paprika.
For the DIY crowd, she also sells the high-quality materials she uses to make her confections. In the front room, bits of ginger, slivers of mango and macadamia nuts rest in glass apothecary jars, where patrons can spoon them out and Rieke weighs them on an old-fashioned scoop scale. A steady stream of customers trickles through the door, and most of them leave with something sweet in hand. Chocolate "is like a drug," Rieke proclaims. "The life of a drug dealer is great!"
Rieke admits to being a "sugarhead," but she never aspired to be a chocolatier. Eaters across Vermont probably know her as the owner of a granola company that churns out a popular maple-flavored version of the crunchy staple. She got into the chocolate gig by chance. And Rieke's real dream job may seem less sexy, she confesses: Equipped with a math degree from Minnesota's Carleton College, she observes in classrooms part-time and hopes one day to help reform math education.
Looking back on her five years in food production, Rieke says, "This business is my family more than it is my passion. This keeps me rooted. I'm accountable to my employees, to the bakers who make a really good wage from this, to the old owner of the chocolate factory to whom I owe a lot of money, and I'm obligated to my aunt and my parents who have lent me money, and to my landlord. Otherwise, I might have a bit of wanderlust."
Rieke, an Illinois native, credits her family's "strong German productivity" for her work ethic and business smarts. Her dad was an "untrained entrepreneur" who started running businesses when his wife got pregnant in high school. Rieke inherited her father's entrepreneurial streak but found him difficult to please in other respects. At age 9 she conceived a weeklong summer camp, which drew 13 kids in its first summer of operation and made "$600 or $700," she recalls. Later, she became a canny marketer of her babysitting services, peppering her clients with special offers.
She had to discover her intellectual side on her own. "I wasn't gonna go to college, because my parents thought it was a waste of time, and I agreed," she says. Rieke eventually changed her mind and attended Carleton, where she ended up majoring in abstract math because "I thought . . . I could tell people about it, and they would think it was cool."
After college, she followed her then-boyfriend to Baltimore and then back to Vermont, where his family resided. "I just thought, 'What would I do in Vermont?'" Rieke remembers. She began teaching math to sixth and ninth graders, but found herself unprepared for the rigors of the classroom: "It brought out a lot of insecurities. One day I had a nervous breakdown almost. I left my classroom and was crying and crying."
While Rieke looked for a new job, her mom suggested she try doing something with her "great granola recipe." Rieke's entrepreneurial instincts took over. "It took just 48 hours before I had a website and a slogan and a syrup source and a bag source," she says. "There are 15 steps I took that first day, and each of those branches into three or four more steps, and that's still what I'm doing."
Despite that success, Rieke says that before she purchased the chocolate-making equipment last December, she was considering leaving the biz. Even as her granola, trail mix and chocolate-granola "Magic Chunks" were filling bulk bins at growing numbers of area stores, she was getting deeper into debt. "I was ready to stop the granola business because I don't make any money. It's a public service," she says. "I could jack up the prices, and I think it would even still sell, but I don't want to."
The profit margin on the oat, nut and syrup concoction is low, and Rieke lost some control when she ceded the manufacturing end of the operation to others. "It's out of my hands," she says. "This man who has this little bakery has purchased equipment for it . . . He names his price and he does it. And I'm not going to seek other options. It's his thing. C'est la vie on that."
Money problems aside, once she'd farmed out the baking, the self-described "people person" found herself spending more time in front of her computer than with customers. "I felt a disconnectedness," she recalls. "I realized that so much of this entrepreneurial energy was about trying to win over my father. [And I thought,] This is too painful, too hard; I'm not even making money. Fuck that, it's over. I was gonna tell everyone."
Then came chocolate. Last November, Allan Sirotkin, who owned Brattleboro's Green River Chocolates, where Rieke's Magic Chunks were made, asked her to consider merging their companies. Sirotkin was fighting cancer and could no longer run his business. After he installed his equipment in her old factory in Montpelier, Rieke realized she was enjoying the process of creating truffles and bars. "So I decided to buy it and get even more deeply into debt."
But her Montpelier location wasn't appropriate for food preparation, and available kitchen facilities in the capital cost "$25,000 to outfit, at least." Rieke struck a deal with her current Middlesex landlord, who "was sure we could do it for $6000 and he was willing to split it with me. We're well past $20,000 now, but he's still willing to split it with me," she says.
Luckily, the chocolate gig seems to be good for the bottom line. "The chocolate granola is a little more profitable [than plain granola], and the pure chocolate is even more profitable," Rieke explains. "And I make it: I have control. It's artistic and expressive for me. I can get local cream to make my truffles and local fruits, so I'm drawing in a little more of that. I think this whole chocolate thing is going to provide an opportunity to reconnect with people."
Rieke is refreshingly candid, energetic and sometimes downright silly — but does she live up to the epithet "Nutty Steph"? "I am eccentric, and I am extraordinary and unique," she says. "But I feel nutty is not an appropriate adjective for me. If you're talking about crazy, loopy or deficient in any way, that wouldn't apply."
So why is it called Nutty Steph's Granola? "There are a lot of nuts in it," Rieke says.
"I'm 28, and I'm trying to learn to take my life more seriously and approach it with accountability and purpose. 'Nutty' is old news."
What would she prefer to be called? Jaquelyn — her middle name. "I think Jaquelyn suits me better. 'Balanced Jaquelyn.'"
Whether she calls herself Jaquelyn or Steph, Rieke is confident people will support her new business, even in tough times. You could say she's pro-recession. "I've been depressed for the past two years and emerged better for it. I urge the economy to follow my example."
But who could be depressed about sampling the dark chocolate "Peanut Butter and Banana" bar or the "Piña Colada" — a tropical treat that wraps pineapple and shreds of coconut in a creamy, white-chocolate base?
When our chocolate bars spiked with salami and paprika are ready, Rieke knocks them from their molds with a sharp tap. The smoky, meaty notes are balanced by the hint of heat from the spice and the chocolate's smooth sweetness. The cheddar and guava-paste bar, which combines soft chunks of tangy cheese with bits of candy-sweet fruit, is equally enticing.
Rieke has faith in her product's enduring appeal. She predicts, "We'll be taking big boats down to South America with maple syrup and trading for cacao before we stop eating chocolate."
Click here to watch a video of Suzanne and Steph making salami-paprika truffles.