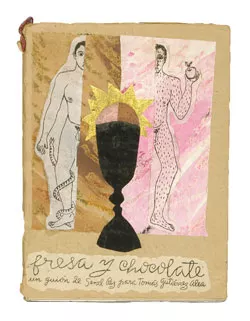 The late 1960s movement in Italy called arte povera (literally, "poor art") rejected traditions of elegance in favor of funky art-making that relied on ordinary, even unsightly materials. Of course, those artists were consciously choosing to use dirt, rags, leaves and similar elements rather than canvas, oil paint and all the other supplies they could have purchased at local art stores.
Cuban artists don't have the luxury of spurning pricey materials to make an aesthetic or political statement. In an economy of permanent scarcity, they must make do with whatever can be scavenged. Some of the products of this resourceful creative process — which could be termed arte pobre — can be seen in the Fleming Museum show "Cuban Artists' Books and Prints: 1985-2008."
Though a few beautiful pieces can be found among the 50 or so works by 13 artists, almost everything looks crimped. It's as though the policing of personal expression in Cuba has imposed further limits on artistic possibilities already narrowed by the lack of proper supplies.
Book covers made by hand at Vigia Press, a publishing house located 50 miles east of Havana, account for many of the objects on display. The materials used to compose these collages include twigs, twine and dried flowers. High-quality paper was hard to find in Cuba during the "special period" that began with the collapse of the Soviet empire in 1990 and continues to this day.
An artist working at Vigia is given 200 copies of his or her work in lieu of payment by the 25-year-old press, which apparently operates without the full approval of the Cuban government. But Vigia is no cauldron of political defiance. While a few pieces in the show express discontent with the social order, their dissent usually takes subtle forms.
To create "La Verdadera Opción" ("The Real Option"), Jose Angel Vincench cut a small square from a page of the Communist Party newspaper Granma and inserted thin black strips to suggest the bars of a prison cell. The word gobierno (government) is partly visible behind the strips.
A print by Sandra Ramos makes an even milder critical statement. "Alice's Last Trip" shows a queue for a public bus that might be bound for Wonderland, since the blond heroine of Lewis Carroll's fantasy is among those waiting to board.
The same artist is represented in the show by a piece of revolutionary schlock entitled "Seremos Como El Che" ("We Will Be Like Che"). There may be ironic intent in this image of a girl in the uniform of the communist-sponsored Young Pioneers saluting proudly against a sunburst backdrop. But if so, you apparently have to be Cuban to get it.
The boldest example of unorthodoxy is René Peña's "Pictures and Stories." Dimly lit photos and typed words running down an unfurled scroll present scenes and commentaries from a Cuban demimonde of transvestites and other outsiders. A poem in side-by-side Spanish and English versions is worth quoting in its entirety: This government, this government! / The day before yesterday they cut off the electricity. / Yesterday they cut off the water. / And today they took away the law of gravity.
A text panel hung at the entrance to the show, which was organized by professor Linda Howe of Wake Forest University, makes an odd observation about the nature of artistic opposition in Cuba. Noting that many of those represented in the one-room exhibit graduated from prestigious Cuban art academies, Howe contends, "Their excellent, state-sponsored education and relative freedom to travel and sell works abroad are at odds with their sometimes critical commentary on life at home."
Huh? That's like saying wealthy Harvard and Yale alums are being untrue to their privileges if they speak out against aspects of American life.
Most of the pieces in the Fleming show have no political dimensions, and some of those are actually the nicest to see. On the cover of a 2006 Vigia edition of Federico Garcia Lorca's Poeta en Nueva York, the Spanish literary martyr (1898-1936) is sketched as a fey figure wearing a hat and balancing a cup on one finger. Beside him, a section of the Manhattan skyline looms above ... a fish.
Cuban dancers rumba joyously in two of the more colorful works — one a book cover showing a black woman hitching up her yellow skirt; the other a print of a silhouetted couple whose flaming forms are superimposed.
"Shows like this demonstrate that it's critically important to continue some form of dialogue between the United States and Cuba so that Americans can see these works," says Fleming curator Aimee Marcereau DeGalan. And it's something of a coup, she adds, for the show to arrive in Burlington on the 50th anniversary of the Cuban revolution. The United States has severely restricted trade with Cuba since Fidel Castro's takeover, seeking to strangle the only noncapitalist state in the Western hemisphere.
Even though it's nowhere close to the scope of last year's monumental survey of Cuban art at Montréal's Museum of Fine Arts, this poignant exhibit does make powerful points about creativity in contemporary Cuba, and about government-imposed ignorance — the government in this case being that of the United States.