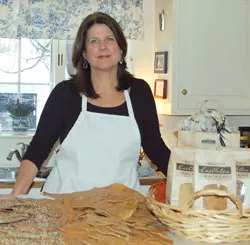 In the 19th century, it was standard to bang hardtack crackers on the counter before eating them. The noisy ritual wasn't a way of thanking god or making the thick pieces easier to eat; it was a last-ditch effort to drive out any flour-loving weevils that had taken up residence in the crunchy depths.
It's been a long time since crackers were just a portable foodstuff that might keep you from starving on a long voyage. These days, mass-produced rounds and squares in flavors from déclassé "Chicken in a Biskit" to fancy fennel serve as vehicles for a host of toppings, from fluorescent Cheez Whiz to the world's finest fromage.
In Castleton, a woman named Whitney Lamy, 53, is taking the snack to a whole new level — by making it the old-fashioned way. Using high-quality ingredients, Lamy handcrafts three types of artisan crackers, each named for a Green Mountain locale. They're sold in about 100 Vermont stores, as well as in New Hampshire and Massachusetts. Lamy's recent deal with Black River Produce should spread her product even farther afield.
Sure, the "Vermont brand" sells. But it helps that Lamy's crackers are so good, you'll never pick up another Triscuit. The most basic variety, Windham Wheat, is golden brown and tastes simply of good grain and kosher salt. Middlebury Maple's got a sweet glaze, while each piece of nutty Rutland Rye is accented with a scattering of sesame, caraway and poppy seeds.
It was January 2008 when Lamy started selling wheaty, well-seasoned cracker shards — asymmetrically hand-cracked from large baked sheets — in brown paper bags tied with raffia ribbons. She brought 30 sacks to her first winter farmers market in Rutland. "I sold out in two hours," she recalls. The next week she brought 40. Those sold out, too. Three weeks later, the Vermont Country Store placed an order for 130 bags. "It just kind of took off," Lamy says.
How did a graphic designer and illustrator with an arts education degree end up running a cracker business? You could almost say it was magic. When her husband was doing Boston-area grad study in anthropology and sociology, Lamy got a gig at a museum in Salem — the town that hosted New England's infamous witch trials. "My job was to live in and run one of their period mansions," she explains. "They hired me to build the business and bring in different types of events: business meetings and weddings. I was there for eight years."
Although George Washington had once waltzed in the ballroom, the kitchen was anything but old fashioned. Modernized with a $30,000 stainless-steel facelift, it was ready to be used for catering and cooking classes. As she worked with caterers and famous Boston-area chefs, Lamy discovered that "my creative needs could be fulfilled when I was cooking," she remarks. "I became an avid cookbook reader and took classes when I could."
In 1991, Lamy entered her first recipe contest, hosted by King Arthur Flour — and netted first prize in the "pasta" category for an old-fashioned dish. "I have a German grandmother and had learned how to make her spinach spaetzle," she says. The bite-sized green dumplings won her a weekend filled with gourmet cooking classes — and a blurb in Bon Appétit magazine.
The following year found Lamy in Vermont, after her husband landed a faculty position at Castleton State College. For the next decade, she bounced back and forth between arts management and all things culinary: She taught cooking classes, did demos on WCAX's "Across the Fence" and helped develop a food anthropology class that she coteaches with her husband. "It's very popular," she says proudly. "For half the class we're meeting right here in my kitchen."
As Lamy researched old cookbooks, "it started to hit home how much I could learn about our culture and history through food," she recalls. In the mid-'90s, she decided to try a version of a 200-year-old cracker recipe. When she served the results at parties, graduations and holidays, she says, attendees were shocked to learn that crackers could be made in kitchens instead of in factories. "People would comment like it was the most bizarre thing to do," she says. "We're so used to opening boxes and eating that we have no idea where foods come from."
Before fully committing to crackers, Lamy flirted with the idea of opening an eatery. "There was part of me that felt like, gosh, do I want to open a little café-bakery?" she says. "My family would be like, 'Would you either do it or stop talking about it?'"
But, after quizzing colleagues, she decided against it. "Being in my fifties, I thought, 'I don't know if I want to get up at three in the morning.'" Her husband certainly didn't. His position: "I already have a job; don't expect me to get up with you and make muffins."
Finally, says Lamy, "When I put the numbers together, I just got cold feet."
The growth of Vermont's artisan cheese industry gave Lamy another push in the cracker-making direction. "The Vermont Cheese Council was formed, and Vermont cheesemakers were winning awards," she recalls. "I started thinking, Does anyone make nice artisan crackers to go with these cheeses? I'd go to stores and would always check out the cracker section. I saw this niche and thought, Maybe I should give it a whirl."
That's how Lamy ended up at that farmers market with hand-lettered bags of grainy snacks. She went through 8000 before hiring a commercial printer. It was a relief to get printed bags right before last year's holiday rush.
Once the word was out about her crackers, Lamy began looking for a "co-packer," a local company that could manufacture the three products to her exact specifications. "I was wearing my bonnet and rolling and baking 15 hours per day," she says. "The irony was that I was getting up at four in the morning to make crackers before it got too hot." All that old-school toil didn't leave her much time to handle the back end of the business.
After a long and arduous search, Lamy discovered Freedom Foods, a new copacking company in Randolph run by Cathy Bacon and Molly Creelman. "A lot of Vermont companies like mine need to have products made for them," she notes. "Freedom Foods has eight employees, so they're helping with economic development. It's a win-win situation." After working with FF for a month and a half, Lamy handed over the reins.
Now that somebody else is doing the baking, cracking and packaging of the goods, Lamy has a bit more time on her hands. But, despite her customers' requests for multigrain, gluten-free, cheese and herb offerings, she's not planning to introduce any new varieties in the near future.
"I want to focus on doing the sales and marketing and really growing the company," she explains. "I don't see a new flavor coming out for a while."
When Lamy's ready, we'll put in our vote for "Charlotte Corn," made with fresh cornmeal from the Nitty Gritty Grain Company. Meanwhile, she offered us some homey soup recipes that pair perfectly with her crunchers.