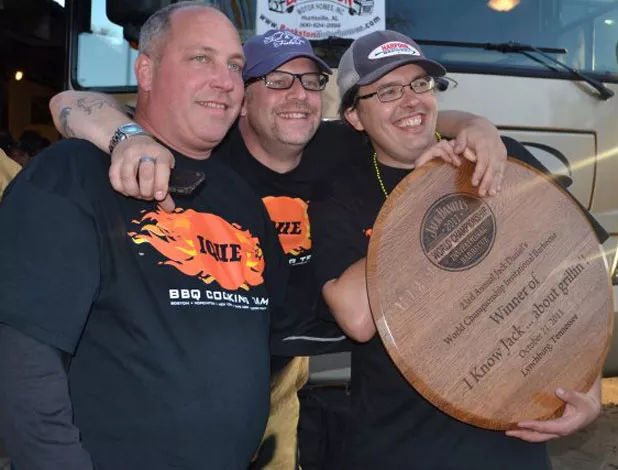 It's likely that the best meal cooked in Vermont last week was served not in a restaurant but in the kitchen of a creamery called Animal Farm in Orwell. There Thomas Keller, famed chef of Napa Valley's the French Laundry and Manhattan's Per Se, prepared a meal from his forthcoming Bouchon Bakery Cookbook.
Keller was in the Green Mountains to visit his butter maker, Diane St. Clair, for a photo shoot for the book. "He milked cows, helped make butter and cooked in my kitchen," says the farmer. "It was a blast!"
While in Vermont, Keller also paid a visit to 3 Squares Café in Vergennes.
*****
As if Burlingtonians needed another excuse to dine at the Farmhouse Tap & Grill, the restaurant is donating 1 percent of its food sales in November to the Intervale Center. Chicken and biscuits, anyone?
*****
Barre is known for its Italian heritage. But the Barre Historical Society, which is holding a beer-pairing event to benefit its flood-damaged home in the Socialist Labor Party Hall on Granite Street, will use the occasion to recognize other cuisines. "Barre is a multiethnic city. Why not honor ethnicities other than the Italians?" says Ruth Ruttenberg, vice president of the society.
On November 12 at 5 p.m., volunteers will serve four courses of ethnic food paired with Vermont beers. Kurt Staudter, executive director of the Vermont Brewers Association, conceived the event and will provide the pairings. German potato-and-sausage soup seems like a natural match for Otter Creek Alpine Black IPA. Staudter will also pair beers with a Lebanese mezze plate featuring tabbouleh, and hummus, French Canadian tourtière, and Scottish shortbread — all crafted by community members.
*****
Another meaty victory for John Delpha, chef-owner of the Belted Cow Bistro. His competitive barbecue team, I Que, became the first ever to receive invitations to the Olympics of 'cue, the Jack Daniels World Championship Invitational Barbecue, for 10 consecutive years. In 2009, I Que won the Grand Championship.
Last week, in the team's 10th round at the Lynchburg, Tenn., competition, Delpha garnered one of its biggest honors when he won the "I Know Jack … About Grillin'" prize. A salmon appetizer was required; Delpha served his on a limestone similar to those the whiskey maker uses to filter its water. His entrée consisted of a grilled ham steak with smoked-shrimp gravy and sweet-potato casserole with candied walnuts and bacon. Delpha picked up the same award in 2006.