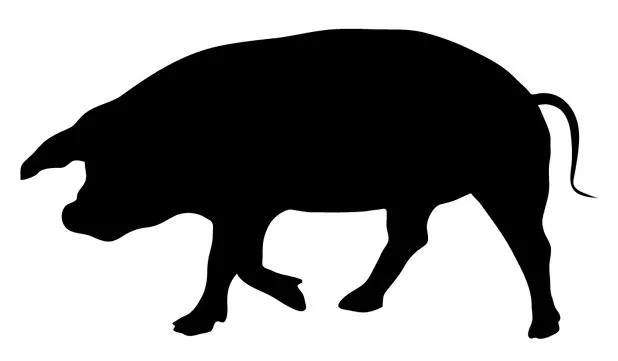 The soft-hearted members of a vegan group called Friends of Animals are hoping to keep Green Mountain College students from committing sow-icide.
As part of the school's Farm and Food Project, students have been growing organic vegetables and raising heritage breeds of sheep, pigs and chickens. They're also tasked with choosing which animals will be slaughtered and served in the college's dining hall.
Currently, six pigs are waiting on death row, and FOA hopes to find sanctuary for them rather than allow them to meet their maker. The group suggests contacting the college's farm manager, Kenneth Mulder, to plead for the lives of the GMC Six.
According to FOA's website, "The Farm and Food Project boasts that it is 'practicing the solutions' to 'soil erosion, global hunger and malnutrition, agricultural pollutants in our drinking water, or climate change.' Raising, killing and commodifying animals is not part of the solution . . ."
Looks like the groups will have to agree to disagree. The Farm and Food Project web page says, "Students gain real knowledge and skills that empower them to produce vegetables, meat and eggs — either for themselves or for their communities — while actually sequestering carbon, conserving and producing topsoil, and reducing our reliance on fossil fuels."
******
If a localvore is an eater of local food, what is a locapour? Someone who eschews the vintages of Champagne and Napa in favor of the fruit of our own hardy, northern vines. The term is being used by a new wine blogger, Carlo DeVito of Eastcoastwineries.com, who's intent on promoting a "locapour" lifestyle by waxing eloquent about the best wines from New England, New York and New Jersey, all the way down to Virginia.
He calls a locapour "someone who drinks wine from a local radius, whatever that self-imposed restriction is, in order to support local farming and economy." Around here, a preference for fruity and "ice" wines may be a prerequisite . . .
******
Speaking of vino, in a recent San Francisco Chronicle article, author Stacy Finz quoted Vermont manners maven Peter Post's words of wisdom about giving the gift of glug . . . don't do it unless you're sure the person drinks alcohol.
His reasoning: "It could become awkward if the person is a recovering alcoholic or for religious reasons doesn't drink." Um, yeah.