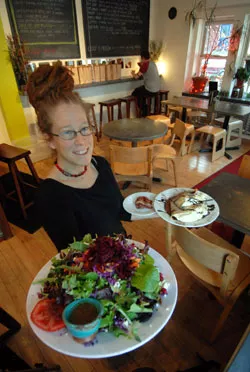 Jeb Wallace-Brodeur
Kismet
Will Chittenden County ever get its fill of pho? This week marks the opening of the vicinity's sixth Vietnamese restaurant, Vietnam Restaurant 2. The eatery — located on lower Church Street where Tantra used to be — is owned by the same folks who own Vietnam Restaurant in Essex.
Diners will find a wide selection of Vietnamese dishes, such as vermicelli topped with meat and fried spring rolls and an Asian crêpe called "Banh Xeo." There are lots of Thai tastes, too, including a "curry of the day" and tangy "Som Tam" salad made with green papaya. Dim sum is served on weekends.
What sets VR2 apart — in addition to its use of organic produce — is its pricing: At $9.50 for a large bowl of "Pho Tai Bo Vien" and $11.95 for fried rice with assorted vegetables and beef, it's more expensive than its competitors. Hopefully, the quality of the food, size of the portions and appealing ambiance will make the cost go down as easily as a spoonful of noodle soup.
******
Inspired by NOFA's "Share the Harvest" program, which helps low-income families access CSA shares at half the usual price, the owners of Kismet restaurant in Montpelier have decided to start their own assistance project.
"Right now it's an experiment," says co-owner Crystal Maderia. "We put a jar on the counter and told our customers that we'd match their donations up to $200" per month. Anybody who donates $5 or more can nominate a recipient family in need. At the end of the month, Maderia explains, a name will be drawn from a hat, and Kismet will purchase a full CSA share for the winner. The veggies start coming in the spring.
For now, Maderia is planning to buy the shares from Wellspring Farm in Marshfield, but remains open to suggestions.
Although Maderia originally meant for the giveaway to be a yearly endeavor, she and her business partner, Alanna Dorf, decided to shoot for monthly instead. "We'll see how long people have energy and resources for it," Maderia says. "In our first week we raised $150; in the second it was only $50."
Whether or not they can sustain their fundraising goal, people are taking notice: "It's really sparked a lot of conversation. People are talking about families that are really suffering," Maderia says.