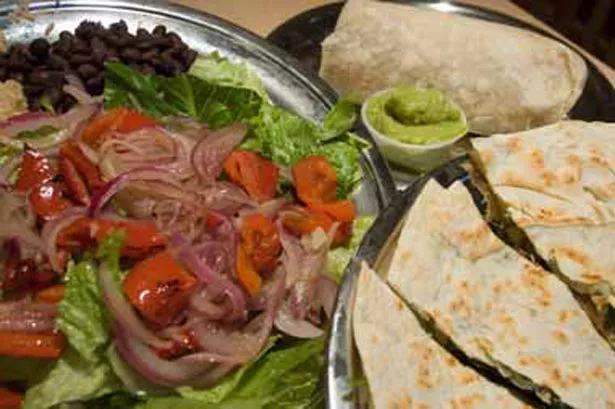 Matthew Thorsen
Bueno y Sano
It took a lot of phone calls, but Mark Gauthier, manager of Big Chile Republic, has confirmed the restaurant's demise. "We did have to close," Gauthier explains. "It was just a matter of really bad timing, I think, as far as the economy goes. If we had a crystal ball, we would have done things differently."
******
Bean counters? On July 23, Seven Days published a "Taste Test" on Boloco, a new eatery located on Church Street.
The article included a sidebar comparing the offerings of three local burrito joints: Boloco, New World Tortilla and Bueno Y Sano. The problem? Only one of the three listed businesses, Bueno Y Sano, includes Burlington's 11 percent tax in its prices. According to BYS owner Will Lowry, "The price of a bean burrito without tax . . . is $4.90, and the price of our most popular menu item, [the] chicken burrito, is $6.23."
When the folks at College Street's wrap spot aren't correcting our math, they're serving up something new: crispy, spicy Cajun catfish tacos, topped with a squirt of chipotle sour cream. The hot, new item was a hit at the Chew Chew Fest. With Big Chile Republic out of the picture, it's nice to have a new fish taco option.
Those who like the creamy topping but not the "cat" can get the condiment on a burrito of their choice for no additional charge. Look for another new addition, local-corn salsa.
******
They may be thousands of miles from the Green Mountains, but 12 Vermont soldiers at Camp Stone in Herat, Afghanistan, are in for a little taste of home. "We're sending 100 pounds of granola," dishes Chef's Corner co-owner Jozef Harrewyn. "We've got everything boxed up and ready to go.
"I personally have a lot of respect for soldiers, because my dad was in World War II and my grandfather was a general," says Harrewyn. "I'm not pro-war, but I am pro-military. We're primarily doing it for good will." A call to Lieutenant Governor Brian Dubie helped get the ball rolling.
The Williston breakfast and lunch spot, famous for its creative eggs Benedict specials and pastries galore, flavors its homemade cereal with coconut, almond, citrus zest and brown sugar. Sure sounds better than freeze-dried omelettes.
******
Wanna eat for a good cause? Sure you do. On Monday, August 18, the Champlain Valley Agency on Aging will host its second annual "Top Chef of the Champlain Valley" competition at UVM's Davis Center. There, three local chefs - Connie Jacobs Warden of Chow! Bella, Sam Palmisano of Pulcinella's and David Hoene of Pauline's Café - will cook up a storm to benefit CVAA's "Meals on Wheels" and case-management programs. They'll have just 45 minutes to whip up an appetizer and an entrée, using a secret ingredient.
For 35 bucks, attendees can nibble on hors d'oeuvres, participate in a free wine and beer tasting, and bid in a silent auction. It's not edible, but who wouldn't want a baseball signed by Red Sox catcher Jason Varitek? Organizers will also be hawking a $5 cookbook with recipes by 15 local chefs, including the three competitors. Sweet.