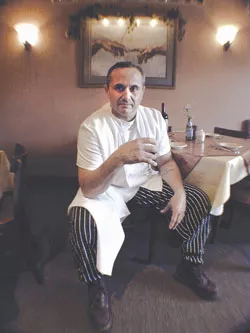 Matthew Thorsen
Franke Salese Jr.
A new bill introduced in the Vermont House would change the definition of an animal's owner to include anyone who has purchased a "share" in that animal. Proposed by Janet Ancel (D-Calais), H. 749 would make it much easier for urban carnivores to source their meat locally through prior arrangements with farmers, such as CSAs. Right now, unless an animal is slaughtered at a USDA-inspected slaughterhouse, only the legal "owner" can partake.
Norwich's King Arthur Flour has been certified one of three "B Corporations" in the Green Mountain State. What the heck is a B Corporation? According to King Arthur Flour spokesperson Allison Furbish, "What 'B Corp' status really means is that we're committed to social and environmental responsibility. It's a complicated rating system where they look at everything from corporate structure to shipping to products . . . every aspect of our business. We had to fill out this very detailed and extensive survey to prove that we merit the rating."
B Corp certification is conferred by a Pennsylvania-based nonprofit called B Lab, which aims to distinguish socially responsible companies from corporate poseurs: The B stands for "benefits." King Arthur's knights demonstrated their commitment to sustainable agriculture with "a line of organic flours and a bunch of organic mixes. We're working on more of those," Furbish relates. "And we are working to make our packaging more environmentally sustainable by incorporating post-consumer recycled paper. Our hallmark is 'all natural,' so we always offer pure, all-natural products that don't have synthetic chemicals in them." Soon a handful of those products will proudly display the B Corporation label, making King Arthur the first business in the country to feature it on company packaging.
Vermont's two other B Corporations? Seventh Generation and WorkSavvy of Newfane.
Chef Sissy Hicks, famous for her Elegant Comfort Food from the Dorset Inn and Flavors from the Heart: The Dorset Inn Cookbook, recently sold the inn she has owned since 1983 — which, as it happens, is also the oldest continually operated inn in the state. Steve and Lauren Bryant, who purchased the Dorset, currently co-own The Mountain Top Inn in Chittenden.
Fans of Hicks' creative cuisine shouldn't be too upset about the transition, though. According to the Manchester Journal, Hicks will stick around while training a chef to take her place. Hope he doesn't mess with the slow-roasted duck confit with honey sesame dressing, Asian slaw and plum chutney.
Cooking With Shelburne Farms: Food and Stories From Vermont has garnered yet another accolade. Food & Wine magazine recently announced recipes from the tome by Melissa Pasanen and Rick Gencarelli will be included in a collection of the "finest offerings" from the 25 best cookbooks of 2007.
In case you missed it . . . Franke Salese Jr., of Junior's Italian in Colchester, will open Junior's Downtown, a Burlington pizzeria, in the Main Street spot formerly occupied by Dunkin' Donuts. "It will be downscaled," Salese says of the new spot, which is slated to start serving on April 1. "We're not going to be featuring any pastas or sautés." Besides the pies, this Junior's offshoot will have panini, heroes and salads, along with a full line of pastries and breads from its bakery. "Right now you can get our baked goods at City Market," says Salese. He's planning late-night hours, though, that will make it easy to satisfy cannoli cravings after midnight.
Downtown is not exactly hurting for pizza, so how will Junior's distinguish itself? "It's going to be upscale . . . very inviting," Salese explains. "The architecture that's in there right now is gorgeous. Our interior designer is gonna do magnificent colors, copper and blue. It'll be very hip."
While Junior's fans can expect to find all of their favorite toppings and combos, Salese hints he may concoct a few specials just for the new joint. "I'm working on it now," he says.
Also . . . Woodstock Water Buffalo, which recently began selling its yogurt under the SpoonDance Creamery name, has closed. No word yet on what will happen to the shaggy herd.