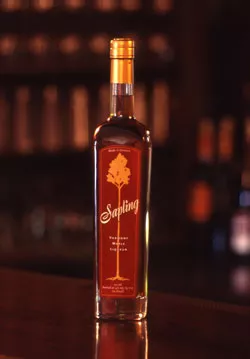 Reading Santé Magazine, a national trade publication available gratis to food and restaurant professionals, you'd never know the glossy 'zine is headquartered in Bennington. The cutting-edge editorial content deals with what's hip, not what's close to home.
But this month, local Manchester-based Ellen Ecker Ogden, author of The Vermont Cheese Book (2007), wrote the regular "cheese review" segment. The topic: Vermont bloomy-rind cheese. Ogden describes 11 soft 'n' creamy examples from eight different producers: Blue Ledge Farm, Blythedale Farm, Champlain Valley Creamery, Doe's Leap, Jasper Hill Farm, Lazy Lady Farm, Willow Hill Farm and Woodcock Farm.
Vermont's other new cheese book, Jeff Roberts' Atlas of American Artisan Cheese (2007), is selling so well that Chelsea Green Publishing is already planning a second print run.
Although Roberts isn't sure how many copies CGP will print — the publisher did a modest 8000 on the first round — he says, "As a first-time author, they're gonna stick their necks out only so far as to see what happens." He's certain of one thing: "They're very pleased about it and so am I."
In a recent press release, Ozzy and Mariasha Giral of Burlington's Blue Cat Café and Wine Bar announced they're changing their culinary M.O. Moving away from the Italian-slanted menu with which they opened a year ago, they're headed in a meatier direction: steak. The new menu should appear in two to four weeks. "Right now we're in the process of experimenting with the actual cuts of steak we're going to be using, as well as side dishes and sauces," Mariasha relates.
The plan is to go native . . . Vermont. "We would love to just have exclusively local ingredients on the menu," Mariasha says. "Our vegetables will have to change with the seasons." But, she confesses, "We're running into a little bit of trouble with the meat. Looking in Vermont, it's very difficult to find beef." Extra-high-end cuts are especially tough to source. According to Mariasha, "Before we're done, we plan to taste every kind of beef available." Perhaps that's what the two were doing when they were spotted at the newly opened Scuffer Steak & Ale House last week.
Other steakhouse faves, such as oysters, shrimp cocktail and piles o' potatoes, are also part of the concept. "The whole steak, wine and romance [theme] has really been inspired by our customers and their feedback," says Mariasha. "But we're still going to be heavily focused on wine. We're not changing from a wine bar to a steakhouse."
During the 13 years Christian Stromberg, 36, spent working as an engineer, he itched to own a business, but he wasn't sure what that business would be. "Ultimately, you go with what you know," he asserts. What does Stromberg know? Booze.
"My family came over from Lithuania, and they've always made liqueurs," he explains. "I still know families that make their own. They mix it up and store it in a jug in the basement." Now, Stromberg's Sapling Liqueur, made from Vermont maple syrup, is available in State Liquor Stores. A 750 milliliter bottle sells for $24.50.
"I've been working on this about three years," Stromberg says. He spent part of that time "experimenting with maple. I tweaked it and had people try it until I found a recipe that I liked." He did a lot of pencil pushing, too: "There's a ton of paperwork that goes along with getting federal permits."
While he was still navigating the maze, another Vermont-made maple liqueur, from Green Mountain Distillers, hit the market. "Back when I started, there was nothing," Stromberg says. Leery of being scooped again, he doesn't want to divulge his future plans: "I'm very hush-hush about that. My next product is going to be really tight to my chest, and when it's out, it's out," he says.
Still, Stromberg maintains he's got the superior twist on maple-flavored intoxicants: After trying the competing liqueur, "I was able to say I'm happy with what I've got, and I'm running with it . . . I think my recipe's better."
In a recent San Francisco Chronicle story, writer Carol Ness described a taste test of 10 frozen apple pies and declared most of them inferior to fresh-baked. "Just three out of the 10 pies tested emerged with honor," she writes. One was a pastry from Vermont Mystic Pie Company, which tied for first place with Sara Lee Deep Dish.
Ness explains that judges deemed Vermont Mystic's crust "'flaky' and 'good' though a bit undercooked on the bottom. The apple filling was 'not too sweet' with 'good apple and cinnamon flavor.'"
Want that à la mode? You probably can't find a Vermont pie in Turkey, but you can find Ben & Jerry's ice cream — finally. According to a recent article in the English-language Turkish Daily News, "The brand whose name is uttered in American books and Hollywood movies enters the Turkish market with its taste, products and socially responsible projects."
The article offers tongue-in-cheek advice — one hopes — for spotting B&J's employees. "If your eye catches someone walking down the street in a polar jacket with large black and white patterns, he is likely a Ben & Jerry's employee. Because ice cream is made of milk, and milk comes from cows, many Ben & Jerry's products, including clothes, are covered in black and white cow spots."
Another place to find those crazy "large black and white patterns" is the Ben & Jerry's factory in Waterbury. It's one of the 10 "hot spots" the popular Lonely Planet website recommends to Burlington-area tourists. Unfortunately the guide's second suggestion isn't so hot — a stop at the long-defunct Five Spice Café.
Michael and Laura Kloeti of Michael's on the Hill in Waterbury recently returned from a weeklong trip to Epcot Center. Family vacation? Nope, they were working at the Epcot International Food & Wine Festival.
"It's our fourth year," says Laura. "Michael did cooking demonstrations and took part in the 'Party for the Senses' event that involved 25 international chefs preparing signature dishes." As the chefs — including Todd English, Rick Tramonto, Roy Yamaguchi and Iron Chef Cat Cora — stirred and sautéed, attendees got to watch Cirque de Soleil perform gravity-defying stunts.
The restaurant recently got some "cooler" accolades, too. A Men's Fitness piece titled "Best in Snow" lists Michael's on the Hill as one of a handful of "hot ski-town eateries." Writer Kelly Carter gushes, "The wild king salmon and pasture-raised Angus beef tenderloin must be tried to be believed."
For powderhounds who don't want to leave the mountain even for sustenance, there's a new way to stock the slopeside cabin or condo. Grocerygogo.com, a Chittenden County-based grocery delivery service, now trundles the goods to Bolton, Stowe, Smuggs and Jay every Saturday, Sunday and Monday. For $60, GGG will deliver any of its 9000 available items right to your door. If they arrive before you do, says owner Patrick Kompf, they'll even stock the shelves for you.