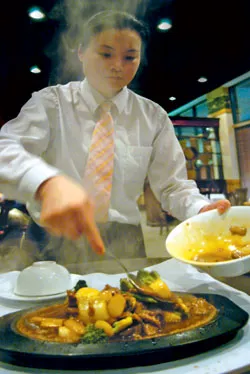 Tech-savvy Burlingtonians eager to order pizza by text message will have to wait a little longer. Although 2700 Papa John's pizza joints across the country are now shipping out pepperoni pies in response to e-communication, the B-town locale isn't one of 'em. According to a Pearl Street PJ's staffer, Ryan Meron, "It's something that's still in the experimental phase. From what I heard, it's been very successful, so I won't be surprised if they run it out on a national basis." Verizon? Fairpoint? Unicel?
The New Oxford American Dictionary has named "locavore" its word of the year. Nope, there's no second "L" in the West Coast spelling. As for a definition, the NOAD website offers, "The 'locavore' movement encourages consumers to buy from farmers' markets or even to grow or pick their own food, arguing that fresh, local products are more nutritious and taste better." It goes on.
Though "locavore" works as a faux-Latin coinage (locus is Latin for place), the dictionary's editors acknowledge that "Some groups refer to themselves as "localvores" rather than 'locavores.' However it's spelled, it's a word to watch."
Vermont microbrews may be a hot commodity, but, on Veterans Day, the Stonecutters Brewhouse in Barre caught fire, due to a faulty water heater. "We'd bought a hot water tank with an electrical mechanism on the front . . . it kept malfunctioning until it burned up," laments co-owner Jason Stevens. The restaurant is currently closed for repairs.
Luckily, nobody was hurt, but the fact that the building was empty also meant "there was no one there to put it out," says Stevens. "One room got the brunt of the damage," he goes on, listing a couple of chest freezers, an upright freezer and an ice machine among the casualties. That's not all: "There's soot everywhere. All of the carpets have to be replaced; the food has to be replaced; it has to be repainted. It's a lot of work," Stevens says with a sigh. He hopes to reopen by the first of December, even if the place isn't completely ship- shape.
Barre's L.A.C.E. Café shut down for several weeks in November to "redesign and reorganize," according to owner Ariel Zevon. But the eatery, located inside the L.A.C.E. store on North Main Street, reopened last weekend with a celebratory pig roast. It now boasts a soup and salad bar along with a new winter menu. As always, the cooks use Green Mountain ingredients whenever possible.
One example is the Vermonte Cristo, a decadent breakfast dish that features a French toast base topped with house-roasted ham, Boggy Meadow Farm's baby Swiss — from just across the Vermont-New Hampshire border — and jam made from Vermont cranberries. Then there's the "100-percent pasture-raised burger, which we're calling 'the best burger in Barre,'" dishes Zevon.
L.A.C.E. is also stepping up to the plate with new events designed to bring neighbors closer together, such as family-style community dinners served every Friday. Through the holidays, Zevon says, the spacious store will host a "Craftsapalooza" each Saturday — a meet 'n' greet with "food vendors and non-food vendors . . . hot cider, coffee and music." On three of those Saturdays, a certain jolly, white-bearded gentleman is slated to make an appearance. "Hopefully, we'll draw in a lot of families," says Zevon.
For the past 10 months, Chef Sean Buchanan has been preaching the grass-fed gospel as a staffer at Wood Creek Beef in Bridport. But on December 1, he'll be leaving the farm to pursue a new opportunity: He'll be executive chef of Evergreen at the upscale Stowe Mountain Lodge, which opens next April.
What's a localvore activist doing taking a job at a fancy resort? Upending the status quo, if things go as planned. From dishes served at the restaurant to catered functions and even casual room service, the plan is to "use whatever local we can get," says Buchanan.
Although many restaurants are doing the "farm-to-table" thing these days, Buchanan posits that it's harder in a high-volume situation. That's why you don't often see localvore offerings in banquet settings. Of Stowe, he says, "I think this company really wants to break the mold on that."
The guys at Hen of the Wood at the Grist Mill in Waterbury have got it down. Last month, chefs Eric Warnstedt and Craig Tresser's property made Gourmet's catalogue of the "Top 100 Farm to Table Restaurants." This month, it hit the top 10 on Food & Wine's list of the "Best Restaurant Dishes of 2007."
The decadent delight in question: Duck with Mustard Spaetzle. Associate Editor Emily Kaiser gushes in the magazine, "The tiny dumplings were flawless: pillowy, nutty and clearly made fresh that day. However, its duck is what I still think about." She says the "brined, lightly smoked, then pan-seared" poultry had "wonderfully subtle juniper, allspice and pepper flavors and an extraordinary crispy-caramel skin." Her final word: "I warmly thank whoever was responsible."
Kaiser singled out A Single Pebble in a Food & Wine article earlier this year. The Chinese Restaurant News liked it, too. For the fourth year in a row, the online newsletter has named the "top 100 Chinese restaurants in the United States" in a number of categories. Its editors say they began with a pool of 43,139 restaurants, then narrowed it down to lo mein slingers that had received awards and/or positive local press. Ultimately, voters nationwide got to weigh in.
Given Vermont's minuscule Asian population, it may come as a surprise that a few of our establishments scored. First Wok Chinese Restaurant in Morrisville made the grade as one of 100 "rising stars." In the "signature dish" category, both China Palace in Barre and Hop Sing Chinese Restaurant in Essex Junction received plaudits. No word on what their extra-special specials are.
Where did the local favorite A Single Pebble fit in? Oddly enough, the eatery, which has made its name serving authentic Chinese cuisine, was ranked in the "Chinese/Asian Fusion" group. Says co-owner Christina Duval, "It's very exciting to be given the award, but it's not really an accurate label for the restaurant." As the only Chinese person on staff, Duval wonders if ethnicity might have played a role. "I joked with Chef Steve [Bogart] that 'We got "Asian fusion," because you're an American.'"
Asian Bistro in Williston, which does fit the definition of a "fusion restaurant," was recognized for "overall excellence."