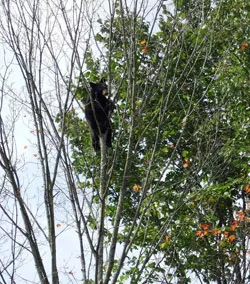 Bear cub sighting at Michael's on the Hill
The wait seemed eternal, but on Sunday, October 7, Smokejacks quietly opened its doors after a two-month hiatus in the wake of a fire. "There's a fresh coat of paint on the walls, and the banquettes have been re-upholstered," explains Dining Room Manager Bridget Corkery. The place has some funky new barstools, too.
Aficionados need not worry. Beloved dishes such as the sweet potato soup, "big bold" burger and seared yellow-fin tuna with cucumber noodles are still on the menu. There are a few cozy new items, too, as befits the advent of autumnal weather: a turkey-based "sloppy Jack," Misty Knoll chicken 'n' dumplings and a New Zealand cockle bake.
The original plan was to re-open on Saturday night, but it didn't work out. "We had problems with our oven," says Corkery.
Unfortunately, at least one customer with a Saturday reservation was left out in the cold. On her blog, Penelope Wall of Eating Well magazine explains, "We walked up to Church and Main at 8-on-the-dot only to find the dining room completely empty and the lights turned off." She hadn't left her phone number when she made the reservation, so the restaurant had no way of getting in touch.
Wall and co. had a great meal at Shelburne's The Bearded Frog instead. But she says of Smokejacks, "I hope I can get in there soon. It's one of our favorite spots."
Looks like she'll have to call ahead. According to eyewitnesses, the restaurant has been packed.
When Sean Buchanan of Wood Creek Farm in Bridport and Vermont Public Television's "Feast in the Making" got a call from folks at the Food Network a few weeks ago, he didn't know how they'd gotten his number, but he knew exactly why they were calling. Rumors had been flying that the cable channel was gonna pit Mark Bove and his old-school lasagna against one made by a celeb chef on "Throwdown with Bobby Flay." "I had to tell them that everybody knew," says Buchanan, laughing.
Although Flay won the contest with his "rustic, Northern Italian" offering featuring braised, locally raised meats and veggies from Golden Russet Farm in Shoreham, Bove's Neapolitan-style dish was a big hit, too. "When you close your eyes and imagine what Little Italy lasagna would taste like, that was it . . . it melted in your mouth," Buchanan explains. It's no wonder that a bunch of Food Network staffers stocked up on the leftovers.
Says the business-savvy Buchanan, "I don't necessarily know if the Boves really understand what's going to happen when the show [airs]." He believes an appearance on "Throwdown" could increase business "10- to 20-fold." "They're going to be the next Newman's Own," he predicts.
In other Food Network news, Colchester resident and competitive BBQer Rob Mongeon showed up last night on "The National Chicken Cook-Off." One of 51 competitors, Mongeon was profiled extensively on the show, an honor reserved for a select few.
Unfortunately, his Caribbean chicken medallions with baked plantains and mango sauce didn't win a prize. The recipe is available on the Food Network website.
Chef Michael Kloeti of Michael's on the Hill in Waterbury knows his way around lamb, chicken and beef, but what about bear? A couple of weeks ago, staffers were surprised to find a large cub hanging out in a tree that overlooks the restaurant's parking lot. They dubbed him "Yogi."
After contacting the Vermont Department of Wildlife, the Kloetis blocked off a portion of their parking lot and hung signs reminding patrons that bears may look cute and cuddly, but even the little ones can be quite dangerous. The next morning, Yogi was gone.