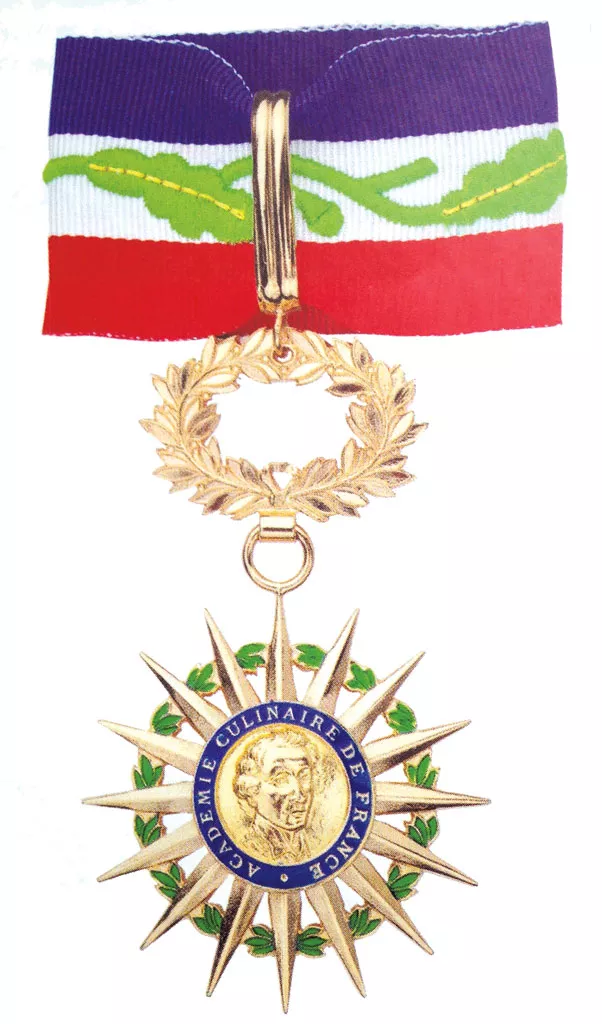 On October 13, New England Culinary Institute COO and executive chef Jean-Louis Gerin brought NECI grad Sam Benson to represent the United States in Paris at L'Académie Culinaire de France's Trophée Passion. The Trophée, notes Gerin, hosts its contest on even years, while the Bocuse d'Or falls on odd years.
Gerin, president of the American delegation of the Académie Culinaire, chose Benson, who's now a research and development chef at Chipotle Mexican Grill, at the recommendation of the young chef's previous boss, Daniel Boulud. "He's a NECI grad from Vermont," says Gerin. "He had to win."
In a field of 11 chefs representing nations from Japan to Morocco, Benson, a savory chef, won the pastry competition and took home second place overall. In that pastry contest, for which Gerin served as judge, Benson and his fellow chefs were tasked with cooking a perfect crème moulée (egg-thickened custard) accompanied by chocolate and ladyfingers. Benson had trained six months in New York and Paris for that task, as well as for preparing the savory course of beef wrapped in a potato crust.
"That custard can go crazy on you. And it did on 10 other competitors," Gerin says. But it didn't on Benson — who won the newest model KitchenAid, a silver tray engraved with his distinctions and a lifetime of high-end culinary cred.
—A.L.
Next Monday, October 27, acclaimed chef Renee Erickson will pay a quick visit to Shelburne to cook and to promote her new book at Chef Contos Kitchen & Store. Erickson's celebrated stable of Seattle restaurants includes Boat Street Café, the Walrus and the Carpenter, the Whale Wins, and Barnacle. Her new book, cowritten with Jess Thomson, A Boat, a Whale & a Walrus: Menus and Stories (Sasquatch Books), offers recipes and menus spanning her entire career.
Reached by phone, Courtney Contos, the shop's chef-owner, was ebullient about next Monday's event. "[Renee] is just so cool," Contos says. "She's one of the top female chefs in the country." Contos praises the book, which features stories, menus and recipes organized by season, as one of the best she's seen in a while.
The $40 event ticket includes a copy of the book, prepared snacks and a cooking demo, during which Erickson will work with ingredients from Jericho Settlers Farm. Shelburne Vineyard will be on hand pouring wines for purchase. Tickets and more information are available at chefcontos.com.
—H.P.E.
The original print version of this article was headlined "Crumbs: Leftover Food News."