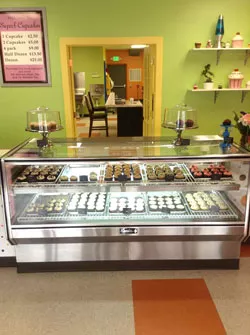 Tired of miniature cupcakes? A new Williston bakery specializes in regular-size, filled versions of the sweet treats.
Superb Cupcakes recently opened at 5 Taft Corners Shopping Center as an expansion of the business that Joseph Emmons and Hannah Lenehan, partners in cupcakes and life, started together in 2011. Working from home, the two sold their desserts at five different farmers markets and at stores such as Cheese Traders and Wine Sellers in South Burlington and Natural Provisions in Williston.
Each day, 10 to 12 flavors are available, drawn from a range of about 35 specialties such as Vermont Maple Bliss, a maple cupcake filled with maple cream and topped with maple buttercream.
*****
The diminutive Upper Valley dining scene took a blow on Monday when a pair of longstanding restaurants, Bentley's Restaurant in Woodstock and Fire Stones Restaurant in Quechee, closed.
Bentley's co-owner David Creech told the Vermont Standard that mismanagement of the restaurants' finances forced both places to shutter. A spokesman for the Mountain Trading Company, which owns both eateries, declined to comment, but an employee at Fire Stones suggested the restaurant would "reopen in about a month," without providing further details.
*****
After sitting empty for years, the former Chittenden Bank building on Montpelier's State Street is back in business — as a sushi restaurant. Asiana House opened there two weeks ago. Chef Gary Ma, who leased the space with his wife, Sandra tan, has been behind the sushi bar turning out nigiri sushi and maki rolls. Though Ma eventually wants to roll out new dishes, for now Asiana House's menu and prices are almost identical to those of its sister restaurant in Burlington.