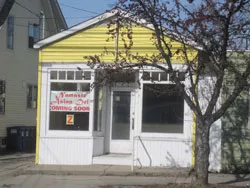 When Namaste Asian Market opened two years ago at 235 Main Street in Winooski, it brought the area an eclectic range of foods from across Asia. Inside the tightly packed store, visitors find Japanese udon-noodle soup mixes just feet away from Indian papadums and Chinese hundred-year-old eggs.
A similar variety will inform the choices at Namaste Asian Deli when it opens just across the street from the market on May 1. An employee says the offerings will include owner Bishnu Gurung's native Nepali-style dumplings filled with vegetables or meat, as well as banh mi sandwiches served on house-baked baguettes. Customers will also be able to take home noodle dishes, egg and spring rolls, and bracing cups of Vietnamese-style coffee.
— A.L.
*****
Four Vermont chefs were semifinalists for this year's James Beard Foundation Awards: Steve Atkins of the Kitchen Table Bistro, Aaron Josinsky and Nathaniel Wade of Misery Loves Co. and Eric Warnstedt of Hen of the Wood. Not one of them made it into the finalist pool.
It's not all gloomy news, though. Local writer Barry Estabrook picked up what seems to be his annual nomination, this time in the Food Politics, Policy and the Environment journalism category, for his article "The FDA is Out to Lunch," published in OnEarth magazine.
And, for the first time since 2000, a book published by White River Junction's Chelsea Green Publishing is a JBFA finalist — The Art of Fermentation by Sandor Katz.
*****
Last week, an early-morning barn fire at Springfield's Cavendish Game Birds killed 20,000 quail and 30 pigs. The owners are already planning their rebuild.
Though a barn — one of three — burned to the ground in an hour, co-owner Rick Thompson reckons that thick smoke killed most of the animals, about half of Cavendish's stock and all its breeding birds. The cause of the fire is still unknown.
Thompson and his brother, Bill, supply thousands of Coturnix quail and their eggs each year to restaurants and distributors throughout the Northeast. The farm has about a month's supply of birds left, after which the Thompsons will shut down production to concentrate on rebuilding. They hope to be selling birds again by late summer.
We wish them the best.
*****
Former Trapp Family Lodge head brewer Allen Van Anda and his assistant, Jamie Griffith, have partnered up for a new craft brewery in Morrisville. Lost Nation Brewingwill open later this spring.
Van Anda says the brewery, inside the former Rock Art Brewery space at 254 Wilkins Street, will produce roughly 6000 barrels per year of "honest, good-drinking session beer," including amber, Pilsner and even gose — a tart, German-style beer flavored with sea salt and coriander.
At first, Lost Nation's beers will be available only in kegs or in growlers filled in the tasting room. The spot will also have 18 taps, a few tables and plates of local meat and cheese to entice visitors to linger for a pint.
— C.H.