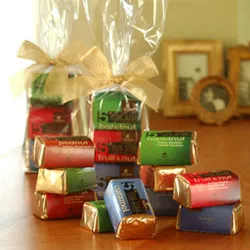 When the folks at Lake Champlain Chocolates decided to add a new sweet — the fifth — to their line of Five Star Bars, their biggest challenge was finding a flavor that could live up to the hype. After all, Vogue referred to the line as "the ultimate candy bar[s]," and Steve Almond, author of Candyfreak: A Journey Through the Chocolate Underbelly of America, raved about Five Stars' "complex and nuanced marriage of ingredients … with a sense of evanescence and persistence."
LCC's choice — dark-chocolate granola — may strike some as sounding surprisingly wholesome. The house-made, maple-scented cereal is packed with cranberries and almonds, then blended with chocolate and almond paste to form the filling.
Will the fifth Five Star deliver on the promise of its caramel, peanut, hazelnut and fruit-and-nut counterparts? Decide for yourself on July 1, when it hits the shelves.