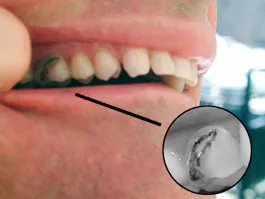 Pollock had his canvasses. Christo has his desert landscapes. Andre the Giant has stickers. For her artwork, Yorini Undyantara chooses tooth tatts.
Call her the Caravaggio of crowns, the Matisse of molars, this unassuming dental technician from Champlain Dental Labs in South Burlington has been painting pictures on porcelain crowns for several years. Celebrities might plant diamond chips in their bicuspids, but, so far, Vermonters have been somewhat close-mouthed about their dental artwork. Your co-worker or neighbor might be harboring one of Undyantara's tooth tattoos — a red rose, a guitar with a musical note, a coiled cobra — and you simply haven't noticed. She customizes her designs to reflect the interests of her clients. "I want to know their innermost wishes," she says. So far, they range from birds to sports.
Dr. Steven Fischer, a partner in Timberlane Dental Group, recalls his first brush with Undyantara's dental designs on a visit to the lab that casts crowns for his — and other — local dental practices. He saw a crown she had painted with a canoe floating on a blue lake. "That's neat," he thought to himself, then proceeded with the business at hand. Undyantara, a graphic designer in her former career, had painted the pastoral scene at the request of a dentist in Ft. Ticonderoga, New York.
A few years later, when Fischer needed a crown himself, he remembered the canoe and thought it would be fun to commission his very own design. "What we do as dentists is so serious, so meticulous," he says. "I thought it would brighten things up a bit." An avid fisherman, he asked Undyantara to paint a brook trout, which, he exclaims reverentially, "is the jewel of nature, especially in the fall. "
If you haven't heard of tooth tattoos, you're not alone — the micro artwork is not exactly common in Vermont, and Fischer doesn't go out of his way to promote them. But when he gets engrossed in a conversation with a patient who shares his interest in fishing, the subject tends to surface.
"Did you know that Dr. Fischer has a brook trout in his mouth?" his assistant will ask proudly. The patient invariably implores Fischer to show off the catch. He pulls back his top lip to expose the painted back molar. Sometimes, the sight inspires that patient to get one, too. So far, no one's been bold enough to display a tooth tattoo up front.
When they're being prepped for porcelain crowns or veneers, patients bring in sketches or pictures to show Undyantara. Then she asks questions: Do they want the cobra coiled? The rose opened in full, or a close-up of some petals? A bird flying or nesting? Undyantara works on a design until she's satisfied with it. Then she's ready to paint.
First she uses a high-speed burr to carve an area on the crown for the painting. Then she chooses the first color — the same type of "paint" used to match crowns and veneers to natural tooth color — and applies it to the porcelain. Undyantara then bakes it and applies the next color, continuing the process like an artist producing a print. The designs take about two hours to complete. "It's time-consuming," confirms the quiet, unassuming Undyantara. "I need to use a magnifying glass."
The paints are transparent, like watercolors, and daily brushings will not remove them — Undyantara uses a glycerin mix to glaze over the painting. Though not strictly a "tattoo" — no needles are used — the painting is inlaid about a half-millimeter into the porcelain. Undyantara charges about $50 for these dental decorations — not including, of course, the crown itself, which runs in the $700 range. Her price is also a bargain compared to the $100 to $250 charged for typical artwork in Southern California, and it's slightly less expensive than a basic skin tattoo, which starts at around $55 in the Burlington market.
Fischer can account for about a dozen locals now sporting tooth tattoos. One of them is Les Allen of Essex Junction, a patient of Fischer's for the past 13 years. "We were talking about golf as he was prepping me for a crown," Allen explains, "and he showed me the brook trout. We had this crazy dialogue, and I decided I had to have golf clubs."
Undyantara designed a green with two golf clubs, crossed at the center, a white golf ball, and even a red flag marking the tee. Allen is only too happy to pull his bottom lip down and reveal his tiny private golf course. "The tattoo hasn't improved my golf game," jokes Allen, who has a handicap of 10, "but it sure has helped my conversation."
Katie Smith, a pediatric dental hygienist at Timberlane in Essex, needed a crown about a year and a half ago, just months before her wedding. For someone who'd never even had a cavity, this was a big deal, and Fischer suggested a tattoo to make her feel better about her dental dysfunction. So she asked Undyantara to create a sunflower, her favorite flower. "Then Dr. Fischer gave it to me as a wedding gift," Smith says, adding, "My husband really likes it."
Like Allen, Smith enjoys exhibiting her tooth tattoo. At a friend's wedding in Connecticut recently, she says lots of guests admired her sunflower and asked where they could get one. She's confident the dental works will catch on. "It's a personal way to express yourself," she says.
Though the number of Vermonters showing off Undyantara's toothy talents is still small, the artwork is quite varied. One woman, who has what Fischer describes as a dolphin fetish — body tattoo, rings, earrings, T-shirts, etc. — chose… what else? And a fly fisherman didn't have to cast about to make his choice — two, actually. His first was a rainbow trout; the second, an Ausable Wulff dry fly. Among Fischer's patients, he's the only one with dual tattoos. Not to be outdone, the fellow's wife had Undyantara create a bald eagle for her bridge — inspired by the nesting birds at the couple's Adirondack camp. The eagle's head is featured on her center crown, the wing span over the two adjoining teeth.
Neither Undyantara nor Fischer will reveal the identity of a prominent local basketball coach whose tattoo depicts a basketball, the word "coach" and a single letter that would give it all away. Talk about team spirit.
Currently the tattoo process can only be applied to porcelain crowns and veneers. If you get tired of the tattoo, you have the option of replacing the crown. One celebrated tooth tattoo artist in Southern California — the subject of articles in the popular press as well as specialized dental journals — is working with a dentist to develop a tattoo process for natural teeth.
Meanwhile, there's always spinach.