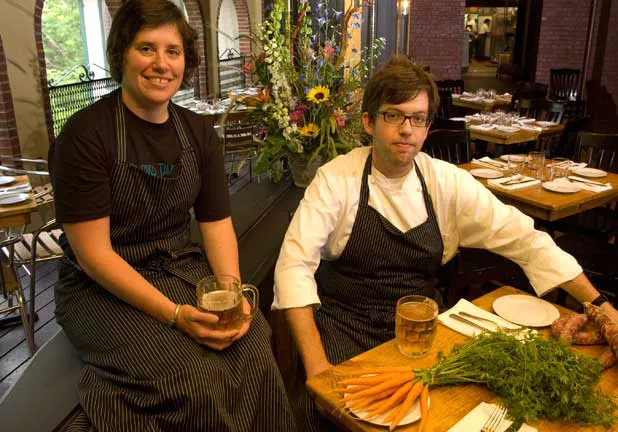 Matthew Thorsen
Sue Bette and Aaron Josinsky
When the semifinalists for the 2010 James Beard Foundation awards were announced last Thursday, there were a few Vermont names on the list.
As they were last year, Steve and Lara Atkins of Richmond's The Kitchen Table Bistro and Eric Warnstedt of Hen of the Wood in Waterbury were named in the prestigious "Best Chef Northeast" category.
New to the nods this year: the Bluebird Tavern. The Burlington "gastropub" is one of 31 recently opened restaurants in the national Best New Restaurant category.
"It's a great recognition of the whole Vermont food community," says BT owner Sue Bette. "It's about the farmers and producers who are sharing their passion by bringing us such awesome products, and the guests who come to dinner and celebrate with us."
How did a Burlington restaurant make it onto the list, packed with eateries from much larger cities? According to Houston Chronicle restaurant critic Alison Cook — a member of the James Beard "Restaurant & Chefs Awards Committee" — the list is culled by the committee from suggestions gathered online, and from the evaluations of more than 200 regional judges.
Cook, who grew up in Shelburne, admits she had some input on the nom. Last year, she visited the Bluebird when she came home for a visit and "was able to recommend the restaurant to a fellow committee person who was traveling in Vermont," she says. "She was as enthusiastic about it as I was."
What's the next step in the awards process? Each list will be whittled down to five nominees, whose names will be released on March 22.