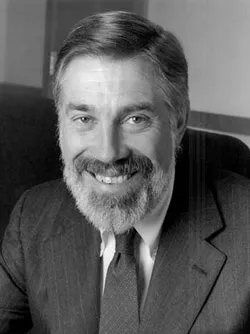 Catholic colleges, particularly their administrations, aren't known for taking bold steps in radically new directions - the safe and familiar are more the norm. So it came as no surprise to many at St. Michael's College in Colchester that Dr. John J. "Jack" Neuhauser, a St. Michael's trustee since 2001, was chosen to succeed Marc vanderHeyden as the next president of Vermont's largest Catholic school.
Neuhauser, 63, was the candidate who neither ruffled many feathers nor elicited unbridled enthusiasm; he's a liberal Catholic with solid academic credentials and a proven administrative track record. But convincing SMC's presidential search committee - six of the 11 were his fellow trustees - may have been an easier task than winning over faculty, staff and students, some of whom were pushing for a younger and more dynamic leader.
By all appearances, Neuhauser seems unaccustomed to and a bit uncomfortable in the spotlight. More soft-spoken and reserved than his charismatic predecessor, he's a left-brain thinker. Neuhauser has a Bachelor's degree in physics from Manhattan College, a Master's in operations research and statistics from Rensselaer Polytechnic Institute, and a doctorate in mathematics, also from RPI.
His achievements sure add up. As academic vice president and dean of faculties at Boston College, Neuhauser helped grow the full-time faculty by 50 members, doubled the number of endowed professorships, and boosted the college's grant funding from $20 million to more than $40 million annually. Under his leadership, BC also received the fourth-highest number of applications of any private university in the United States.
Longtime SMC history prof George Dameron expects Neuhauser to be an approachable, pro-faculty leader with a firm grasp on the financial complexities of higher education. "It was an extremely apt appointment at this stage for the college," he suggests.
Neuhauser assumes the St. Mike's helm at a crucial time - not only for the college but for Vermont's Catholic community in general. A year ago, the Diocese of Burlington announced that seven of Vermont's 130 parishes were closing and another 14 were consolidating. This at a time when the Catholic Church faces dwindling attendance, priest shortages and scandal-driven financial woes.
Like all Catholic colleges and universities in the United States, St. Michael's is in the midst of reexamining its own religious identity. A year ago, vanderHeyden asked the faculty, "Is St. Michael's College 'Catholic' enough?" This soul-searching, driven by the Vatican's effort to reaffirm the religious identities of all American Catholic colleges and universities, is more than a philosophical thought experiment. It has serious implications for the students and faculty SMC recruits and, ultimately, for the intellectual and cultural climate on campus.
Neuhauser, who formally succeeds vanderHeyden on July 1, sat down with Seven Days last week to talk about himself, the future and the Catholic identity of St. Michael's College.
SEVEN DAYS: You're a math and science whiz. Is that an unusual academic background for the head of a Catholic, liberal-arts college?
JACK NEUHAUSER: It might be. I was a physics major because I'm sure somebody said to me in high school that you should be a physics major. It wasn't as if I knew what I was getting into. I found science to be a very good background, even though I never practiced physics - the rigor, the toughness of the mathematics. I actually had more credits in philosophy than I did in physics.
SD: What are the biggest challenges you'll face at St. Michael's?
JN: Enrollment is going to be a problem because the demographics are just against you. Such a large percentage of the college-going population - it could be as high as 30 percent by 2010 - will be Hispanic. We're not terribly good at recruiting them. Nobody is . . . The populations that are growing are in the South and West, they don't have enough financial aid. We need to keep it affordable. There are not a lot of new ways to do that.
SD: What else?
JN: Financing in general. It's healthy now, but you're only two mistakes away from bankruptcy at any of these schools. In a broader sense, what does it mean to be a liberal arts college in an age when everyone wants to be an investment banker? . . . Do we really want to send all our kids to Wall Street? That's not the only way to live.
SD: St. Michael's College is re-examining its own Catholic identity. Did you have a similar dialogue at Boston College as well?
JN: A fair amount. I would have to say, at times it was quite contentious, because a college tends to be a pretty pluralistic place and has a tough time with dogmatic pronouncements, especially from a church that would seem to be weakened in terms of moral authority to begin with. So, we had a lot of heated discussions, especially amongst the faculty.
SD: Did this discussion arise much while you were a trustee for SMC?
JN: Oh, sure. I remember one or two board meetings where it was the principal topic of discussion, and not without differences of opinion. And not from where you'd expect them. It's not like it was Edmundites on one side of an issue and lay people on the other. It was all over the lot. I think it broke down as much by age. Those people who grew up in the '60s and '70s are still kids of the '60s and '70s, and that was a very non-doctrinaire age.
SD: Do you think St. Mike's is "Catholic enough?"
JN: I don't know what that means. I think it is, but does that mean you go to Mass, or does it mean you have a certain set of beliefs, or you live in a certain way? It probably means all these things. Especially for young people, this is bound to be a time of exploration - it was for me - and I'd be surprised if it weren't for the typical 18-, 19- or 20-year-old . . . One of the things college lets you do is take different viewpoints, argue the pro, then argue the con.
SD: At Boston College, more than half of the new faculty hired during your tenure were people of color. Is boosting diversity at St. Michael's a priority for you?
JN: Yes, though I expect it will be more difficult here because it's Vermont. It was probably a little easier at Boston College, but it was something I really cared about. I think you have a responsibility to your students to have a diverse faculty. It's hard to recruit students of color if you don't have anybody else of color. You really have to try hard, and I expect to be personally involved in it.
SD: Will that include religious diversity?
JN: Yes, although I expect you're going to get that anyway. I think it's probably true that if you're a Catholic college, you probably ought to have some percentage of your faculty Catholic, but I'm not in favor of preferential hiring based on religion. I think if you're an avowed Catholic place, but not in a proselytizing way, you'll just naturally end up with a disproportionate share of Catholics. Will it be 70 or 80 percent? No, I don't think so.
SD: Is it important for St. Mike's to have a "critical mass" of Catholic students?
JN: I think it's important to have Catholic students here. Again, I have a problem knowing what that "Catholic" means. We used to have a discussion [at Boston College] that they only wanted to hire practicing Catholics. What does that mean? Some of the bishops that got into all this trouble were practicing Catholics . . . I think there's some level of Catholic students we ought to expect. Is it 30, 40, 70 percent? I don't think it's 70 percent. But again, I think there's a good deal of self-selection . . . I don't think it would be good if you were 100 percent Catholic.
SD: Why not?
JN: To grow up in this world, you need more diversity. You need to be more challenged. Some of the more fundamental institutions where you're not allowed to challenge their faith, I think that's bad for the people who are there. It doesn't allow you to grow the way you should.
SD: What are your expectations about the relationship between the college and the Catholic Diocese?
JN: I don't know. In other places, it can be tense. It certainly was in Boston when I was there. At the same time, much of what you're doing is in common. You can really help each other instead of throwing stones at one another. I have no intention of throwing stones. I'd like to get to know the bishop to the extent that I can and, hopefully, we can agree on most things and agree that it's not unlike a marriage. There's a certain set of things we're going to disagree about, but we're going to have to get along anyway.
SD: Is it the role of the Diocese to direct the College?
JN: I tend to see the college as quite autonomous. But the local [bishop] certainly has a role in terms of commenting, being present and even saying, "I disagree violently with what you're doing here." That's his role. And my role is to say, "Well, free speech counts, too." In America, we have to learn how to do both. There'll potentially be times when we disagree. You don't want to have fights within the family.
SD: In 2005, the appointment of Jeffrey Trumbower as dean of the college was controversial because he's openly gay. As a trustee, did you support his appointment?
JN: Yes, though it never came to the board. It was a presidential decision. I knew Jeff because of his scholarship. He's a very good scholar, and a nice guy. To tell you the truth, I was a little surprised that Marc [vanderHeyden] was able to convince him to become an administrator.
SD: Would you support the hiring of another gay administrator or faculty member at St. Michael's College?
JN: It wouldn't be an issue for me. I certainly supported hiring without regard to [sexual preference] at Boston College. Not that everybody agrees with me. I think you have to be who you are. If we suddenly take three steps to the right, you run the risk of losing your identity . . . In my experience, it's very hard to dislike people you know. To the extent you can break bread together, it's a lot easier to get along.
SD: On a lighter note, I understand you're a marathon runner.
JN: Yeah, but those days are probably behind me.
SD: Will you run in the Burlington City Marathon?
JN: I'd probably need to get a new hip first. I destroyed this one.
SD: What are you most excited about in this new job?
JN: The people and the place. I hope I can leave it a better place. It's very important for me to want to go to work every day. People don't have to love each other, but I want them to like each other. We're all in this together. Let's not bicker.