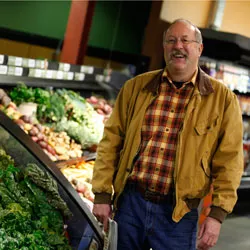 Jordan Silverman
Joe Smillie
When Joe Smillie moved to Vermont from his native Canada in 1995, he requested a vanity plate from the Department of Motor Vehicles. His first choice of tag, 7CFR205, was summarily rejected without explanation. Smillie suspects someone at the DMV thought it was a Bible verse, or a cryptic obscenity.
Instead, Smillie opted for a more obvious message on his plates — specifically, the subject of the 1990 federal statutes, found in Code of Federal Regulations Title 7, Part 205, that he helped write. It reads: ORGANIC.
For more than 30 years, Smillie has been spreading the organic gospel worldwide as a farmer, author, consultant, inspector and certifying agent. He was doing so long before the U.S. Department of Agriculture, or any nation, codified standards for "organics" — that is, foods grown or raised without pesticides, herbicides, antibiotics, growth hormones or genetic modification.
Smillie is senior vice president of Quality Assurance International, a San Diego-based company that inspects and certifies organic foods. About 65 percent of all organic products found on American store shelves bear the black-and-white QAI seal. In the nearly $25-billion-a-year organic food industry, QAI is one of the biggest and most influential players.
Since 2006, Smillie has also worn another prominent hat: He's a member of the 15-seat National Organic Standards Board. Created by the Organic Foods Production Act of 1990, the NOSB decides what may be used to produce organic food. Smillie's five-year term ends in January.
Over the years, the Ontario native has inspected and certified scores of organic products, ranging from Vermont yogurts to Haitian mangoes to Chinese teas. The makers of many local and national brands, including Stonyfield Farm, Earth's Best, Ben & Jerry's, Eden Foods and Cascadian Farm, worked with Smillie when they were first getting started.
"Joe has always had incredibly high standards ... He was tough and thorough, but fair," notes Gary Hirshberg, cofounder, president and CEO of Stonyfield Farm. "Joe gives me enormous confidence that 'organic' really means something."
As an official standard bearer for the organic industry, Smillie has had to walk a fine line between purity and pragmatism, which he describes as "the struggle for the soul of organics since day one."
Some organic-food activists have accused the USDA and the NOSB of not being restrictive enough. Smillie admits that the federal standards aren't perfect. But he contends that the organic industry would never have grown beyond a small niche market without making certain compromises.
"We don't want to be yuppie puppy chow. We don't want just elite, educated, urban citizens to have organic," Smillie says. "We want organic to be for everyone, including the Iowa corn farmer who's losing his farm and wants to switch to organic so he can make a profit."
Smillie, 63, lives and works in a tony, third-floor condo in South Burlington. His spacious apartment, with its modern appliances, high-speed Internet and giant-screen TV, gives no clue to his agrarian roots as a back-to-the-land homesteader who lived off the grid for years in rural Québec.
"Life has a way of playing games with you," Smillie confesses, with his signature good-natured grin. "Back when we were passing the pipe in the '60s, I never thought I'd be a USDA enforcement agent. It's not exactly what I had in mind."
Or what his parents had in mind. Smillie grew up in southern Ontario. His father was a Canadian-Navy-seaman-turned-dry cleaner, his mother, an accountant and housewife. It wasn't until he attended Queen's University in Kingston, Ontario, that Smillie was bitten by the "ecology bug."
"I realized that good planets are hard to find," he says, "so we've got to stop poisoning the one we're on."
For a time, Smillie considered becoming a political activist. But that idea got put out of his head, literally, when a nightstick-wielding cop whacked him in the skull during a Vietnam War protest. Soon thereafter, Smillie took off for Europe. He returned to Canada and spent two years teaching high school history before moving to Glen Sutton, Québec, just north of the Vermont border.
In the late 1960s and early '70s, Glen Sutton was a popular haven for American draft dodgers and other back-to-the-land types. There, Smillie, his wife and several friends bought a 200-acre farm where they raised asparagus, barley and chickens. They cut their own wood to build their houses, erected a windmill and got water from a gravity-fed spring.
It was during his homesteading years, Smillie recalls, that he first grew interested in the organic movement. Part of his education came from frequent trips to Vermont for the annual summer conferences of the nascent Northeast Organic Farming Association.
It was during those "wild and crazy NOFA conferences," Smillie says, that he began to see the need for an independent body that could verify that farms were, in fact, living up to the organic credo.
"That's basically the story of my life," he says, "realizing that to grow [organics] into an 'industry' — and people hate that word — it had to follow good standards."
Smillie soon found others who shared that belief. In 1984, he was one of a dozen founders of the Organic Foods Production Association of North America, which later became the Organic Trade Association. According to Smillie, OFPANA was the first organization to formally adopt the concept of "third-party certification" — that is, having an independent outfit verify that farms and food processors were doing what they claimed to be doing. As the organic movement grew, third-party verification became the standard adopted by the USDA and other international governing bodies.
"There's a long list of people who learned about organics from Joe," notes Grace Gershuny, a longtime Vermont organics activist who started NOFA's organic certification program in 1977 and once worked with Smillie at OFPANA. "Joe is someone who embodies the term 'organic integrity.' He's the real deal."
Throughout the 1980s, Smillie spent less time on his own farm and more time working as an international consultant and inspector of other farms. Having worked with Gershuny and others to write the OFPANA standards, Smillie became part of what he now jestingly refers to as the "bio-jet set," traveling the globe and certifying organic operations in such places as Mexico, Bolivia, Turkey, Jamaica, China and Japan.
"It was like being the Errol Flynn of the organic movement. I had a ball!" he recalls. "I didn't make much money, but I got to travel."
Smillie recounts one experience inspecting an organic sunflower farm in Mongolia. One of the first questions he asked his Chinese hosts: "How long have you been farming this land organically?"
The farmers whispered among themselves, then hurried off to get him an answer. Smillie waited a long time for them to return.
"Finally, they come back and tell me, 'As far as we can figure, the first Han ancestor came into this valley 3000 years ago,'" Smillie recalls. "I said, 'I guess that'll qualify.'"
In the ensuing years, Smillie spent a lot of time in China as an international tea inspector. He made one of his visits in 1989 in the midst of major political upheaval. Sensing that tensions were about to boil over — and not wanting to repeat his unpleasant protest experiences during the Vietnam War — Smillie took off for Hong Kong. Three days later, the Tiananmen Square massacre occurred.
In 1990, Smillie went to work full time for the recently formed QAI. His involvement in writing the Organic Foods Production Act of 1990 is a story unto itself, he says. That said, Smillie points out that it was Sen. Patrick Leahy who took the legislation and tucked it into a larger ag-appropriations bill to get it through Congress.
"It was a very skillful move for a very small industry that [Leahy] believed in," Smillie adds. "The rest, as they say, is history."
When asked how an organic food inspector and certifier does his job, Smillie offers an almost Zenlike response.
"If you're looking for something, you won't find it," he says. "But if you're not looking for something, you see everything."
People often assume that an organic inspector looks for obvious fraud, he says: hidden stockpiles of pesticides, bags of chemical fertilizers, GMO seeds. Not so.
The job of an organic inspector, Smillie explains, is to determine exactly how the organic system delivers its crops each year. Where does the nitrogen in the soil come from? How does the farm control its pests? What kind of weeding equipment does it use?
"If you can't find answers to those questions," he says, "there could be a problem."
While Smillie's job is to uphold federal standards strictly, he insists that in the big picture, he's no purist. It's impossible to grow "pure" food on a planet as polluted as ours, he says.
In his view, the organic movement should aim not to realize an unobtainable ideal but to eliminate or minimize the use of toxic chemicals and other dangerous processes, such as genetically modified organisms.
Smillie also holds an interesting view for someone whose livelihood is based on certifying farms and food processors as organic: He doesn't object to the growing trend of farmers eschewing organic certification — it can be both costly and time consuming — while still adhering to organic principles.
"I think it's great! If you can do without certification, God bless!" he says. Some small-scale producers are well enough known to their local customers to do just that.
That said, Smillie points out that the Nebraska beef rancher, the Iowa corn farmer and the Louisiana sugar-cane grower will never be able to sell their products locally. For them, certification isn't just a philosophy but an economic necessity.
"If the buyer knows the seller, you don't need us," he says. "But don't expect to move into interstate commerce. If you want to play in the big leagues, you've got to wear a uniform."