Once again, we're reminded how much people love their pets. Crazy, crazy love. And that's a good thing. We received more than 530 photographs from 216 readers. Some categories received more entries than others — Doggone Adorable and Purrrfect Posers are especially popular. That's probably because most people's pets are either cats or dogs. We found the tiny hedgehog pretty irresistible, but Humphrey did not prevail in the general election.
Seven Days staffers held a preliminary vote to narrow down the entries for readers — a tough job, but that's the kind of awesome we are.
Readers then weighed in on the finalists with nearly 3000 votes — via the Seven Days Social Club's Facebook page — and you can see the winners here. (Alaskan malamute Annuk is our cover girl.) We mention as a cautionary tail, er, tale that one zealous finalist somehow managed to game the voting system, but was discovered and disqualified. Tsk, tsk; is that the kind of role model you want to provide for your pet?
Anyway, thanks to everyone who submitted photos of your feathered, furry, fuzzy or spiny friends. All of them are clearly special, but only one could be the top vote-getter in each category. Thanks also to Play Dog Play of Burlington, which donates a $50 gift certificate to each of the winners. And here they are, the Best of the Beasts 2012…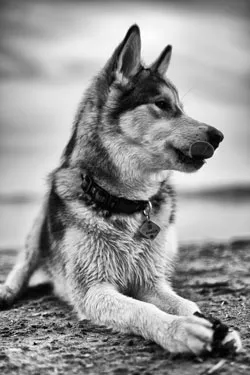 Doggone Adorable: Dog Portraits
Winner: Annuk, Alaskan malamute, 11 months old
Jackie Meserole of Burlington is Annuk's "mom," but her photo was submitted by Meserole's friend Corey Rondeau. "Annuk was the second-biggest in the litter. She's going to be huge," Rondeau says. Though her size might make her intimidating to some, Rondeau insists she's "very playful and loves everybody." Annuk "kind of picked Jackie," he adds, but "Annuk is also very attached to me."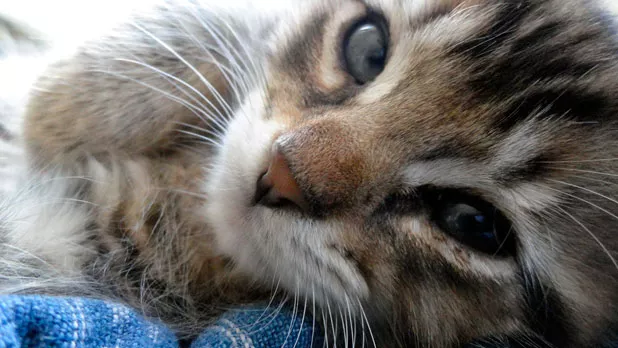 Purrrfect Posers: Cat Portraits
Winner: Azlyn, Maine Coon cat, 5½ years old
"The Prophet: China Cat Azlyn Moon Leaf" is the grand, full moniker of our winning feline, according to owner Alexandria Kerrigan of Burlington. He is the only cat we know with a colon in his name, not to mention the title of a spiritual book. The Azlyn part came from azul, because of his beautiful blue eyes, Kerrigan says. She describes her pet as "sweet, but kind of evil — he likes to sneak up on you and attack you." Azlyn has an unlikely but devoted best friend at home, an 80-pound boxer named Jack.
Wild Card (No Cats or Dogs Allowed)
Winner: Pacific Raindrop, a Shetland pony, 5 years old
Raindrop's birthplace — a ranch in California overlooking the Pacific Ocean — inspired her name, says proud owner John Killacky of South Burlington. The pony was gifted to him when he made the move east to become executive director of the Flynn Center for the Performing Arts. Now boarded at Windswept Farm in Williston, Raindrop is learning to pull a cart — with Killacky in it. Her most endearing quality? "As soon as I arrive [at the stables] and make a sound, she whinnies for me," says Raindrop's dad. "Nothing is more touching than hearing your animal calling for you."
Lady and the Tramp: Pet Lovers/Best Pals
Winners: Sir Carl, exotic shorthair cat, and Wicker, shepherd/husky mix; 5 and 4 years old, respectively
Dan Giangreco says Sir Carl showed up at his house in Richmond as, seemingly, a stray. Years later, he actually found the cat's original owner. "We've had a few Carl parties together," Giangreco says, adding, "He's great with whoever he's with." That includes his BFF, Wicker, a rescue dog from South Carolina. When Giangreco returns from a walk with the dog, Sir Carl "goes to town on him, licking away." And how does Wicker respond to this wet adoration? "He tolerates it," says Giangreco.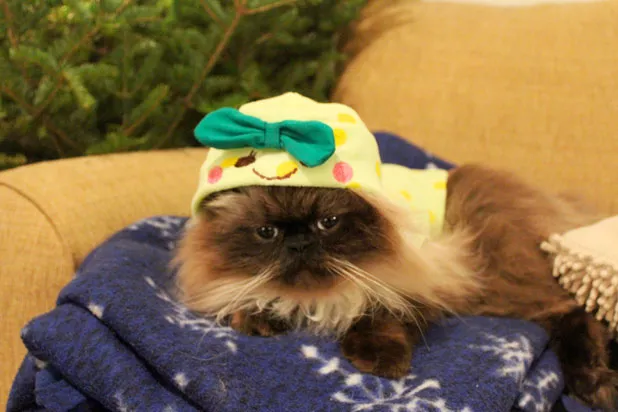 Best Dressed
Winner: Goma, a Himalayan cat, 3½ years old
Goma was already a superstar kitty, or at least a YouTube sensation, before this latest honor. That's thanks to his mom, graphic designer Sachie Tani of Essex Junction, who is a cat blogger and self-described "crazy cat lady." Tani's hilarious videos of her beloved pet caught the attention of Animal Planet a few years back. (Not to mention of Seven Days multimedia producer Eva Sollberger.) In case you can't make out Goma's costume, he's disguised as a cat-erpillar. A year and a half ago, Tani provided Goma with a "little brother": a gray tabby named Kuma. No word on his internet career as yet.
Off the Chain
Winner: Ruca, a German shepherd, 4 years old
Rachel Kuiken, a fitness instructor at Smugglers' Notch who lives in Stowe, says she got her pup at 4 months when she was in college in New Hampshire. Kuiken named him after the Sublime song "Waiting for My Ruca," which she says means "waiting for your true love." That sounds apropos for a doggie that Kuiken describes as "really lovable" and a cuddler. Ruca reportedly likes having a lot of people around, too. Admits Kuiken, "He was kind of raised in a party house."
Click here to view all the submissions to this year's contest.
Tweet