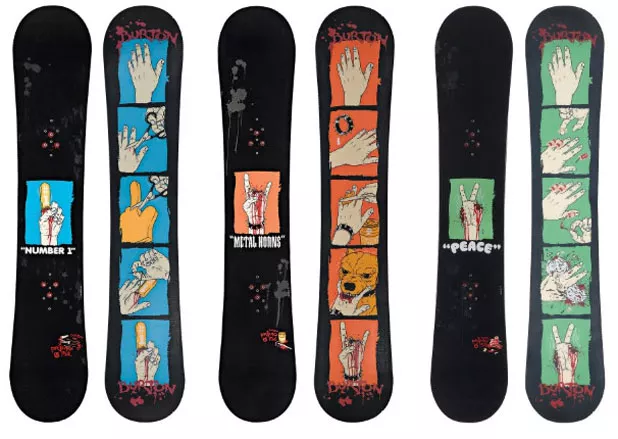 At least two anti-violence organizations have asked to meet with representatives of Burton Snowboards to urge the company to stop selling product lines that feature nude women and self-mutilation.
Neither of the organizations, the Vermont Network Against Domestic and Sexual Violence and the White Ribbon Campaign of Vermont, a group of men working to end violence against women, has received a response from Burton, which released the controversial boards earlier this year.
One, called "Love," features partially nude Playboy models. A description of the new line begins, "Hi. My name is Love and I'm on the market for someone who's looking to score serious action, no matter where they like to stick it." The other new board, dubbed "Primo," features graphic illustrations of hands being mutilated by scissors, a box cutter, a staple gun and a vicious dog.
A consumer campaign against the new boards began September 22 after Jeff and Lezlee Sprenger, an Essex Junction couple and the parents of two young snowboarders, came across the "Love" line on Burton's website and wrote to the company. Other organizations that pledged to contact Burton about the boards include the Girl Scout Council of Vermont, the UVM President's Commission on the Status of Women and S.A.F.E Alternatives, a national group that offers counseling and treatment advice to people who "self-injure."
Critics have also set up a Facebook page, "People Against the Burton Love Series," which had 186 members as of Monday afternoon. And a debate erupted on Front Porch Forum over the weekend.
Karen Tronsgard-Scott, director of the Vermont Network Against Domestic and Sexual Violence, said her organization requested a meeting with Burton "to discuss the dissonance . . . between the message sent by the new boards and Burton's image as a corporation that actively and effectively promotes women within the sport . . ."
"Naturally we consider these boards to be a bad choice for Burton and a poor representation of their corporate values," Tronsgard-Scott added.
Burton's only response to the controversy has been a brief statement defending the new products. The company explained that the "Love" boards were created at the request of two professional snowboarders sponsored by the company. "Both Burton and Playboy were founded on principles of individual freedom," the response stated, "and the collaboration has resulted in boards that reflect this attitude."
The statement also offered the opinion that the "Love" boards, which will be "fully wrapped with an 18+ age disclaimer," are destined to become collector's items.
Shana Frahm, Burton's global PR director, said last week that Burton executives "were not available for comment." She also declined to say whether the company had received many complaints about the new product lines.
While it's unclear whether opposition to the new products will carry much weight with the company, the boards have instigated a spirited debate over the meaning of art and freedom of expression. A September 30 posting on Blurt, Seven Days' staff blog, generated more than 50 reader comments.
Some took the position that Burton, a company known for pushing boundaries, had crossed a line with products that exploit women and contribute to sexual violence.
Others, however, defended both the company and snowboard art and culture. As one poster put it, "Board art has long been cutting edge, RAW and off the cuff. Sometimes primitive, but always in your face and beautiful in the way that it transgresses simple imagery, capturing a lifestyle as not only a piece of art but as a tool of self-expression, transportation and athleticism. These images aren't pushing any boundaries that haven't been pushed before."
While most of the negative attention has been focused on the "Love" line, the images on the "Primo" boards — created by renowned skateboard artist Todd Bratrud — are much more violent and disturbing. Stephanie Kaza, of the UVM President's Commission on the Status of Women, called the bloody images "unconscionable" and said she questions the company's business ethics.
"That's a precious thing these days, whether people trust your business and the work you do," Kaza said. "I think they took a really bad hit."
Kaza, who teaches environmental humanities at UVM, said she has had students who self-injure, which she categorizes as an extreme version of disorders such as anorexia. Kaza speculates that the "Primo" boards have gotten less attention because few people know much about self-mutilation.
"People don't talk about it," she said. "It's embarrassing, and it represents quite extreme emotional states, deep shame, terrible self esteem. People don't cut themselves for amusement. It's not funny, and it shouldn't be entertaining."
Click here to read about and comment on this issue on Blurt, the Seven Days staff blog.