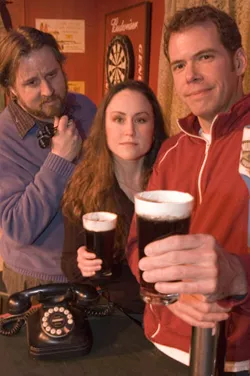 Matthew Thorsen
Keefe Healy, Melissa Ham-Ellis, and Kevin Christopher
The Catholic Church and the corner pub are venerable institutions in Irish culture. Every tiny hamlet on the Emerald Isle has at least one of each, and Irish immigrants to America maintained strong ties with both traditions. The fellowship of religious and social organizations helped them weather the brutal "No-Irish-Need-Apply" prejudice they faced in 19th- and early 20th-century America.
Many second- and third-generation Irish-Americans went racing up the ladder of success. (Lads named Kennedy and Reagan made it all the way to the White House.) Others became prominent American playwrights - and James McLindon appears to be following in their footsteps. His play Distant Music explores the changing role of one of those cardinal Irish institutions - the Church - as its social policy falls out of step with modern mores. In the 1990s, clergy sex-abuse scandals exploded on both sides of the Atlantic. Even devout Irish Catholics began to question their faith in the Church's institutional integrity.
And what better spot to debate questions of faith than the other sacred space, one untarnished by that particular scandal - the pub? In Distant Music, McLindon places a trinity of characters in a Cambridge, Massachusetts, pub on a theologically significant evening. It's a premise that could become a leaden talkfest, but McLindon gives his cheeky characters both witty wordplay and meaningful personal issues to resolve. This charming play makes its Vermont premiere in Firefly's simply staged production, directed by Suzanne Mackay.
It's Epiphany, the 12th night after Christmas, when the Three Kings arrived in Bethlehem with their gifts. A snowy Nor'easter rages outside, as two 40-ish Irish-Americans and the twentysomething Irish bartender banter at the otherwise-deserted Poulnabrone Pub. All three find themselves at tricky crossroads in their lives. Connor Curtin and Maeve Moore are old college friends with big career decisions looming and unresolved feelings lurking. Barkeep Dev Hart, who's lived 10 years in the States, now has just 24 hours to decide whether to buy a fish-and-chips shop with his brother back in his Irish hometown.
As a law professor, Connor has devoted his life to American jurisprudence, a field he finds as laden with contradiction and hypocrisy as the Catholic Church of his childhood. So the surprise offer of a federal judgeship puts him in a moral muddle. How can he don the robes of judicial priesthood if he lacks faith in the system? "It's one thing to teach about a fraudulent institution. It's another thing to be it," he says.
Strong-willed Maeve has given her life to an employer against which she instinctively rebels: the Church. She is a nun, ministering to an underserved Boston parish alongside an aging priest. Maeve wants to baptize a gay couple's baby, to take some pressure off Father Kevin and prove a point. Why can't women perform the sacraments? she wonders, pointing out that, like celibacy, this restriction actually flies in the face of church history. "The Irish had women priests for centuries! What's the big feckin' deal?" Maeve argues.
For all their heated debate about religion, Connor, Maeve and Dev are really seeking faith in themselves. They encourage each other to make bold choices but hesitate in their own lives. The baptism could make Maeve a target: a woman whom Rome punishes to discourage others. ("You want communion with those fries?" she jokes darkly.) The judgeship would force Connor to leave academia's safe cloister. By buying the chip shop, Dev would sacrifice his cozy pub perch - and his U.S. work visa - for risky responsibility under the gossipy scrutiny of a village "where everybody knows your family's business back to Famine times."
No Wise Men or stars materialize from the stormy night to guide these characters. They'll have to reach their own epiphanies.
Kevin Christopher portrayed Dev Hart brilliantly. He brought to life subtle aspects of the seemingly straightforward young man, and his comic timing underscored Dev's nosiness, frustration and love of a good dirty joke. He also touchingly conjured Dev's introspective side: the inner Irish poet, concerned friend and boy wondering if he's ready to return home and be a man.
Christopher commanded this stage quietly - no scenery chewed, no rafters shaken - as he has done in a variety of recent roles. Whether playing a David Mamet victim or a Maura Campbell hero, he builds layers of nuance. He shows that characters behave differently with different people, even ones we never see on stage: Dev the brother is distinct from Dev the grandson, businessman or naughty jester. In his scenes with Connor and Maeve, Christopher was nothing like those actors who superficially react to others' lines while thinking ahead to their next speech. His facial expressions always reflected how Dev was processing realizations and making decisions.
Unfortunately, while Christopher created plausible relationships, Melissa Ham-Ellis, as Maeve, created only a wealth of distracting thoughts. Why was she so much younger than Connor, if they were college classmates? How could someone who seemed so frivolous and petulant rebel against the mighty Church? Why would a nun who's taken vows of poverty and chastity wear such expensive-looking, clingy clothes and high-heeled boots?
The biggest problem with Ham-Ellis' portrayal was that she generated no chemistry with Connor, who's been pining secretly for Maeve since they missed an opportunity to date in college. Forbidden nun love: This is powerful stuff! But Ham-Ellis defused the potential tension by failing to convey the feistiness and strength that fire Connor's passion. Her voice was often thin and occasionally whiny, and she used a limited range of constrained physical gestures.
Some aspects of Keefe Healey's performance as Connor were successful. He ably channeled the lawyer's middle-aged cynicism - more world-weary than bitter. He captured the character's physical mannerisms and appearance. But a central element of Connor's journey - his fervent hope for a possible relationship with Maeve - did not develop believably. Should Healey have been able to convey this emotion in the absence of strong work from Ham-Ellis? How much of this fizzle was director Mackay's responsibility - for a poor casting choice, or for not creating some kind of alchemy between her actors? Best guess: All these factors contributed to weakening this important part of the story.
The production values were spare. Healey also designed the set, which represented the pub's back room. A few details enhanced the environment, such as the lighted neon Guinness sign outside the snow-lined window. But some incongruities nagged: the Budweiser dart board - surely a mortal sin in an Irish pub; the unused 1940s rotary phone sitting prominently on the bar; and the rings of pretend foam painted clumsily on the beer-glass rims.
The sketchy acoustics of Contois Auditorium presented a bigger problem. For the most part, Christopher and Healey compensated. But it wasn't the ideal venue for appreciating McLindon's finely wrought dialogue. The play would have worked better in a more intimate setting such as the FlynnSpace.
Still, Distant Music is well worth seeing. McLindon has recently chucked his law career to become a playwright. He's winning scads of new-play competitions - deservedly so, it seems - with his Irish-themed works. Firefly will present another one, The Importance of Earnest Being, this fall.
Skilled playwrights and talented actors etch your consciousness and keep your mind whirring long after the curtain falls. McLindon's play and Christopher's performance got me thinking about this: We are a delicate amalgam of our many roles in life. One of the roles I treasure is that of second-generation Irish-American: the granddaughter of a feisty, fourth-grade-educated, County Kerry girl who came to Boston as a cook and saw her daughter (my mother) earn a Ph.D. at Yale, back when its unofficial slogan was "No Women Need Apply."
Defiance of authority - it's in the DNA. Just ask the Brits.