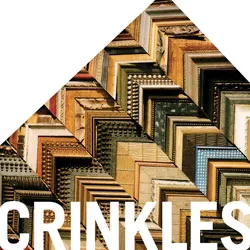 (Heavypet, vinyl, digital download)
Is any local outfit more of an enigma than Crinkles? The quartet showed up on the Burlington landscape last year with a brilliant self-titled debut EP, which landed squarely on this scribe's top-10 list of Vermont-made recordings in 2008. And then? Well, not much. Just as quickly as they had appeared, the band receded into the shadows from whence they presumably came. Yes, there were occasional whispers that Crinkles were playing a gig here or there. But mostly they disappeared from view … until now. Sort of.
Earlier this summer, the band finished work on a two-song 10-inch called Nightlife. Side A features a more muscular, higher-fidelity version of the song "Nightlife," a highlight of their aforementioned debut EP. Side B offers "Thief Eye," which represents a chilling addition to the band's mysterious oeuvre.
Crinkles also released a remix EP, Reemed, a project essentially helmed by four other notable outfits — one of whom is local. The EP comprises two new versions of "Nightlife," another take on "Thief Eye" and "MDG," a version of "Minds Do Go," also from their debut EP. So, clearly, Crinkles haven't exactly been resting on their laurels in the last year and a half. But then again, they kinda have. Confused? Good.
The first "Nightlife" redux comes to us from Vermont DJ Mike Device. He reconstructs, or perhaps, deconstructs the tune as a murky house anthem. It shouldn't work, but it somehow does. The song's moody atmospherics — in particular, the languid tones of vocalist Nicholas Campolo — lend themselves nicely to Device's hypnotic trance beats.
Yes Giantess' electro-pop version of "Thief Eye" is a bewildering standout. I've questioned the artistic validity of Auto-Tune as much as anyone this side of Jay-Z. But I'm coming around. Much as reverb (Jim James apologists) and double voicing (Elliott Smith fans) were before it, Auto-Tune is merely another weapon in a producer's arsenal. And here, it's deadly.
Electro outfit Moscow obliterates almost any recognizable themes from the original version of "Minds Do Go," hence it's "MDG" here. It's not a bad listen, per se — especially if you have 13 minutes to spare and glowsticks to twirl. But what makes the preceding remixes of particular interest is how each artist reconfigures the source material, which Moscow essentially abandons.
This brings us to the One AM Radio's psychedelic-pop version of "Nightlife." In a word: Whoa. In a few more, this is the finest cut on the EP and puts an exclamation point — or maybe a question mark? — on another provocative release from the confounding curiosity that is Crinkles.
Nightlife 10" and Reemed are both available via Crinkles' website: crinkles.heavypet.us.