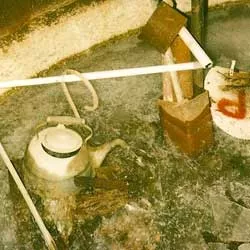 (Self-released, electronic download)
Ah, the Internet age. As physical music conveyances such as CDs, records and tapes — remember tapes? — go the way of the dodo, electronic downloads are becoming more and more popular as an inexpensive, efficient way of distributing music. The ease and accessibility of online distribution means more artists than ever before have the opportunity to be heard by larger audiences. It is unquestionably a great advance for musicians and their fans. The downside? More bad music.
With the overwhelming flood of auditory options now available, any delusional hack with a six string and a computer can unleash his or her latest bedroom recording on our unprepared ears. Sifting through the detritus can be an intimidating and frustrating task, which makes finding that proverbial "diamond in the rough" — such as the self-titled debut EP from Burlington-based quartet Crinkles — all the more satisfying.
The album begins with the lilting "Real Science." It's a mellow tune with lazily strummed acoustic guitar and minimal percussion. Drummer Jonathan Campolo handles vocal duties and delivers Sam Pettibon's lyrics with an easy charm reminiscent of Belle and Sebastian's Stuart Murdoch, but minus the dour Scotsman's propensity for gloom.
"Nightlife" follows with guitarist Nicholas Campolo — who penned the lyrics — taking over front-man duties. It's a more driving number than the opener, and Nicholas Campolo's delivery has more in common with The Magnetic Fields' Stephin Merritt. The change is a touch jarring on first listen, but it works well on repeated plays.
Nicholas Campolo also wrote the next track, "Minds Do Go." Here, the band opens up a bit with a slow-burning, harmony-driven tune that eventually resolves into a nifty little jangly guitar indie-rock nugget.
The mournful instrumental "Lost Pet" follows and serves as decent interlude, setting up the album's final cuts, "Red Raspberry" and "Sugar on Snow." The former, also an instrumental, begins with a quirky MIDI line that eerily recalls the melody from the traditional French children's song, "Frère Jacques." The tune essentially blends into the closer, which is the finest cut on the record — can we still call it a record? Jonathan's Campolo's pleading tenor delivers strikingly poetic lyrics while the band surrounds him in a wash of delicate sound. Here, each piece of the puzzle that is Crinkles comes together perfectly, as if the rest of the EP is meant only to frame the final act. It's an intimately affecting and oddly uplifting number and wonderful curtain call for a true gem of an album.
Crinkles is available for free download at www.browntowndotcom.com/CRINKLES.