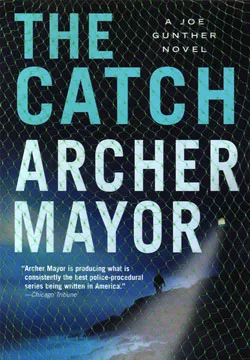 It's often been said that Arthur Conan Doyle's Sherlock Holmes novels owe their absorbing investigatory detail to the author's medical degree. While working as a ship's doctor and in private practice, Doyle got glimpses into the frailty of the human condition that were terrific on-the-job training for a writer.
Similarly, Vermont author Archer Mayor's day jobs have informed his page-turners. Mayor, who lives in Newfane, is a death investigator for the state's Chief Medical Examiner, a deputy for the Windham County Sheriff's Department, and a 25-year volunteer firefighter and EMT. The writer has incorporated this fascinating collection of work experiences into his ongoing series of "Joe Gunther" crime novels, beginning with Open Season in 1988: He's turned out one a year since. Along the way, Mayor's books have earned critical and professional accolades, including a 2004 New England Booksellers Association award for Best Fiction. His 19th installment, The Catch, goes on sale October 7.
Mayor's protagonist is career cop Joe Gunther, a former Brattleboro chief who is, at this point in the series, senior investigator for the fictional Vermont Bureau of Investigation. The elite agency has a mandate to take over the solving of Vermont crimes of unusual severity or sensational media appeal. In The Catch, Gunther's case qualifies as both: A seemingly routine late-night traffic stop on Route 7 results in a murdered deputy sheriff. Two suspects are on the loose, leaving precious few clues save a maddeningly inconclusive videotape recorded by the patrol car's onboard camera. Under pressure from the governor to make a break in the case, Gunther indulges his intuition, which leads him to suspect the killing is connected to a leadership coup in a drug-smuggling syndicate in Maine.
Once you get past the relative novelty of a heinous crime set against the bucolic backdrop of Vermont's Addison County, none of this makes for a particularly remarkable plot. Hardly a motivational or procedural twist is left unexplored in the mystery genre — and longtime fans know that Mayor alone has already covered 18 of its permutations. In Vermont.
Perhaps in compensation, the author augments his detailed cop and criminal character outlines with even more fascinating glimpses into the mechanisms of capture. The Catch is festooned with directional microphones, GPS trackers, night-vision scopes and high-powered lenses. Though grateful for his gear's utilitarian value and expediency, Gunther recalls with nostalgia a time when flashing lights, a radio and a gun were all the tools at his disposal. Through his bemused meditations on technology, readers are able to appreciate the breakneck pace at which gumshoe hunches have become 21st-century surveillance.
Not that the criminals aren't engaging, too. Alan Budney, the mastermind behind a blossoming Maine drug regime, displays a satisfying combination of premeditation and lunacy. Conniving enough to regard even family members as cannon fodder, he is chillingly sociopathic. Budney is convinced his older brother's surfeit of anger and idleness will give him an opportunity to hijack a family lobster boat for his trafficking scheme, and he uses an interesting collection of anti-arrest technology of his own.
Describing the gear, the frantic backroom problem solving and the whirring cogs of police bureaucracy is what Mayor does best. The veteran author fails, however, to scratch beyond the bad guys' veneers of stereotypical motivation. What propels the young Budney toward crime? Anger at his father. What is it about killing that appeals to Budney's middle man, Luis Grega? The lure of a quick buck and a chance to play by his own rules. These are twig-thin action levers.
Sadly, Mayor also falls victim to stereotypes so over-used as to be the stuff of parody, and which serve only to trivialize the proceedings. One example: a squirrelly, shifty, frantic snitch named Flaco, whom Gunther and other cops take on a ride through an unfriendly neighborhood to make him answer some questions. Fantastically and incongruously helpful, Flaco provides a raft of useful plot connections with no discernable payoff for him. When he momentarily stumbles over an answer to one cop's question, another threatens, "Easy, Flaco. I could just stop driving right here and let you out." At that point, some readers may wish they could hop out of the car.
The Catch picks up steam, however, once plot prep is complete and the cops start cornering the crooks. In those later scenes, Mayor demonstrates a fluid and easy conversational cadence, and the ability to arouse heart-pounding anticipation in readers. Both talents are illustrated by this exchange between an undercover Maine narcotics cop and a dealer in prescription painkillers she's been probing for information. With the cop's directional-microphone-wielding backup more than 100 yards away, the two meet after midnight in a shorefront shack, a few miles south of the Canadian border:
He pressed his lips together in distaste. "You're a crazy bitch."
She laughed. "Maybe. That's never been a problem before. You wanna do business?"
"Yeah. How much you want?"
"Two hundred," she said.
That stopped him, as she hoped it would. "That's a lot," he said.
"You asked what I wanted."
He chewed the inside of his mouth thoughtfully.
Cathy impatiently glanced at the cabin's front door. "Fine, Bob, either bump me up the ladder or sell me the goods. Either you can do this or not." She then paused and added, "Who gives you your stuff? I should deal with him direct. I heard there'd been a shakeup anyhow. You dryin' up on me?"
Bob's jaw muscles tightened under the abuse. "I'm not doing nuthin'. I can get you the stuff. Just not right now."
She looked down at the floor and shook her head. "Shit. That's not how it works, Bob. K-Mart doesn't have it, Wal-Mart gets the next shot — that's the way it works. This is a capitalist country. Tell me who to go to, Bob, or take me to him now, or do something that'll keep me from walking out that door."
"How 'bout I sell you what I got, and we get together later?"
"Bullshit. I don't like you that much. Figure it out. Pull a rabbit out of your hat."
Her words worked like a stage direction in a play. The door between the two rooms swung open, causing Bob to stiffen, and Cathy to recoil against the wall in alarm. A man appeared in the opening — short and of trim but muscular build, with black hair, a goatee, dark features and the tattoo of a snake peering over the top of his T-shirt.
One of the most interesting things about the plot of The Catch is the degree to which Mayor lets Gunther share the page with the welter of federal and local cops, underworld miscreants and pseudo- and actual innocents who wander through the drug-world debris. In this lengthy series focused on a single protagonist, Mayor could easily have let him indulge in endless monologues — and Joe Gunther is certainly given to philosophical musing. But this writer is smarter than that. As for the vaguely referenced affairs, ticking personality time bombs and other loose-thread plotlines, they could be allusions to past books or seeds for future ones, but it doesn't matter. They make for a satisfying randomness in the proceedings, and come and go just as they probably would in an actual cop's working day.
And, clichés aside, credit must be given to an author who can still inject grit and thrills into a 19-year-old hardboiled crime series. The Catch has its flaws, but it's still good, dirty fun.