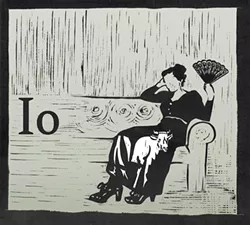 (Self-released, CD, digital download)
Io is Jupiter's fourth-largest moon and also a character from Greek mythology. She was a beautiful mortal priestess who caught the eye of Zeus, king of all Greek gods. Zeus fell in love with Io, but in order to keep his wife, Hera, from finding out, he turned poor Io into a cow.
This history lesson explains the title of folk duo Cricket Blue's new four-track EP, Io. The myth suits Cricket Blue's penchant for detailed storytelling and folklore. Yet Io also signals a darker turn for the pair, Laura Heaberlin and Taylor Smith.
Take the first track, "Angela Carter." Angela Carter was a British novelist and short-story writer known for using magical realism and Gothic elements in her feminist reinterpretations of classic fairy tales. The song references themes from Carter's famous story collection, The Bloody Chamber, which subverts the tale of Little Red Riding Hood, among others.
Over spooky, gorgeous guitar, Heaberlin describes wolves searching the woods for girls to take as brides. The consequences are dire, and the other forest animals know it. "When you and I were married, how the earthworms hung their heads," she sings. "The birds were screaming raw their throats above the wedding bed."
"Eleanor" is a sad, stirring portrait of a lonely woman. Backed by elegant cello, the lyrics tell of Eleanor's marriage, childbirth and lifelong sorrow. Her story ends with a symbolic punch: "Oh Eleanor, terrible twin / our bodies warm tangles of sugar and skin / our reincarnations doomed to repeat / the womanly thirst that we all learned from Eve." This exploration of femininity returns throughout the EP, often by way of allegorical name-dropping.
On the short, quiet "Trouble Come No More," Smith takes the lead. The tune seems to reference the Biblical story of the Israelite's 40 years in the desert. Smith sings, "I will burn your hand on the oath you swore / starving for fallen stars from the desert floor / to bundle or burn up your manna, it gets you so blue."
The winding, convoluted "Kentucky" abruptly changes tempo mid-song and so lacks the cohesion of previous tracks. Interestingly, it repeats the phrase, "Let all that is old be made new." A last reference to the human-bovine Io reprises the album's themes of hidden truths and alternate meanings.
Chock-full of literary and mythological references, Io is a rich collection of folk tunes. While it still features the delicate harmonies, sweet melancholia and well-crafted arrangements of Cricket Blue's earlier work, the album has a noticeable shift in tone. Rather than sticking to charming folk fallbacks, Cricket Blue explore the dark duality of things both seen and unseen.
Io is available at cricketbluemusic.com.