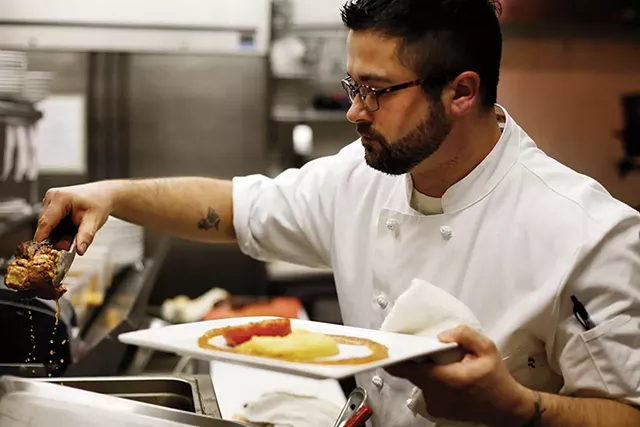 Sarah Priestap
Elixir in White River Junction
From the 1840s to the 1960s, White River Junction thrived as a rail town. But when those industrial glory days faded, residents were forced to reinvent the place — and they got creative. Home to two professional theater companies, a cartoon school, the new River Roost Brewery and countless artists, the Junction is surprisingly hip these days. Elixir, in an old freight house just off the main drag, reflects its rebirth.
Location Details
Elixir
188 S. Main St.
Upper Valley
White River Junction, VT
802-281-7009
American (New)
The railroad tracks behind it lend the restaurant a gritty authenticity. Inside, the brick walls are weathered and patchy, but the exposed beams and chipped paint make the space more stylish than seedy. To the left, patrons sip cocktails at a corner bar fashioned from wood scarred by untold industrial traumas.
Sarah Priestap
Elixir in White River Junction
As befits a place named Elixir, those cocktails go down easy — they're made with quality spirits, and none is more than $8.50. A lemon-thyme martini sips like an herbaceous adult lemonade, while a vodka Arlini-tini tempers a warm shot of ginger with a sour squeeze of lime.
The wine list is extensive and approachable, with lots of affordable bottles (and a few high-end ones) that play nice with the menu. Elixir co-owner and resident wine expert Skip Symanski knows his list inside and out and seems to take genuine pleasure in walking guests through their selections. Bartenders dispense similarly candid advice to beer drinkers.
Like the drink options, the seasonally changing menu is fun and unassuming. On a winter's night, a smooth scoop of truffled chicken-liver mousse comes scattered with fried capers and chive chiffonade, adding zing to the standard liver-on-toast combo. A crisp spinach salad, tossed in winey mustard vinaigrette, is studded with sweet-tart cranberries and pickled delicata squash.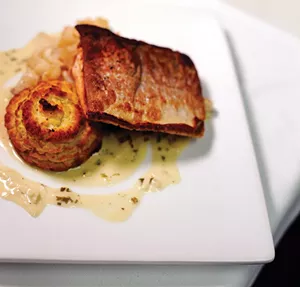 Sarah Priestap
Elixir in White River Junction
Entrées come from land or sea and might include a bright white fillet of pan-roasted Arctic char with its skin browned to a toasty crackle, plated atop a bed of roast-y parsnip purée. A fall-off-the-bone pork shoulder, on a schmear of smoky ancho-tomato coulis, warms from the inside out on a cold night.
In summer, finish with a fudgy ice cream sandwich and sally forth into the Upper Valley eve. The Connecticut River is just yards away. If you listen closely, you might just hear the distant whistle of a train.