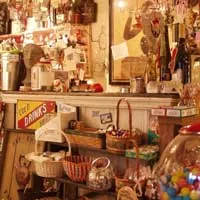 Back in horse-and-buggy days, rural folk used to ride into town to pick up "provisions," maybe catching some vittles at a country café on the way home. Holly McIntyre knows that the word "provisions" did and still does mean "things you need." But a glance around her Waitsfield shop of the same name suggests that she thinks you could use a Kit-Cat Klock with swishing tail and rolling eyes, spices in Christmas-tree packets, fancy soaps with exotic scents, a wire basket shaped like a high heel and a pair of PJs dotted with sushi.
"Need is a relative term," McIntyre concedes, "but I think you need fun cards or a nice wine and funky pajamas."
In other words, most of the items that stuff the 800-square-foot shop are not exactly what you'd think to grab on the way to the bomb shelter — except perhaps the wine — but most of them certainly make surviving a lot more fun.
Provisions, which opened on Bridge Street behind Artisans' Gallery last June, is the very definition of "eclectic." Think grown-up candy store, and you can picture the wide-eyed expressions of first-time visitors. It's hard to know which way to turn — toward the Vermont specialty food products, the apothecary shelves, the stationery section with real sealing wax, the vintage sign reproductions, the small but unusual book supply, or the myriad folk art and humorous doodads crowding shelves and hanging from the ceiling. "It's always great when someone walks in here," McIntyre says. "There's always an audible intake of air."
She took over the space when her friend, Gilda Tunney, gave up the short-lived card shop that bore her name. Several racks of cards remain entrenched — McIntyre is particularly fond of a unique assortment from the U.K. — and contribute to the pleasantly crammed ambiance. Tunney had a habit of closing the shop for extended trips, though, so Valley residents and tourists are pleased to find the door open more often than not these days.
McIntyre, that cheerful blond behind the sales counter, will be able to see more than a few feet into her store once renovators knock out a wall into an adjacent space next spring. She enthuses over a wedding-cake chandelier, barn beams, seating areas and other features in the additional room. She plans to bring in more art and home furnishings, and will even offer cappuccino — after she gets running water.
But Provisions will be as small and cozy as a hearth until then, and no one will really mind, including McIntyre and her fiancé Stephen Johnson — whose "great style" helps her with the store. "It's fun to order so you can sell, so you can order more," she says happily. Expect the wine and gourmet food selection to grow, and the sense of whimsy to hold steady. At Provisions, needs are met — with attitude.