Consider the cream puff: A cloud of barely sweet, tongue-tickling froth tucked into a petite pastry shell, most are enough for a few sublime nibbles and little more. Depending on the season, Evelyn Martin will fill hers with fruited cream or — if the spirit moves her — paint their lids with chocolate or maple glaze.
Since opening Evelyne's on Center in St. Albans in February, Martin says the foam-filled treats have been a runaway hit. She has been baking for decades — her career began in the 1980s with pastry gigs at the Daily Planet, Sneakers Bistro and the original Waterworks in Winooski. But she never thought to make the pint-size pastries until 2014, when she began piecing together her bakery in an abandoned storefront off the Rail City's main drag.
Martin spent most of last year renovating the former print shop into a commercial kitchen, listening to public radio as she scrubbed, painted and installed equipment. Her inspiration for making cream puffs came from a familiar, if unexpected, source.
Matthew Thorsen
Cream puffs
When Maya Angelou died in May, the station replayed archived interviews with the late author and poet. In one with National Public Radio's Rachel Martin (no relation), Angelou recalled making cream puffs: "If it's a good spring or summer day ... I'd be maybe cooking something that catches my fancy. One thing that's nice to cook are cream puffs. They're so easy, and yet people think they're so difficult. And they're so complimentary ... Make [them] for your beloved; make [them] for your family — then someone you really want to impress."
Angelou's voice, deep and soulful, sang with the memories of a lifetime of shared and tiny treats.
Like the poet, Martin had been a single mother. (The bakery follows years of working in kitchen design and telecommunications after restaurant work failed to pay the bills.) The baker says she always felt a resonant connection with Angelou and her work.
Cream puffs, though — who knew? Martin filed the idea away and kept on scrubbing. As the bakery neared opening months later, local bookstore owner Donna Howard dropped by and suggested Martin carry cream puffs. "I just thought, You know, that's a really good idea," she recalls.
A few steps off the street, the shop greets visitors with flowers, glimpsed through a picture window. Inside, a modest case holds the day's treats: galettes cradling thin-sliced apples, peaches or cranberries; almond tarts with sliced nectarines, glistening with apricot glaze; carrot cakes and cake rolls stuffed with pumpkin and buttercream and pistachios; nut bars spread with inky ganache.
"The one issue I have is, I only have one case," Martin says, standing behind the counter packing treats into a box. "There's only so much you can put in there." A table to her right offers stacked cookies wrapped in cellophane and meringues and macaroons in glass jars. Above these a chalkboard — scribed in neat, colorful letters — proffers chicken liver pâté, curried egg-salad sandwiches and split-pea soup. "Fresh baguettes, 3 p.m.," it finishes, inviting nearby workers to stroll over for an evening loaf and a sugary cure for the afternoon sleepies.
Matthew Thorsen
Evelyn Martin
And stroll over they do — 10 months into business, Martin says locals have embraced the storefront as a source of tiny pleasures. In addition to the cream puffs, her small cakes — carrot or chocolate or lined with ladyfingers and sized to feed two to six people — have been flying out of the case faster than she can make them. "I hear it all the time," Martin says: "'I'm so glad you make those small cakes, because you can have people over and there's none left over.'"
Indeed, few leftovers are more forlorn than unwanted cake. "It's a lot easier to give in to a treat when you know it's only going to be a one-time thing," she notes.
At the moment — with gray skies churning, spitting rain, maybe snow for a few scant daylight hours — the season calls for pies. Layering them with tree fruits or pumpkin, cream or nuts, Martin is stuffing crusts by the dozen to fill Thanksgiving orders. Marching toward the December holidays armed with spiced rum and gingerbread cakes, she's thinking of Yule logs, cookies and mini apple Bundt cakes iced with maple-bourbon drizzle — treats prepared with thought and restraint.
"It's really about looking at the season and how [the ingredients] balance out in a meal," Martin says. "Here you are with apples and cranberries and maple syrup. Maybe you need a squeeze of citrus to balance all those things out."
Still, she insists that home cooks shouldn't be intimidated by baking a pie or galette — particularly with the wide array of premade crusts now on the market. "It's the easiest thing in the world," Martin says. "Just chop up some fruit, throw it in a crust and bake it at 425 degrees."
Inspiration, she adds, can come from just about anywhere. "Dig around in your fridge; maybe you've got a couple pears that are starting to look a little funny. In a pie, those would be wonderful with cheese!"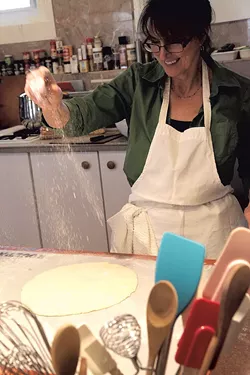 Matthew Thorsen
Evelyn Martin
Aproned in her kitchen, rubber spatula in hand, Martin rattles off a list of ingredients when asked about holiday baking. "Chocolate and peanut butter, dried fruits, dates, nuts, raisins, figs — you can add those to apple pies." But the main thing, she advises: "You've got to smell the fruit and see where it takes you. Does it need lemon, or maybe some brandy? Get in there and involve your senses."
If you're still not feeling it, Martin will be happy to do the baking for you.