Elizabeth M. Seyler
Seedlings in the Applebarn greenhouse
The most intriguing workshop title of the summer has got to be "Cooking Food / Creating Sex." And the location? A contemporary timber-frame building at a mountainside farm with a stunning view of the Adirondack High Peaks. Who could resist?
The six-week series begins in late July at Craigardan, a nonprofit arts, agriculture and academic center on Hurricane Mountain in Keene, N.Y. Newly opened in June, Craigardan offers residencies, internships, instruction and community events on a 78-acre property of fields and woodland dotted with buildings old and new.
Unlike other, better-known artist retreats in the Adirondack area, such as Yaddo and Blue Mountain Center, Craigardan features interdisciplinary programs. It focuses not solely on the fine and performing arts but also on promoting an ethos of sustainability through its farm and culinary program.
"What do the arts really include now?" asked Craigardan executive director Michele Drozd during a recent visit. "They really should include the way we live, the way we eat, the way we cook, the way we steward the environment."
Though a chef prepares some meals, residents receive a Craigardan farm share and do some of their own cooking. The policy encourages them to become invested in the farm and to "learn how to cook, eat and love local, seasonal food," Drozd explained.
Elizabeth M. Seyler
Studiohouse where some residents live
Twenty-five acres of the Craigardan property — sited on a former sheep farm — became home to architect and fine artist Paul Nowicki in the 1990s, said Drozd, relating the center's origins. He restored the 1850s house, reclaimed some of the open land, designed multiple new structures and hired timber-frame builder Steve Amstutz to build them.
Nowicki founded Hurricane Mountain Clay Studio in 2000 for artist residencies, but it ran for only a few years, hampered by a bad fire and logistical issues, Drozd said. Thereafter, he rented out the buildings.
Nowicki died two years ago, leaving the property and a small sum of startup capital to his wife and fellow ceramicist, Barbara Tam. He had encouraged Tam to contact Drozd, whom he knew through the ceramics world, and asked that the two create a community organization housed on the property.
Drozd, 37, is also a ceramicist, as well as an entrepreneur and former executive director of the Essex Farm Institute. Her first hire was farm manager and fellow clay artist Megan Moody.
"Megan is tasked with taking this beautiful piece of land — definitely overgrown and underworked for many, many years — and turning it into a diversified farm," said Drozd.
An environmentalist and former manager at Essex Farm, Moody, 25, is growing vegetables and raising sheep, goats, meat birds, laying hens and pigs. The pigs foraged in a fenced part of the forest as she described for Seven Days the center's nascent plan for silvopasture — the sustainable production of livestock, pasture and trees on a single unit of land.
"Right now, the pigs are mostly probably eating roots," Moody said. "We're moving them every day to decrease disruption [of tree roots] because, otherwise, they'd kill the forest. In the fall, we'll move them through the lower areas where the oaks are, and they'll just be a vacuum for acorns."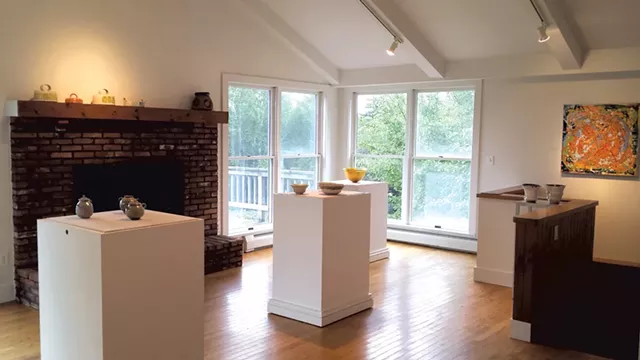 Elizabeth M. Seyler
Farmhouse Gallery
Drozd remarked that "everybody moves in rotation" at the farm. To prepare neglected fields for vegetable production, for example, staff first bring goats in to eat down the brush, then pigs to eat roots, then chickens to eat insects and fertilize the soil. A small amount of manual labor suffices to till and plant the garden.
Currently, the only machine used is a Weedwacker to clear areas for electric fencing. "We have nothing against tractors or mechanization," said Drozd. "It's a matter of figuring out that balance between fossil fuels and animal power."
Craigardan leaders bring diverse experience and skills to problem-solving. Drozd and her husband, Michael Intrabartola, a ceramic artist and owner of Elizabethtown-based Bellwether Craftsmen, built an extremely lightweight and durable chicken tractor using a plastic they encountered on a project in Antarctica. They hope the farm's inventions and discoveries will be useful to other small-scale farmers.
Craigardan residencies run from two weeks to nine months, primarily from May through November. Two are available in the ceramic arts and two in the culinary arts. There's also a residency for all types of artists, researchers and writers seeking "immersion in a place-based intellectual exchange program," according to the website. A fellowship named after Nowicki supports the short-term visiting artist program, and another supports a culinary residency. Two interns work on the farm; a third, Emma Silverstein, works at the studio.
Elizabeth M. Seyler
Wood-fired kiln
A recent college graduate in ceramic arts, Silverstein, 23, mixes glazes, prepares and fires kilns, and makes her own work. "I like how it's set up, in that my work is an exchange," she said. "I get to work here and also use these facilities, like this amazing wood kiln."
Michael Hunt, a ceramicist from Bakersfield, N.C., built that kiln — a work of art in itself. "This is a double-chamber wood-firing kiln," said Drozd, "which means that we don't use gas or electricity. We use firewood to bring the temperature up to 2,300 degrees, and then, in the back chamber, we add salt at a specific temperature to add sodium to the atmosphere, which creates certain effects on the pots." Pieces from the most recent wood firing are on display in the Craigardan gallery, located in the renovated farmhouse.
Nearby is the Applebarn, one of the contemporary buildings that Nowicki designed for the property. Solar panels on the roof power a professional kitchen, a meeting room, a weaving loft and an attached greenhouse.
Zach Clemans, one of the culinary artists-in-residence, is a chef, fine artist and agriculture devotee. "The experimentation I'm interested in has to do with original materials," he said. "In cooking, that's products from the farm, and in ceramics, that might be local clay or minerals in the area. I'm exploring original materials first and then processes second."
Liz Flyntz, the other culinary artist-in-residence and a fellowship recipient, will teach the "Cooking Food / Creating Sex" workshops, focused on what she calls epicurean endocrinology.
"I became really interested in food's effect on the endocrine system," she said, "specifically, how food and the agriculture industry have influenced sex hormones."
As part of her research, Flyntz will serve meals containing foods that have a feminizing effect on the body, as well as meals that have a masculinizing effect. The latter boost testosterone levels and include foods high in protein or available cholesterol, such as eggs, Flyntz explained. By contrast, other foods contain substances that mimic estrogen, such as soy and flaxseeds. Research and discussion of such topics, among residents and interns and with the public, enrich the Craigardan experience.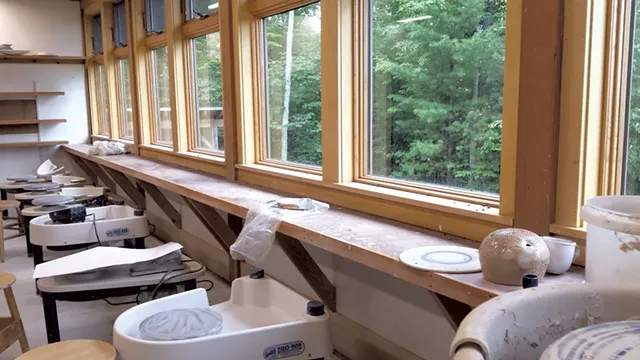 Elizabeth M. Seyler
Studio
In addition to residencies and internships, Craigardan offers programs for local adults: weekly clay classes, six-week workshops on philosophy and the arts, and one-day workshops on everything from food justice to creative movement to outdoor photography. The nonprofit hosts public events such as the Applebarn Series, featuring music and lectures. This fall, it will offer free pottery classes for children and teens.
Visitors can purchase the week's groceries at the farm store. It's stocked with farm produce and meats, along with a wide range of foods from Hub on the Hill, an Essex nonprofit that helps local farmers create value-added products.
Drozd plans to develop a maker-space program and a scholarship program for locals. She also wants to install more solar panels and plant perennials.
To reach such goals, Drozd said, "Our biggest challenge will be money." Craigardan's September fundraiser, Dinner in the Field, will capitalize on its resources. Patrons will enjoy a homegrown dinner, a gallery exhibition and silent auction of items fired on-site, a film created by Craigardan residents, and tableware crafted by artist-in-residence Catherine Seidenberg.
"Everyone who comes to that benefit will walk away with two plates and a cup — their own place setting of Catherine's work," said Drozd. The fledgling nonprofit is determined not only to create "a cycle of stewardship that gives back to the property," she said, but to give back to the community, as well.