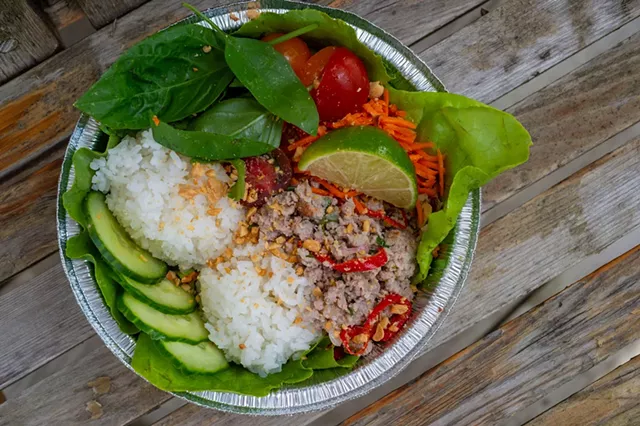 Jeb Wallace-brodeur
Pork larb from the Craftsbury General Store
During a summer spent mostly at home, a trip of any duration and for pretty much any purpose is a welcome event. So we were pleased to drive 65 miles for couscous and chickpeas.
Our destination was the Craftsbury General Store on a Wednesday evening, when the store prepares and serves its Globe Trotting Dinner — a different cuisine each week. (The food is ordered in advance and packed to go.)
As we pulled into Craftsbury on Cemetery Road, the smell of weed wafted into our car. Damn, we thought, Craftsbury knows how to get ready to eat: The whole town must be getting high in anticipation of the Tunisian food offered today.
But it was just nouveau agriculture; we were driving by a field of odorous, bushy cannabis. A left-hand turn past the plants landed us at the store and its porch pickup spot. We fetched our food and drove up the hill to Craftsbury Common so we could picnic by the baseball backstop.
We had the swatch of green to ourselves and dined from foil plates. My vegetarian version of the Mediterranean meal was lovely: roasted chickpeas and chard, with a salad of chopped veggies and a side of tangy yogurt sauce. My daughter's supper was similar, but the highlight was pieces of marinated chicken in a tomato-base stew. The aroma was now mint, wafting from our meals, and we ate them quickly and happily. (I'd put the ratio of drive time to eat time at 10 to 1.)
On our way home, passing the store again, we spotted paper bags on the porch packed with global suppers still awaiting pickup. Talking later with the owners, I learned that Craftsbury General Store is serving 250 meals each Wednesday, a weekly increase of about 100 meals during the pandemic.
"It kind of got people through when they couldn't go to restaurants, and they were shut in and tired of cooking," said chef Jana Smart. "That one night a week was something they could look forward to."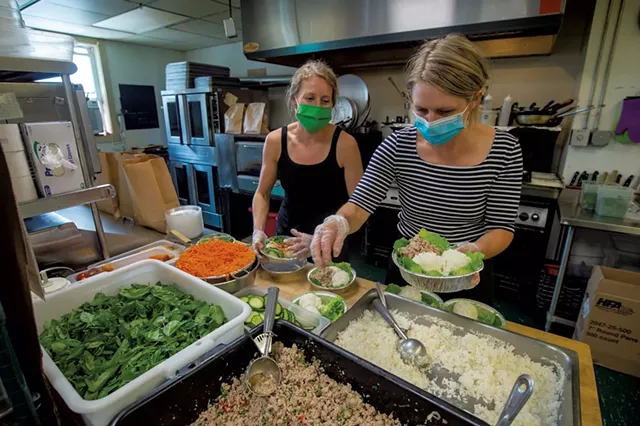 Jeb Wallace-brodeur
Kit Basom (left) and Jana Smart preparing pork larb
Orleans native Emily Maclure, 40, purchased the store in the summer of 2012. Kit Basom, 35, from Glover, was hired that fall and later became a business partner. Smart, a 33-year-old Texan, joined the team in 2014 as a chef and is about to become a partner, as well, according to Maclure.
"It was sort of an instant connection," Smart said. "The three of us work really well together."
The global dinners began seven years ago. The idea was to serve themed suppers each week highlighting cuisines from around the world, Basom said.
"It felt ambitious, but also like it would keep people excited," she said. "We kind of hit the ground running, and it felt like a success from the beginning."
The first meal, served to about 40 people, was familiar fare: tacos. For week two, the cooks prepared an Indian meal. Since then the variety has included Thai larb salad, Moroccan tagine, Korean bibimbap and Jamaican jerk. Meat and vegetarian options are each $12.49.
"Part of the really interesting thing about this dinner, as a cook, is the format," Smart said. The constraints imposed by price, packaging and quantity provide a framework that makes it easier to produce the meals, she explained.
As the scale has grown, cooks Basom and Smart have cut back on some of the more intricate, multicomponent meals they used to make. Basom recalled making injera for an Ethiopian dinner and preparing hand-folded dumplings.
"We've learned by doing," she said. "It's been a food laboratory. We've literally traveled around the world experimenting with different flavors."
The general store kitchen also produces pizzas, salads, sandwiches, baked goods and other deli items. Smart recently added Sunday night family-style meals to the menu, preparing classic dishes such as chicken and biscuits, shepherd's pie, and pulled pork with mac and cheese.
The store has been closed to the public since the start of the pandemic. Customers can order groceries online or by telephone, and they can make a quick porch purchase at a takeout window. This last option provides a bit of the community connection — a face-to-face interaction — that's been a hallmark of the store, the owners said.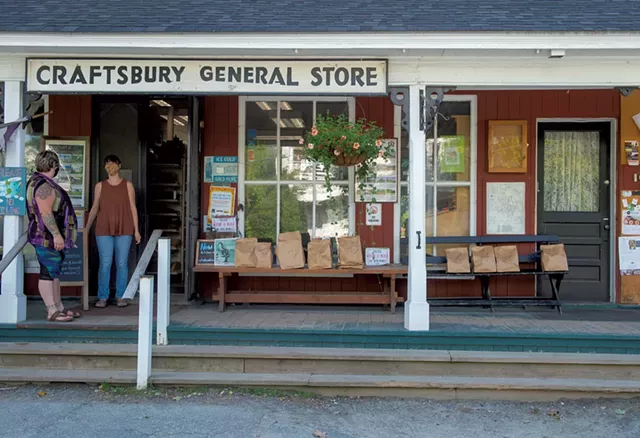 Jeb Wallace-brodeur
Employees Renee Orzolek (left) and Lily Dunbar waiting to take orders for pickup
"People come here a lot of the time just to connect with somebody," Smart observed. "We've had a very hospitable and warm environment. A lot of people come every day."
Patty Meyer, a retired dairy farmer from Hardwick, and her family have been eating the general store's global meals from the beginning. She enjoys the three-generation gatherings, as well as the cuisine. Meyer gave a shout-out to the Norwegian fish stew.
"It's been nice because we have a night where we can get our suppers and they're all different and delicious — from all different parts of the globe," Meyer said. "And we can eat as a family."