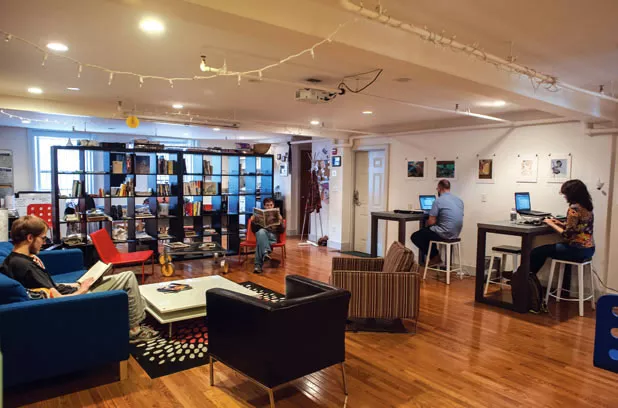 Members working at Local 64
Video game developer Chris Hancock used to rent an office for his company, Tertl Studos, in downtown Montpelier. But eventually, he says, the cost of rent and utilities — more than $300 a month — became "an expense I didn't want to keep carrying." So the gaming industry veteran downsized his business in June 2012 and started working from home.
Though his new headquarters were cheaper, Hancock also found the arrangement challenging. He didn't have an ideal space for meetings — coffee shops and his home office didn't cut it — or a place to put additional employees.
So that July, Hancock joined Local 64, the capital city's coworking space, which had opened the previous month. He paid $65 a month to work at one of the desks in Local 64's funky, art-filled common room on weekdays from 9 a.m. to 5 p.m. That membership fee gave him access to Wi-Fi, a printer, a bathroom, a kitchen, a couch — and an office full of other creative types like himself. "That was a great way to get started," he says.
Hancock recently took over as CEO of educational-gaming company Learning Touch; he's now renting a small office at Local 64 for $290 a month and can come and go whenever he pleases. He also hired two Champlain College students as paid interns through the Vermont HITEC program. Rather than spring for a larger office, Hancock made both of them members of Local 64.
"What's cool about this is, I can expand and contract as needed," he explains. "If you had a lease, you couldn't be that flexible."
Hancock's experience illustrates why coworking spaces — communal offices that rent desks and rooms to self-employed professionals and startups — are popping up across Vermont. There's one in Montpelier, one in Middlebury, one in Bennington and at least three in Burlington — a new one, the Karma Bird House, just opened this month in the headquarters of Jager Di Paola Kemp Design.
As large employers such as GE Healthcare and IBM shed employees, the state's population of nomadic, independent workers seems to be growing; Vermont ranks eighth in the nation for new business growth, according to the 2012 Kauffman Index of Entrepreneurial Activity Interactive. You can see some of the people behind that statistic up close at the state's coworking spaces.
The coworking movement began in San Francisco in the late 1990s, fueled by software developers who could work from anywhere. The concept has since spread around the world. Online magazine Deskmag estimates there are now more than 850 coworking spaces in the U.S. alone.
Some are supported by nonprofits, while others are stand-alone businesses; Local 64, for example, is owned by Cabot entrepreneur Lars Hasselblad Torres, who recently became director of Vermont's Office of the Creative Economy. All coworking spaces invite members to share resources. And they create a collaborative, professional environment for workers who don't share an employer, offering the benefits of spontaneous water-cooler conversation without the headaches of office politics.
Hancock is one of 32 Local 64 members, a crew that includes writers, online marketers and illustrators from all over central Vermont. They provide the camaraderie that is "part of what you miss out on" when you work from home, he says. A fellow Local 64 member recently roped Hancock into running a 5K fundraising race, for example — his first in 30 years, he says.
Local 64 isn't just a social outlet; Hancock points out that it's also become a hub for the fledgling Vermont Game Developers Association. Its founder, game producer Edmar Mendizabal, is a member. The group hosted a luncheon for lawmakers at Local 64 last fall and staged a gaming showcase at the Statehouse in January.
Hancock has hired other members to work on his projects. He often refers to one of them, an online marketing consultant, as his "in-house marketing specialist."
Members of Vermont's other coworking spaces agree that they offer valuable networking opportunities. During a community coffee break one recent Friday at Burlington's Office Squared, web developer Nathan Haskins notes that six of his fellow O2 members have become his clients.
"My lawyer's right there," he adds, pointing to an office down the hall.
O2 is the state's oldest and largest coworking space. Owner Jen Mincar says she supports 40 to 50 members, who can have unlimited access to one desk for $300 a month; others occupy small offices. All have access to Wi-Fi, as well as a kitchen and a conference room that seats 40.
Mincar, an IT consultant, created O2 back in 2009 in part because she needed her own office space. She partnered with real estate developer David Farrington to open her first location at 106 Main Street. Since then, O2 has expanded twice — into the basement of Farrington's building at 77 College Street, and then to one of that building's upper floors, which houses more offices. O2 will take over an upstairs floor of 106 Main in the next few months.
Mincar says she's been asked to expand into Williston, St. Albans and Barre, but for now she's staying put. She's wary of taking a cookie-cutter approach — each of these spaces has its own personality, she says, depending on the members it attracts.
To a nonmember reporter, O2's College Street space seems a little more traditionally professional than Local 64. The floor is carpeted, there's a handicap-accessible ramp at the door, and the conference table's glass top displays business cards from realtors and IT professionals. O2's members include lawyers, an executive coach and a financial consultant.
The vibe is distinctly different at Study Hall Collective, a coworking space formerly known as Three West Collective, just down the street from O2 at 209 College Street. Unlike Local 64 and O2, Study Hall doesn't rent desk space to nomads; it doesn't have private offices, either. For $300 a month, each of its nine members gets a single desk in a spacious, Brooklyn-esque third-floor loft with wood floors, brick walls and exposed wooden roof beams. They also share a small conference room.
Graphic designer Jackson Latka opened the Collective in 2009, after trying and failing to find an affordable office of his own. A former Burton Snowboards designer and a pair of digital strategists are among those who share the space. Latka's business partner, designer Jory Raphael, works from there, too — the pair has created a family-friendly photo-sharing app called Notabli.
The intimate environment isn't right for everyone, Latka says. Study Hall is currently full, with little turnover, but when there is a vacancy, he looks for members who won't be disruptive to others. Someone who needed to be on the phone every day from 9 to 5 would not be a good fit, for example. "That doesn't really work well in an open space," Latka explains.
Latka, who lives in Shelburne with his wife and two sons, says many of the members have small children at home or are newcomers to Vermont. One member, a user-experience designer, relocated a few months ago. Her client base is still in New York City, Latka says, but she prefers to work from Burlington.
That's one reason why Vermonters should embrace coworking spaces, says David Bradbury, president and CEO of the Vermont Center for Emerging Technologies. Bradbury sees these communal offices as a "low-cost, high-impact" way to attract telecommuting professionals and keep young people in the state.
In March, VCET published "Coworking in Vermont: A Starter Guide," a 30-page white paper by Local 64 owner Torres. VCET also runs its own coworking space for startups in Middlebury. Its 10 members work on agricultural as well as digital projects. None of them pay rent, but all are required to share their skills with the group.
Bradbury sees coworking spaces as an ideal solution to the problem of vacant second-floor retail spaces in small towns.
The state could support 15 to 20 such spaces, Bradbury suggests: "What a network that would make." He thinks Torres' appointment to helm the creative economy office is "an incredible signal" from Gov. Peter Shumlin that the state supports coworking.
Torres, Mincar and Latka all caution that coworking spaces aren't big moneymakers; however rewarding it may be to run them, the profit margin is low to nonexistent.
That hasn't stopped Jager Di Paola Kemp Design from opening the Karma Bird House in its Burlington HQ. Business has contracted for the internationally known firm, which closed its New York City office in the past few months. Chief creative officer Michael Jager says company leadership decided to shrink its internal footprint after realizing it was using the 11,000-square-foot second floor to house just 14 employees.
So JDK moved its workers upstairs and began renting out its offices. A 200-square-foot office with great light rents for $700 a month. For $200 a month, nomad members can secure desk space and use the Wi-Fi, conference rooms and common areas.
After two weeks, seven of the 20 spaces have been taken. It's easy to see why. The space, above JDK's art gallery and Maglianero Café, retains the former grocery warehouse's warped wood floors, along with a vibrant mural by the late artist and former Weezer bassist Mikey Welsh.
Jager insists that opening the Karma Bird House wasn't a financial decision — he's inspired by the creative energy of the coworking movement, he says, and wants to encourage interactions between his company and his tenants. JDK, whose clients include Burton Snowboards, Virgin Mobile and Nike, has often seemed impenetrable to outsiders. Now it's opening the door and inviting people in.
Jager says the space's name reflects that desire: "karma" evokes the notion of paying advice and support forward, while "bird house" represents the hub of activity he intends the space to become. "It will be a supercollider of creativity," he predicts.
At an open house one recent weekday evening, Jager demonstrated what he was talking about by mingling with the guests and his new tenants, offering feedback on one woman's video-game prototype.
Catherine Lange, a self-employed designer who showed up to tour the space, watched them talk and quipped, "You won't see that at Starbucks."
The original print version of this article was headlined "Members Only"