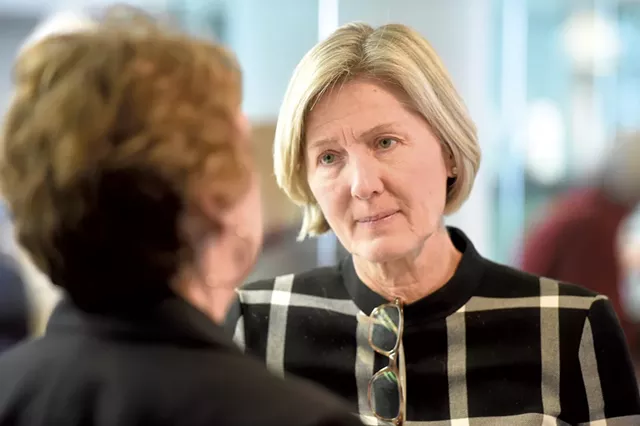 File; Jeb Wallace-brodeur
Rep. Kitty Toll
Even before the coronavirus upended the lives of lawmakers in Vermont, Rep. Sam Young (D-Greensboro) had decided not to run for a sixth term in the Statehouse.
The gregarious lawmaker still enjoyed representing his district in Montpelier, but the part-time gig wasn't paying the bills, let alone allowing the 41-year-old website developer to save for retirement.
Now, as lawmakers face a nearly $400 million budget hole next year, Young is relieved he won't be agonizing over historic spending cuts much longer.
"It's going to be completely miserable," Young said about the next legislative session. "The volume of calls from people who are out of work — and at the same time having to do budget cuts because there is no revenue — it's going to be a worse job than it was."
As the May 28 deadline approaches for candidates to register for the August primary, some lawmakers are letting it be known that they are out. A flurry of such announcements in recent weeks highlights how lawmakers struggling to respond to the COVID-19 crisis are finding it harder than ever to serve.
"There is concern from folks who are just kind of scratching their heads, wondering, How am I going to do this?" said Rep. Nader Hashim (D-Dummerston).
His answer was simple: He couldn't.
People in the former state trooper's family have been laid off due to the pandemic, and he took a pay cut at his job as a paralegal and investigator for a Brattleboro law firm, he said.
Each election year, a General Assembly with 150 representatives and 30 senators experiences some turnover. Legislative leaders don't predict a historic exodus this session, but they acknowledge that a highly uncertain environment is putting tremendous stress on incumbents and potential candidates alike.
"Governing during this time of a pandemic has either inspired people to run again or has burned people out," said House Majority Leader Jill Krowinski (D-Burlington), who is seeking reelection.
Just how many will step aside by the deadline remains to be seen. Last week, Krowinski said she was aware of at least half a dozen members, as well as others who had not yet made up their minds or gone public with their intentions.
"The jury is still out on this one," she said.
On Saturday, Rep. Kitty Toll (D-Danville), chair of the powerful House Appropriations Committee, announced she wouldn't run again after 12 years in office, citing the desire to explore other interests, such as raising money for local organizations.
The budget crisis and "the landscape Vermont finds itself in" actually made it harder to leave the job, she said: "This work is in my heart and soul."
Toll's decision follows that of two other veteran legislators, Rep. Mary Sullivan (D-Burlington) and Johannah "Joey" Leddy Donovan (D-Burlington), seatmates representing the Queen City's South End.
Donovan, an influential liberal who has served in Montpelier for 20 years, cited the House's practice of crafting legislation via Zoom during the pandemic as something that has made the job less enjoyable.
"I think there's an awful lot that's lost," Donovan, 75, said of the videoconferencing calls.
The heightened risk of spreading COVID-19 in cramped committee rooms compelled the General Assembly, which counts many older people among its members, to close the Statehouse in mid-March. Some lawmakers have since found legislating remotely isolating, especially compared to the collegial atmosphere in Montpelier.
At this time last year, Rep. Sarah Copeland Hanzas (D-Bradford) was throwing a football with lobbyists, colleagues and reporters on the sunny Statehouse steps and looking forward to the end of the session as a handful of key committees put the finishing touches on the budget.
By contrast, this year, lawmakers are Zooming from home and planning to spend additional months addressing a hemorrhaging budget.
"I wouldn't be surprised to hear people who are on the fence about running again say, 'Look this is really not for me,'" Copeland Hanzas said.
Zoom meetings are exhausting and no substitute for the rich interactions lawmakers have in Montpelier with colleagues, advocates and the public, she said.
In addition, being a lawmaker during a budget crunch can be a slog, a realization that is casting a pall over the 2021 legislative session, said Senate President Pro Tempore Tim Ashe (D/P-Chittenden).
"Frankly, right now, I'm sure, if you polled 180 legislators, they'd all say next year is going to be horrible," said Ashe, who is kicking off his campaign for lieutenant governor this week.
But Ashe doubts that budget woes alone are scaring off incumbents or deterring new candidates. People get into public service to have an impact on Vermonters' lives, and the crisis offers lawmakers more opportunities than ever to do just that.
The real challenge is uncertainty. No one knows whether the federal government will provide additional financial support or leave Vermont with "an unimaginably large number of difficult choices," Ashe said.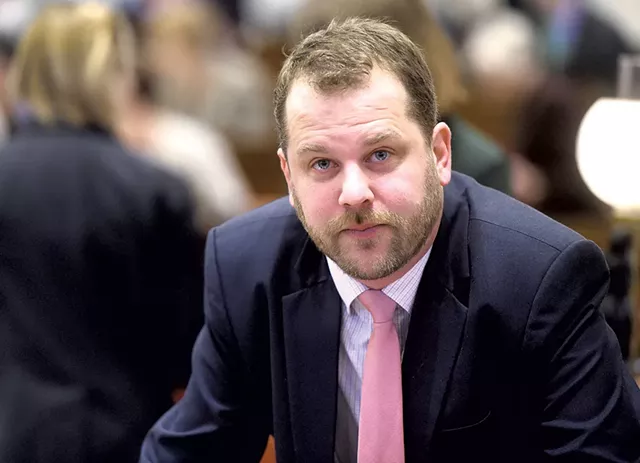 File; Jeb Wallace-brodeur
Rep. Sam Young
And yet, most lawmakers and candidates seem to consider the current remote voting environment as temporary and anticipate a return to the grand granite Statehouse, said Spencer Dole, House campaign director for the Vermont Democratic Party.
"The overarching theme I'm hearing is that people realize that it's going to be a challenge, and they want to be a part of that challenge," Dole said.
Some legislators who had been on the fence have decided to stay in order to preserve institutional knowledge in the face of the financial crisis, said Rep. Rob LaClair (R-Barre Town). Rep. Bob Bancroft (R-Westford) "was vacillating there for a little bit" but has decided to run again to help provide commonsense solutions, LaClair said, noting that Bancroft has a doctorate in economics.
"I think a person like him is going to be invaluable to helping us navigate the financial challenges we're going to have," LaClair said.
He cited the high costs of building subsidized housing and running a state-managed health insurance marketplace as areas for which Republicans will seek more cost-effective solutions.
How to campaign during a pandemic is a bigger concern for many candidates; questions abound about how to raise money when so many are hurting, according to Dole. Candidates are abandoning door-to-door canvassing in favor of remote methods: websites, emails and phone calls to supporters.
Sullivan said she can't imagine going door-to-door in this environment. "People would probably shoo you off the porch if you even stepped on it," she said.
Some potential candidates are still assessing whether they could obtain the childcare they would need in order to campaign and serve in the legislature, Krowinski said, though centers can begin to reopen June 1. A challenge to find during normal times, childcare comes up again and again in conversations, Krowinski said.
This, and the increased financial burden the crisis has created for families, have conspired to make serving harder than ever, said Krowinski, who is also executive director of Emerge Vermont, which recruits and prepares women to run for office. Legislators and their family members are losing their jobs, and the finances don't work, she said.
Several legislators are stepping aside for reasons that have little do with the coronavirus. Rep. Randall Szott (D-Barnard) chalked his decision up to "personal reasons," though he lamented that "independent thinking" isn't as valued in the Statehouse as it should be. Rep. Linda Myers (R-Essex Junction) is moving. And Rep. Marcia Gardner (D-Richmond) said her husband is retiring soon, and they plan to travel.
Jana Brown is running to succeed Gardner. The literacy program manager graduated from Emerge Vermont in 2018 and wants to expand access to childcare, she said. Brown, who is married and has a 7-year-old son, said serving in the legislature could become an even greater challenge if schools don't return to normal soon.
Rep. Dylan Giambatista (D-Essex Junction), who was first elected in 2016, said he previously considered stepping aside to look for more lucrative work. Pay is modest for those serving in the legislature — $733 a week for a session that typically runs 18 weeks, plus per diems to defray housing costs.
But Giambatista, who is running for one of the six Senate seats in Chittenden County, said the pandemic has only deepened his desire to help solve the budget problems ahead.
"We are entering a world of pain, and those red lines on a spreadsheet are a lot of our neighbors who might not have the services they count on," Giambatista said. "That is a very scary reality that lawmakers are confronting this year."