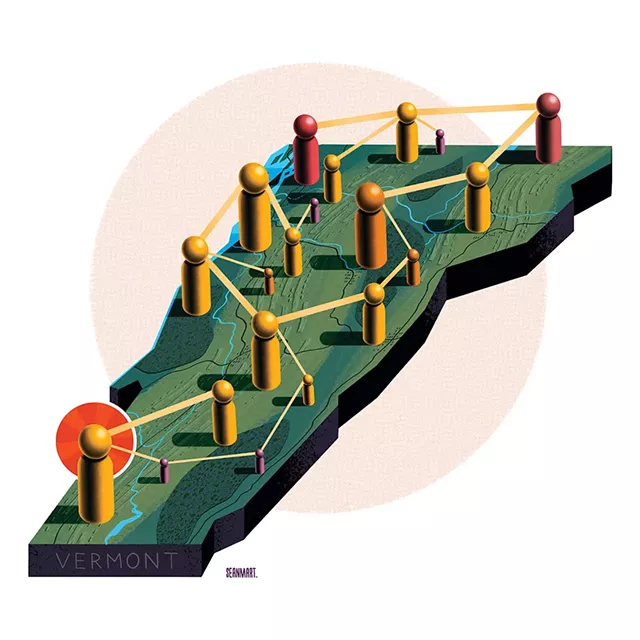 Since the arrival of COVID-19, Daniel Daltry has spent his days delving into the social networks of its Vermont victims — not their Facebook posts and Twitter followers, but the web of family, friends, neighbors and colleagues with whom they have spent time face-to-face.
Daltry is a contact tracer at the Vermont Department of Health. His job is to interview coronavirus patients, determine whom they may have infected and track down those contacts so that they, in turn, can monitor their own health and self-quarantine to stop the disease's spread.
As state officials relax Vermont's stay-at-home restrictions and restart the economy, contact tracing will be critical. Researchers believe the virus most often spreads from person to person, with one patient infecting an average of two or three others. Within weeks, a few cases can grow into thousands.
At an April 29 press conference, Gov. Phil Scott likened the pandemic to a forest fire and described contact tracing as an essential tool for containing it. "[Coronavirus] testing will allow us to spot those embers early," he said. "Contact tracing allows us to surround it in order to contain it."
But contact tracing also raises concerns about individual privacy, government surveillance and the rights of citizens to move around without being stigmatized for their health status. Civil liberties advocates warn that the government must balance legitimate public health concerns with respect for personal privacy.
Daltry, 44, is no newcomer to contact tracing. He spent a decade as a social worker, HIV/AIDS case manager and disease prevention specialist in Philadelphia and central Connecticut. He traced the contacts of people who were HIV positive, encouraging their friends, sex partners and those with whom they had shared needles to get tested, too.
Since 2006, he has served as chief of the Vermont Department of Health's HIV, STD and Hepatitis C program. After Vermont's first reported case of COVID-19 on March 7, he shifted his focus to the coronavirus and now helps oversee the state's contact-tracing efforts.
Here's how that process works. When a physician or hospital notifies the health department that someone has tested positive, Daltry or a colleague will immediately contact the infected individual, referred to as the "index patient." Typically, the initial contact is made by phone, email or text.
The first interview may be as short as five minutes, though most take 15 to 25 minutes, Daltry said, in part because the contact tracer wants to establish rapport and mutual trust. COVID-positive patients are encouraged but not required to cooperate.
"Partnership with the individual is paramount," Daltry said. "This isn't a rushed call, a 'Give me all the names and dates ... and just the facts, ma'am.'"
The contact tracer asks whether the patient needs information about the disease or help addressing any health concerns. Then together they try to identify all the people with whom the index patient has been in close contact since first becoming infectious — generally, during the two-week period before the positive test result.
Sometimes, Daltry will jog the patient's memory by referring to special events, such as an Easter dinner, Passover seder or workplace gathering. He has found that most patients have had a "fairly good" memory of people they have encountered in the previous 14 days. Helpfully, most Vermonters have had limited in-person interactions with people outside their homes since the governor's "Stay Home, Stay Safe" directive was imposed.
Next, the contact tracer will try to find the people who were exposed to the index patient. They are warned they could spread the virus and are advised to stay home, physically distance from others for 14 days and monitor themselves for coronavirus symptoms. All are urged to get tested, and the contact tracer will follow up later to see how they're faring. If any of these contacts tests positive, the tracer will track down those they might have infected, and so on, in a widening circle. "It can balloon very far, very quickly," Daltry said.
There are limits. Contact tracers do not, for example, try to identify every shopper and store employee who was in the supermarket on the day the index patient bought groceries. The contact tracers focus on finding the people who spent the most time near the patient.
"Traditionally, we're looking for people you've been with for 10 to 15 minutes within a six-foot radius," Daltry explained. Most commonly that means members of the patient's household. However, if the index patient remembers even brief contact that involved kissing or shaking someone's hand, those people are likely to get a call. In cases in which the index patient is too sick to speak, Daltry has worked with a spouse or other family member.
Thus far, Vermont's 53 contact tracers have been able to handle their workload, which has averaged about 34 new cases a week, according to state epidemiologist Patsy Kelso. That number is likely to rise soon as Vermont expands its testing capacity to 1,000 a day. Daltry has averaged just two to three contacts per index patient, but that number is expected to increase as people go back to work.
Kelso announced last week that Vermont plans to hire another 40 to 50 contact tracers, bringing the total to about 100. The National Association of County and City Health Officials recommends deploying 30 tracers for every 100,000 people during a pandemic. By that standard, Vermont would need more than 180 tracers, but Kelso expressed confidence that the state's stable of workers will be enough to handle a worst-case scenario of 900 new cases a week.
New technology will help make that work easier. Vermont has signed a deal with MITRE to use the company's electronic alert and notification system to provide daily texts, emails and phone check-ins with index patients and those they may have infected.
Kelso emphasized that the technology will be used to stay in touch, not to monitor anyone's movements. "This is not a location or proximity tracker," she said. "It's simply a system to help us monitor and collect more information on our cases and their contacts."
Federal law requires contact tracers to protect the confidentiality of those they interview — one reason Daltry doesn't show up at a patient's front door in personal protective equipment. However, some index patients allow tracers to reveal their identities to those they may have infected.
Nevertheless, contact tracers' use of technology has raised concerns among civil libertarians. As Vermont writer Sue Halpern pointed out in an April 27 New Yorker piece, "Can We Track COVID-19 and Protect Privacy at the Same Time?" South Korea dramatically lowered its infection and mortality rates in part by tracking infected citizens through their cellphones, car GPS systems and credit card transactions. China aims surveillance cameras at the doorways of infected individuals to monitor their movements.
Though no one is predicting that such authoritarian measures will be adopted in Vermont, the local chapter of the American Civil Liberties Union wants to ensure that any coronavirus-related data gathered by contract tracers is used only for legitimate public health purposes.
"The ACLU-VT recognizes that the COVID-19 virus poses a grave risk to public health, so we should not write off tools that might help mitigate the problem," senior staff attorney Lia Ernst wrote in an email to Seven Days. "But we must also recognize that technology is no magic pill to stemming the COVID-19 pandemic."
Any government response to COVID must be no more intrusive than is absolutely necessary, she said. It must be grounded in science and public health and cannot be "punitive or stigmatizing." She urged state health officials to keep all data confidential and limit how long it's stored.
The origins of contact tracing date back to the mid-1800s, when British physician John Snow, considered the father of modern epidemiology, traced the source of a cholera outbreak to a public water pump in the Soho section of London. Today, contact tracers still use many of the same techniques first developed by U.S. public health advisers in the 1940s to trace the spread of syphilis, tuberculosis and other diseases.
For his part, Daltry said that while new technologies may help his work, he expects that most contact tracing still will be the old-school, shoe-leather variety that emphasizes person-to-person relationships. Though new contract tracers may be recruited from the ranks of health care, law enforcement and even journalism, he noted that the job requires a diversity of skills that can also include sales and marketing.
Compassion and empathy are also key. Daltry was a religious studies major before becoming a social worker. "Did that prepare me for this? I don't know," he mused. "I thought I'd be anointing the sick rather than interviewing the sick."
Thus far, he said, Vermonters have been very cooperative. People often return his calls late at night, and some have agreed to self-quarantine even when reached while on vacation.
"We're in a very fortunate time in that there is a lot of information out there," Daltry said. Because the pandemic dominates local and national news, "our community is incredibly educated about the nuances of COVID.
"But we know this is going to be a prolonged battle," he cautioned. "The finish line is not in sight."