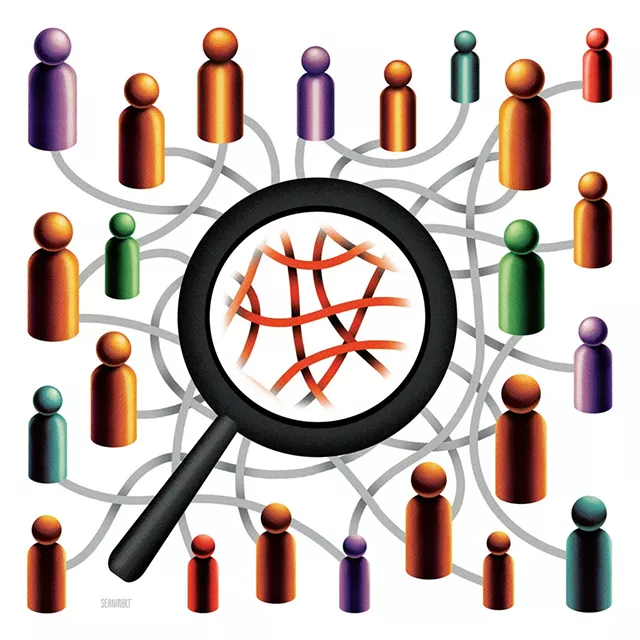 Sean Metcalf
Sean Metcalf
Vermont was so successful in suppressing the coronavirus pandemic this summer that, on most days, the state was employing many more contact tracers than there were cases to investigate. But now, a surge of infections threatens to overwhelm this vital public health effort when it's needed most.
COVID-19-positive people interviewed by contact tracers are reporting more and more close contacts — indicating that Vermonters are spending more time in one another's presence. That leads to complex webs of potentially exposed people. Further, the virus has become so prevalent that contact tracers are finding it difficult to pinpoint where people may have become infected.
The end result: Fewer and fewer people are being interviewed within 24 hours of their COVID-19 diagnosis. That key indicator of the program's effectiveness has been slipping as the number of coronavirus-positive Vermonters rises.
"We're up against the ropes here," Daniel Daltry, one of the Vermont Department of Health's lead contact tracers, told Seven Days last week. "We are fighting hard. But this virus doesn't care if we work eight hours, 10 hours, 12 hours, 14 hours a day. It just keeps coming. It's relentless."
Vermont is far from alone in its struggle. Contact-tracing efforts have largely failed in the United States due to the virus' pervasiveness and major lags in testing. Some states have even started scaling back efforts: In New Hampshire, for example, health officials recently decided they would no longer investigate each case but would focus on high-risk populations such as health care workers, communities of color and people in group living spaces. The announcement came as the state was averaging 200 cases a day — around the same time that Vermont, which has about half as many people as New Hampshire, reached a weekly average of 100.
Vermont leaders say they have no intention of retreating. They have called in the state's "reserve" contact-tracing workforce and say they plan to continue deploying reinforcements in the coming weeks. The National Guard has lent more than 30 members to the effort. Ten more are arriving from the state Department of Public Safety. By December 7, the contact-tracing staff should be more than 100 strong, four times what it was when the month began.
"We're in pretty good shape, and we're getting in better shape as time goes on," Gov. Phil Scott said on Tuesday.
Still, Vermont's containment strategy could soon face its biggest test yet: A national survey from the Ohio State University Wexner Medical Center earlier this month found that two in five Americans are planning to attend large Thanksgiving gatherings. If two in five Vermonters were to do so, officials say, the state could see up to 3,800 new infections in the days ahead — as many as during the entire pandemic thus far.
State leaders are confident such doomsday predictions won't come true. And if they did?
"We would be in far more trouble than just our contact-tracing workforce," Vermont Health Commissioner Mark Levine said on Tuesday.
The goal of contact tracing is to identify people who have spent more than 15 minutes within six feet of an infected person and ask them to quarantine at home for 14 days. If those people themselves end up testing positive, the process begins anew: Tracers reach out to their close contacts, and so on.
Outbreaks can quickly snowball — health experts estimate that each coronavirus patient infects two or three others on average — which is why one of the key indicators of a contact-tracing program's success is the percentage of patients interviewed within 24 hours of diagnosis.
The Centers for Disease Control and Prevention says successful programs are those that interview at least 65 percent of patients overall. Vermont has easily surpassed that benchmark, posting biweekly 24-hour rates well above 90 percent for months — sometimes going weeks without missing that goal in a single case. The success continued even as positive tests ticked up in early fall: Over a two-week period ending October 31, contact tracers interviewed 97 percent of the more than 250 new patients within 24 hours.
Two weeks later, the success rate had fallen amid a flood of new diagnoses. For the two-week period ending November 14, during which Vermont reported its first-ever triple-digit daily case count, the 24-hour rate dipped to 83 percent. Data for the current period won't be available until November 27, but the downward trend is expected to continue.
Contact tracers always run into some resistance when making inquiries. Some people don't answer the phone or return voicemails. Others even provide false information.
But Daltry does not attribute Vermont's recent struggles to such behavior. Rather, he blames the "sheer numbers" of new infections. Last week, Vermont's seven-day average surpassed 100, and one two-day period alone brought nearly 300 cases. By contrast, the state reported about 330 in the months of May and June combined.
"We're not hitting the same benchmarks [because] it is not feasible with the workforce that we have and the number of people being impacted," he said.
Adding to the challenge, tracers need to contact not only infected patients but also the people they may have exposed, who might otherwise be unaware of their own risk of infecting others. Say 300 newly diagnosed people each averaged three close contacts. Even if a third of those overlap one another, that still leaves 600 people to be found and interviewed.
With such a heavy workload, Daltry said, the health department has recently had days when it was unable to assign every new case on the same day it arrived. And each new day brings yet another wave.
Health experts have warned for months that states would need to beef up their contact-tracing teams to keep pace with the projected surge in the winter months. But while the state began staffing up earlier this month once its models predicted a surge, nobody anticipated "this trajectory that we're currently on," Daltry said.
"I didn't think it was going to get to this level — that we were going to see these numbers," Daltry said. "And yet here we are. It's very daunting."
State leaders on Tuesday acknowledged that Vermont's contact tracers have struggled this month. But they said they were confident current staffing levels would be enough to withstand the weeks ahead.
"Can we continue to practice containment at the current levels of virus?" Health Commissioner Levine said. "Our answer is ... definitely yes."
The state has nevertheless tried to lessen the burden on its contact-tracing team by off-loading some of its responsibilities. The Agency of Education announced earlier this month that school districts were assuming responsibility for reaching out to staff and families should a positive case force an entire classroom to quarantine. The agency explained in a memo that the change would allow state contact tracers to focus on more complex cases while ensuring that the quarantine messages reached people as quickly as possible, since schools have ready means to communicate with families.
Some school leaders were frustrated with the decision, saying it imposed yet more work on their already overstretched employees. But others appreciated having more control over the process.
"I know my families. I know their personalities. I know where to call them. I know what they do," said Jocelyn Bouyea, lead nurse for the Champlain Valley School District, where members of an elementary class were forced to quarantine after a positive case last week. When the health department was handling the process, "You were left wondering if it was done exactly how you would do it," she said.
The health department has created a two-page template to guide districts on how to best share the bad news. After Bouyea's district tweaked the message to fit its situation, one of her colleagues made the 30 or so calls to affected families — a process that took about two hours overall, Bouyea said.
"We got a positive Wednesday evening, and all the contacts were pretty much called by Thursday around noon," she said. "That's a pretty good turnaround."
As the state works to make the process more efficient, at least one private company is hoping to pitch in. Richard Whitehead, CEO and president of Burlington-based CSL Software Solutions, said his company is aiming to test an app that would help restaurants keep a log of diners should customers need to be notified of a potential exposure. Diners would simply sign up, plug in their contact information and allow participating restaurants to scan a bar code on their phone. The restaurant could then send that information to the health department if there were a positive case.
"It's minimal hassle," Whitehead said. The service's website, dinesafevt.co, went live on Tuesday night, and Whitehead is seeking several Burlington restaurants to try it out in the coming weeks.
It's unclear whether the idea would pique state leaders' interest: So far, Vermont has been more reluctant than other states to embrace the emerging digital technologies aimed at making contact tracing easier. While Vermont uses a web-based, voluntary monitoring tool called Sara Alert to stay in touch with out-of-state arrivals, as well as those with confirmed or suspected infections, it has not joined a growing number of states in embracing proximity-based technology that can detect nearby phones and notify people if they have spent time near someone who later tested positive for the virus.
At least 10 states have enabled their residents to use one such technology from Apple and Google. Few eligible people have signed up, however, and Vermont leaders have said they are not convinced the effort is worth it.
Instead, Vermont will continue contact tracing the old-fashioned way. State leaders have started asking Vermonters to keep a log of their own contacts in case they might need to recite them to a tracer. They are encouraging people to adhere to Scott's latest restrictions — most notably, a ban on multi-household gatherings. And they are pleading with the public to answer the phone and cooperate if the health department calls.
With more than a decade's worth of experience in contact tracing, Daltry recognizes that Vermont is facing its greatest challenge so far in this crisis. At the same time, he says he believes that it is not too late for Vermont to right the ship — as long as Vermonters band together.
Daltry's mother lives in an assisted-living facility. She called him the other day and asked, "'Danny, are we in trouble? Do I have to worry?'"
Asked for his response, Daltry laughed and said, "Come on, man. You can't lie to your mother. I said, 'Mom, there is still hope. We are in this together, and there is still hope.'"