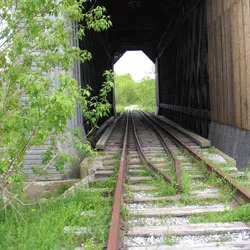 Lamoille Valley Rail Trail
Hikers, bikers, snowmobilers, and cross-country skiers won't be hitting the Lamoille Valley Rail Trail (LVRT) anytime soon. An environmental-court judge has ruled that the proposed rail-trail project, a year-round recreational corridor that would extend from Swanton to St. Johnsbury, must first undergo an Act 250 review before any construction can begin.
In response to that ruling, which came several weeks ago, the board of directors of the Vermont Association of Snow Travelers (VAST), the trail's lead sponsor, voted unanimously last week to pursue an Act 250 permit. The snowmobile advocacy group had been locked in a legal tangle over the trail's future since late last year, when two of the three Act 250 coordinators on the project reversed an earlier decision that stated the trail didn't need the elaborate and costly environmental review.
Laird MacDowell, who chairs VAST's Lamoille Valley Rail Trail Committee, said his organization was disappointed by the judge's ruling. But the project is too important to abandon.
The 93.2-mile railbed, which the state already owns, crosses through three counties and 20 municipalities and intersects several existing recreation paths, including the Missisquoi Valley Rail Trail. Once it's built, the LVRT would become New England's longest four-season trail, serving as the backbone in a statewide network.
Advocates for the project also say the cross-state trail would be a powerful economic driver for towns and communities along its route, attracting tourism dollars for new and existing businesses such as gear shops, restaurants, grocery stores and B&Bs.
Jamey Fidel is an attorney with the Vermont Natural Resources Council representing the 11 landowners who originally asked for the Act 250 review. He says the environmental-court ruling ensures that a small group of landowners will have a chance to air their grievances.
"Our organization supports the development of the trail, and we're representing landowners who also don't object to the trail being built," Fidel emphasizes. "But they really have some issues due to their proximity to the trail."
Fidel explains that most of those concerns are related to the use of motorized vehicles on the trail, such as noise and emissions from snowmobiles, speed limits, and curfew violations. Several landowners whose homes are closer than 50 feet to the trail have requested a minor reroute to mitigate those problems.
The federal funding doesn't appear to be in jeopardy. In 2005, then-Rep. Bernie Sanders got a $4.94 million federal earmark to convert the old railbed into a four-season, multiuse recreational corridor. VAST committed to pitching in $750,000 toward the final cost of improving the former railroad line.
For a time, VAST feared that the feds might exercise a "clawback" option that allows the government to take back the money that has been allocated but not yet used. However, Sen. Sanders' staff has since told the group that the clawback option only applies to transportation projects that are 10 years or older.
As it is, VAST has already invested considerable time and money in this project. Since the idea was first conceived more than a decade ago, the group has spent at least $160,000 on legal fees and other administrative costs.
How much more time and money are needed will likely depend on the nature of the Act 250 review, according to MacDowell. Since the project has already been vetted in numerous public meetings in communities along the route, MacDowell says it may only require a "minor" Act 250 review, which he estimates would cost between $20,000 and $30,000 and take three to six months to complete. However, a "major" review could run as much as $60,000 and require a year or more.
There is one irony concerning this project: As MacDowell points out, even if all the necessary permits are granted and the project gets built, it will still be considered an "interim use" of the transportation corridor, and could revert back to its original use for a railroad.
"So, if some billionaire comes along and says, 'I want to get this train running again,' we'd have to give it up," he says. "That's the basis for all rail-trail projects around the country."