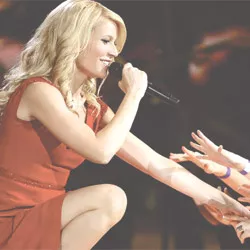 MISS TWANG Paltrow is a little bit country, a lot Hollywood in this behind-the-scenes drama.

In our current infotainment news cycle, there's no time for the classic show-biz melodrama to play out anymore. Pick up any tabloid and watch one star rising while another plummets toward rehab — this week. Some celebrities — Britney Spears comes to mind — seem to have had so many rises and falls, so many crashes and comebacks and tearful reunions and tragic reversals, that keeping track of them gives you whiplash.
So, perhaps second-time writer-director Shana Feste can't be blamed for producing a story about stardom that has attention deficit disorder. Country Strong is trying to be A Star Is Born and All About Eve at the same time — and more.
Sometimes it's the tale of a brassy but brittle country diva (Gwyneth Paltrow) trying to defend her throne from a tarty upstart (Leighton Meester) while seeking solace from a younger man (Garrett Hedlund). Sometimes it's the tale of two sweet kids with golden pipes who meet on tour and make beautiful twangs together, except that a washed-up, pickled celebrity keeps getting in the way. Sometimes it's about a ruthless Nashville Svengali (Tim McGraw) who yanks his famous wife out of rehab to send her on a premature comeback tour. Sometimes it's about a long-suffering husband who stands by his woman. And sometimes it's Paltrow's would-be Oscar reel — her version of Crazy Heart, the saga of an artist hitting bottom and finding inspiration again.
From scene to scene, the movie changes focus and tone, leaving characters undeveloped and subplots unresolved. One constant is the Tin Pan Alley dialogue. ("Love and fame don't live in the same place," we're told repeatedly.) Another is the charismatic performance of Hedlund as Beau, who meets Paltrow's Kelly Canter in rehab. A professional caregiver who just happens to be a talented singer-songwriter, he semi-rehabilitates the fallen Grammy winner with music and sweet lovin'. The character is a fantasy: Beau doesn't care about fame, just music. But if a star is being born here, Hedlund is it.
Unlike Burlesque, Country Strong doesn't wallow in its fakeness. The musical performances are reasonably affecting, and so is the acting. Paltrow hits some impressive notes, both when singing and not. But she hits most of them by herself, seldom connecting with anyone else on-screen.
Kelly's narcissism makes sense, given that she's the center of a small industry. But we might care more about the flailing star if we had more glimpses of the struggling, driven young woman she used to be. A scene where she reminisces about dropping her Lee Press-On nail in her hubbie's meatloaf comes off as more campy than humanizing.
So it's no surprise if the audience's sympathies shift to the Eve in this scenario — Meester's character, a beauty queen McGraw wants to turn into the next country-pop sensation. Initially simpery to the Katy Perry degree, Meester quickly becomes likable — perhaps because, unlike Paltrow, she's funny.
Just like a tabloid, Country Strong gives you the choice of rooting for the bitchy blond or the down-to-earth brunette as they vie for the dude with dimples. To her credit, Feste makes a few efforts to transcend those clichés. But the result is pretty weak.