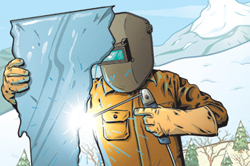 Country Home Products | Est. 1985 | Vergennes, Winooski
Country Home Products is based in Vergennes, but its brush mowers and solar-powered hot-water heaters are assembled in Winooski. The factory floor is neatly divided into small workstations, each with two or three employees bolting together bright orange wood chippers, stump grinders and tow-behind backhoes.
Things weren't always so orderly. For years, the plant used to store enormous bins of machine parts — handlebars, control panels, motors — at each assembly station. With the help of the Vermont Manufacturing Extension Center, plant managers went through "lean" training in 2007, during which they learned some simple yet profound ways to improve efficiency. One example: replacing those big storage bins with simple metal racks that hold a day's worth of parts.
The improvements allowed Country Home Products to dramatically reduce its physical space, downsizing from two plants totaling 107,000 square feet to a single plant of 60,000 square feet. That, in turn, has saved the company bundles on rent and utility costs, while as much or more product moves through its new plant — about 50 machines a day, according to plant manager Jim Fay.
"We were fat and happy," Fay recalls.
CHP's origins trace back to the 1960s, when DR Power Equipment cofounder Lyman Wood developed the popular Troy-Bilt rototiller for his company, Garden Way. A handful of CHP's managers worked alongside Wood and assisted in designing larger power equipment to meet the changing needs of landowners.
Today, the company employs 250 and assembles three product lines: DR Power Equipment, source of backhoes and brush mowers; Sunward Solar, which makes the water heaters; and Neuton battery-powered lawnmowers and tools.
The power equipment retails at 500 dealers in all 50 states — mostly "mom-and-pop garden shops," Fay says — and in England and Australia. A self-propelled field and brush mower sells for $1800 to $3300, while power wagons used for hauling wood and hay bales cost in the $2400 range. The solar-powered hot-water heaters come with two rooftop panels and a water tank and sell for around $7000, before the federal tax rebates, Fay says.
On a recent tour of the plant, where classic rock on the radio mixes with the sound of power tools, Fay points out the tweaks that have improved the bottom line: more assembly lines with fewer people, so no one winds up standing around; tools that are color coded so workers know to which production line they belong; ergonomically adjusted bench heights to prevent strain from bending over. Air hoses are retractable "so people aren't knocking their heads into them," Fay says.
Even with everything "right-sized," Country Home Products had to lay off a handful of employees during the recession. But without "lean" training in anticipation, the reduction in force might have been worse. Work has since stabilized, and Fay is hopeful the company will soon start growing again. "Lean and happy" is the new goal.