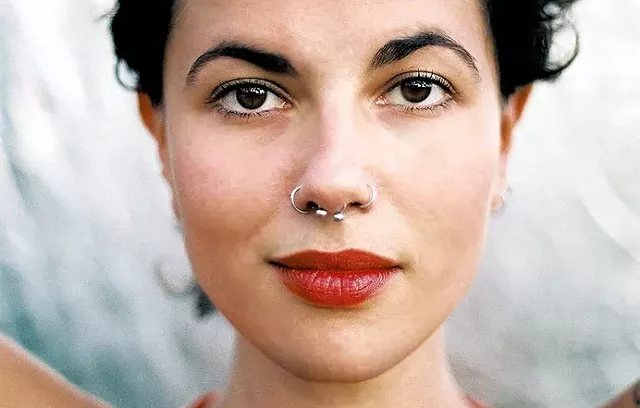 Courtesy of Ash Larose
Darshana Bolt
Burlington artist Darshana Bolt spent most of the hot, humid day of July 13 at the Howard Center's crisis center on Pine Street. The 31-year-old woman had threatened to kill herself, which landed her in the six-bed ASSIST Program in the city's south end. Despite being under supervision, shortly before 7 p.m. she informed staff that she was going outside to smoke a cigarette.
She never returned.
Four days later, a passerby found Bolt suspended from a tree in a dense patch of woods nearby. Police concluded that she had hanged herself shortly after walking out of the mental health facility, the entrance of which is marked by a sign that promises: "Help is here."
The suicide of the dark-haired bohemian beauty who cruised around Burlington on a gold-spray-painted bicycle stunned her loved ones, even though some of them knew Bolt's fragile mental health seemed to be disintegrating.
Members of her family believe that if she'd been watched more carefully, Bolt would be alive today. They have broader concerns, too, about the quality of health care in a state that has transitioned from warehousing the mentally ill in asylums to relying on community programs. Vermont emergency rooms are often crowded with patients waiting for beds in hospital psych wards. Those who are referred to alternative treatment such as Howard's have to go voluntarily. They have a legal right to leave — Vermont favors liberty over forced commitment.
The ASSIST Center did err in caring for Bolt, according to a recent report from the Vermont Division of Licensing and Protection at the Department of Disabilities, Aging and Independent Living, which investigated her death. The crisis center failed to provide her appropriate supervision as required under state regulations governing therapeutic community residences — and broke its own rules by allowing her to leave the building not once but twice without a staff escort. The center's rule says that all new clients need to stay "on the unit" for the first 24 hours of any stay and should not leave unaccompanied. That crucial monitoring period allows staff to determine whether a patient qualifies for nonvoluntary hospital admission.
Neither ASSIST program coordinator Angela Fereday-Parent nor Howard Center CEO Bob Bick granted requests for comment. But Fereday-Parent responded to the state report with a written correction plan as required by law. ASSIST will retrain staff in policies and procedures for suicidal patients and provide more scrutiny and documentation of patients who want to leave the facility within the first 24 hours of arrival, according to the plan.
But that won't bring back Bolt, her older sister, Serenity, pointed out. "This is unconscionable; they failed in their most basic mission." She continued, "I would like to see strict regulations put in place to make sure that when somebody is admitted to a crisis center with suicidal ideation, that it is taken just as seriously as someone who is admitted to the hospital with a serious injury."
Darshana's father, Frederick "Ben" Bolt, agrees. "I'm hoping there will be a public outcry" and that "the Howard Center will have to clean its act up."
'She Was Mesmerizing'
Despite Darshana's struggles, friends and family say she was a compelling, creative person. During her last two years in Burlington, she cohosted a poetry show on public access television, coordinated the Old North End Ramble, joined her studio mates at the Howard Space building in the 2015 fight to preserve artist-friendly zoning in the Pine Street corridor, and produced dozens of paintings, collages and drawings. Some were dark portraits with an air of suffering; others were sardonic or gleeful.
Darshana often made herself into a human canvas, by wearing gauzy fairy wings over thrift shop clothing, or glamour-girl eyeliner and bright red lipstick to dress up a paint-splattered jumpsuit. Burlington chanteuse Kat Wright remembered her general "fabulousness" in a moving Instagram post that wound up on Facebook in the week after Darshana's death. She was a regular at Radio Bean coffeehouse, the hipster downtown music venue that Wright owns with her husband, Lee Anderson.
"I'm so stunned that someone so kind, so open, so creative, so righteous, so beautiful, so young could find herself trapped in such deep darkness," Wright wrote. "She was mesmerizing, she was brilliant, she was buoyant."
The daughter of Jessica and Ben Bolt was born in upstate New York and spent her early years with sister Serenity and three stepsiblings in a log cabin in the foothills of the Adirondacks. Jessica worked on and off as a teacher; Ben designed book covers. The family moved around — to Wisconsin, to North Carolina — before settling in the St. Johnsbury area, where Darshana attended St. Johnsbury Academy. Her parents now reside in Glover.
Darshana excelled in high school and won a scholarship to study art at Bennington College. But she had trouble organizing herself to meet deadlines, and, after two years, the college asked her to leave. When she was in her early twenties, Darshana was diagnosed with attention deficit disorder and began treating it with the drug Adderall. The stimulant, though widely prescribed to children and adults, is an amphetamine with side effects that can include insomnia and depression. Darshana came to view Adderall as an unhealthy addiction and was struggling to get off it at the time of her death.
After Bennington, Darshana took a break from school and eventually enrolled at the University of Vermont, graduating in 2012 with an art degree and teaching certification. She traveled and lived for a time in Cambodia, where she taught art to children and created what she considered to be some of her best work. A bout of typhoid fever brought her home to Vermont, according to her parents and sister, and she attributed lingering digestive problems to the tropical disease.
After a brief stint in New York City, she landed in Burlington two years ago and began dating fellow artist and activist Brian Goblik. Together they decided to take new first names and a joint last name. She called herself Emerald Avilix, and Goblik chose Ibnar Avilix. He declined to speak to Seven Days.
Darshana's talents could not make up for the problems she faced. She had difficulty earning a living from her art and struggled to find paying work and stable housing. Digestive problems often left her feeling ill, and she had bouts of depression. She saw a psychiatrist and at times became angry or disoriented in public. Other times she was afraid to go out in public alone, according to Serenity. At the time of her death, she had been diagnosed with dissociative disorder, a condition characterized by detachment and disorientation, and was on federal disability, according to her family members.
They also say Darshana was abusing Adderall and couldn't seem to wean herself off it. Large doses left her shaky and unable to sleep, sometimes for days at a time. Darshana and Goblik broke up in part because of that addiction, according to her sister. Darshana was also trying to stop taking more recently prescribed dosages of the anti-depression medication Effexor.
Darshana did not interact with her parents much in the year before her death, but Ben and Jessica said they thought about her frequently — and worried. Serenity, who lives in Montpelier, visited her sister twice in July at the South Winooski Avenue apartment she was renting with a federal Section 8 subsidy. She said Darshana was happy to have her own apartment after long periods of couch surfing, house sitting and sleeping in art studios. But she also seemed confused at times, and her hands shook, Serenity said. They made plans to get together again soon.
Crisis Mismanagement?
A few days later Darshana went into the crisis that ended with her suicide, as documented in the police report and the state Division of Licensing and Protection investigation. On July 12 at 5:35 a.m., Burlington police went to Darshana's apartment because a friend staying there called to report that the young woman was acting erratically. Darshana hadn't slept in days and appeared to be on the verge of a breakdown. She had flushed bottles of Adderall down the toilet and took a cellphone video of herself vowing to quit cold turkey. Police convinced Darshana to go to the emergency room at the University of Vermont Medical Center for evaluation.
Health officials at UVMMC will not discuss her case, citing privacy laws. Her parents are in the process of seeking her medical records but for now do not have the details. All they know is that Darshana was not admitted to the secure hospital psychiatry unit and was instead referred to Howard's ASSIST Program, a residential setting for "crisis respite and stabilization" that opened in 2012.
According to the state report, Darshana was admitted at 2:30 a.m. on July 13 after hospitalization and observations for erratic behavior and "suicidal ideation." Her mood alternated between "tearful and upbeat." More than 12 hours later, at 3 p.m., Darshana said she wanted to take a walk outside. When staff told her that patients are required to stay in the unit for the first 24 hours of their stay, Darshana became angry and reminded them that she was there voluntarily, the report said. She walked out the door alone. The state report noted, "The program coordinator provided client with permission to leave the unit."
Within an hour, Darshana was having a public meltdown on Pine Street.
At 3:47 p.m., Burlington police received a call from one of her friends, who was with Darshana at ArtsRiot. The person's name is blacked out on the public records that the police released to Seven Days, but it's clear that he or she expressed fear that Darshana was going to hurt herself. Police came and found Darshana in an agitated state a few blocks north, near Curtis Lumber. "Bolt appeared to be under stress and would fluctuate from crying and yelling," the report reads. A second friend arrived, convinced Darshana to return to ASSIST and took her back to the facility.
That person, referred to only as "Friend B" in the state report, told ASSIST staff that Darshana had spoken of hanging herself. "The friend was assured that the client would be safe on the unit," the report reads. Around 6:40 p.m. Friend B asked to go out to smoke a cigarette with Darshana. Staff allowed them to exit the building together.
Within 20 minutes, Friend B returned without Darshana and then left, too. When Darshana had not come inside by 7:15 p.m., a staff person went outside to look for her — to no avail. The police came, searched unsuccessfully for her and issued a missing-persons report.
"The client was found several days later to have committed suicide," the state report reads. That passively constructed sentence downplays the drama of the scene. Police arrived on July 17 to find Darshana hanging by a piece of cloth from a tree. The midsummer heat had taken its toll, and her face — once so luminous and striking — was unrecognizable. "The body showed advanced stages of decomposition," according to the police report.
Police knew the "decedent" could be the missing Darshana Bolt because of her proximity to the ASSIST Center. The spot was a five-minute walk away, in a patch of woods that runs behind the facility and the neighboring Champlain School Apartments. They made a tentative identification by studying her tattoos — a bird on her back, numbers on her arm — and comparing them to pictures on her Twitter and Facebook pages.
Burlington Police Detective Jeffrey Beerworth, the lead investigating officer, tracked down Darshana's parents and dispatched a state trooper from the St. Johnsbury barracks to notify them of their daughter's death.
The family was completely shocked, said Serenity, who was staying with her parents at the time. None of them knew Darshana had gone to the hospital, been admitted to ASSIST or that she had been missing for four days.
"The biggest, most painful thing for me is that she went for help when she felt that she was losing control," Serenity said. She's convinced that her sister wanted to live but couldn't endure the withdrawal from her meds on top of her other mental health issues. "I don't think that people go to a crisis center in order to kill themselves."
Liberty or Death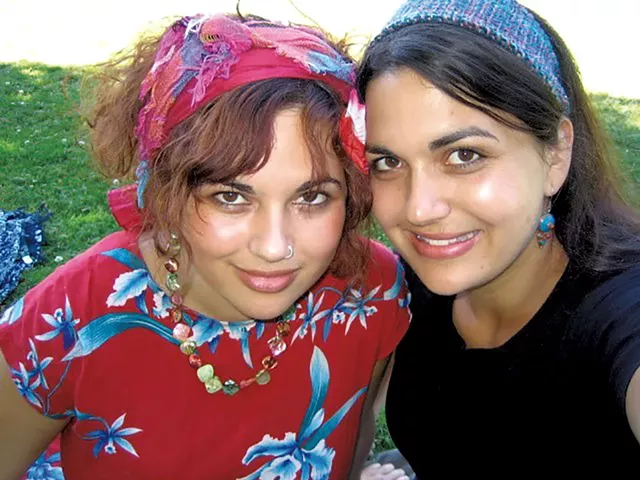 Darshana left, and Serenity Bolt
While the Bolt family finds fault with ASSIST, mental health advocates defend it. The Howard Center's program opened at 851 Pine Street to provide short-term residential care to patients in psychiatric crisis whose needs are not as acute as patients who are treated in hospital psychiatric wards.
The small center, near the busy corner of Pine and Flynn Avenue, also cares for patients who are transitioning from an inpatient hospital stay back to the community.
Vermont needs more such facilities, not fewer, said Jack McCullough, director of Vermont Legal Aid's Mental Health Law Project. Even after learning of the state's investigation of ASSIST, and expressing sympathy for the Bolt family, he said the answer isn't to push more people into psych wards.
"The only people who should be in hospitals are people who can't be safely treated somewhere else," he said. "So it's a good thing that we have these alternatives to hospitalization."
Facilities such as ASSIST can't legally force people to stay, but they can "follow them out of the facility and keep track of them and try and talk them into staying," McCullough said. Staffers can always call the police if they believe a more secure environment is required.
Under state law, patients can be admitted against their will to secure psychiatric facilities in hospitals. But doctors must be able to show that the person has a mental illness that imperils the patient or others. Danger of self-harm may be established by threats or attempts at suicide, according to state guidelines. It's unclear why, when Darshana had talked about committing suicide, she was not admitted to the hospital psych ward and kept there.
Evaluating and caring for suicidal patients requires balancing their safety and their liberty, McCullough explained: "It's a big, big deal to have ... the power of the state ... confine them against their will and then, even beyond that, potentially inject them with powerful drugs ... that change the workings of their brain. I think we need to be extremely cautious in taking that step for anybody."
That longer-term involuntary commitment is even more complicated — it requires a court process — is a good thing, McCullough added.
Rep. Anne Donohue (R-Northfield), who herself attempted suicide in the late 1990s, agreed that it's extremely difficult to make the call about appropriate treatment in crisis situations. "It's really hard in any specific case to say, 'Well, gee, what would have made it different?' There's always a tension between protecting the emotional dignity and rights of a person and protecting their physical safety," she said.
Voluntary intermediate care facilities such as ASSIST provide more options, according to Donohue. Having more of them in Vermont would allow patients who are ready to leave locked hospital wards to check out sooner. Many are stuck now because they have no place to go, Donohue said. More transitional beds would also reduce emergency room wait times and allow patients to get into psychiatric care wards quicker, she said.
For decades Vermont and many other states sent people with mental health issues to so-called asylums. The Vermont State Hospital in Waterbury, built in 1890, once had as many as 1,700 patients. The number gradually declined to around 50 patients. Vermont leaders were trying to close the hospital and replace it with a fully decentralized care model when Tropical Storm Irene flooded Waterbury in 2011, accelerating the process. The state has since built a smaller facility in Berlin and uses other hospital psychiatric wards and various smaller community facilities. It has 188 beds statewide for inpatient psychiatric care, 45 of which are involuntary, high-security spots. Vermont also has an additional 40 crisis beds for voluntary care, including the six at ASSIST.
Vermont Mental Health Commissioner Frank Reed would not comment on the specifics of Darshana's case, other than to say the state follows up to ensure facilities correct deficiencies as they have pledged to do.
Reed also believes Vermont should discuss allowing involuntary admissions in transitional bed facilities such as ASSIST. But many mental health advocates oppose that, he said, and so the idea isn't likely to move forward.
Patient suicides at secure facilities are rare and considered a serious failing on par with amputating the wrong limb in a surgical procedure, Reed explained, adding they are also uncommon at voluntary transitional facilities. But in August, the Brattleboro Retreat was found deficient for discharging a patient who then promptly committed suicide.
Reed acknowledged the difficulty of gauging suicide risk.
"It is a moment-in-time review. You can never be quite sure of what stressors face the person when they leave hospitalization ... There's a lot of free choice that impacts what happens."
Meanwhile, the patch of woods where Darshana died in Burlington has changed from green to gold and autumn red. Dead leaves cover the ground. Serenity is convinced that her sister would have overcome her problems had she made it through that one final crisis. She believes the mental health system failed, profoundly.
"I feel like when my sister died, something in me died as well ... my faith in this system."