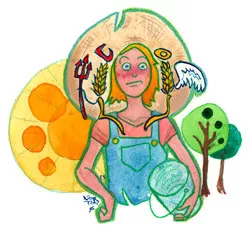 A few years ago, a Wisconsin cardiologist named Dr. William Davis began asking his prediabetic and diabetic patients to give up wheat. His theory: Foods made with wheat flour can cause blood sugar to spike.
After some of those patients underwent health transformations — dramatic weight loss and the disappearance of chronic conditions, for instance — Davis decided to write a book, Wheat Belly: Lose the Wheat, Lose the Weight, and Find Your Path Back to Health, about what he judged to be the physiological evils of wheat consumption. Calling the grain "an incredibly destructive monster" on his website, Davis posits that it can cause or aggravate ailments ranging from arthritis to schizophrenia.
Davis' book sold millions of copies and became a New York Times best seller; the doctor appeared on CBS News and "The Dr. Oz Show," and he followed up with a best-selling cookbook. Yet the claims that modern wheat is both addictive and debilitating have met skepticism from retailers, bakers, grain growers and some nutritionists — one of whom will speak in Vermont next week.
"It doesn't pass scientific muster," says Julie Miller Jones, a nutrition professor at the University of Minnesota and a vocal opponent of Davis' assertions that wheat-based cakes, breads, crackers and pastries are making us sick and obese.
Jones should meet a receptive audience when she delivers a keynote speech on March 14 at the annual conference of the Northern Grain Growers Association in Essex — an appearance funded in part by King Arthur Flour. Vermont wheat growers aren't many in number, and they already face challenges such as a moist, cold climate; not-quite-ideal soil; and a dearth of local mills. Now, the growing gluten-free market adds another layer of complication to their jobs.
In Vermont, Jones will talk about how wheat "never was and has not become addictive," as well as about the general principles of gluten intolerance and allergies. Since reading Wheat Belly, she has been on something of her own crusade to counter what she sees as the misguided and potentially harmful information Davis brokers. "When I got to the chapter on schizophrenia, I was so angry that someone would say to a family that not eating wheat could cure schizophrenia," she says. Miller concedes that 3 to 5 percent of schizophrenic patients "may do better" on a wheat-free diet, but the suggestion that wheat could exacerbate the disease incensed her.
"That's the moment I said, 'OK, not only is this guy giving nutrition information that's erroneous, but I find it profoundly troubling,'" Jones says.
Inviting Jones serves a clear purpose for the NGGA, says Heather Darby, a University of Vermont agronomy professor. "It [the gluten-free trend] definitely impacts small-scale food systems," she says. "The growers and bakers need more information on how to talk to their customers about it, so that people aren't afraid to eat wheat."
"I get emails from people who have concerns [about wheat], and I don't really know how to answer them," says farmer Ben Gleason, who has been growing wheat in Bridport for 31 years. "I did see a short interview with [Davis] where he talked about how wheat is addictive. I don't really think it seems like that."
Gleason says the last few months have brought sagging sales, as well as a wetter climate that spurs lower yields. But he can't trace slow business directly to customers giving up wheat. He still sells much of his 60 or so tons of Gleason Grains flour to local co-ops and to Red Hen Baking Company in Middlesex.
For his part, Randy George of Red Hen noticed a bump in customers inquiring about gluten-free products three years ago. Within the last 18 months, though, he says the trend has reached the level of a "craze or a frenzy."
"I have a tremendous amount of sympathy for people who have celiac. It's not a fun thing," George says, referring to the genetic autoimmune digestive disorder aggravated by gluten.
Celiac disease is why Red Hen could never "comfortably" produce breads or pastries with the label "gluten free," George says — wheat flour wafts through the bakery every day, after all. As for people not affected by celiac disease who are practicing wheat avoidance, he wonders if some are reacting rashly to mass-marketed breads that use shorter rises and commercial yeasts.
"I'm a big believer in naturally leavened breads," George says, and adds that natural leavening agents "have a profound effect on the digestibility of the grains."
The baker especially takes issue with Davis' key assertion that most of the wheat we consume comes from a modern, modified grain that's toxic to human bodies. Davis has taken to calling it "Frankenwheat."
"I really agree with [Davis] in that we've messed with a lot of food, but wheat isn't and has never been genetically modified," George insists. "Unfortunately, he's capitalized on people's tendencies to come to quick conclusions based on those kinds of thoughts."
Catherine L. McIsaac, the manager of clinical nutrition at Fletcher Allen Health Care, says she has no doubt that incidence of both celiac disease and gluten insensitivity has risen in recent years — partly as a result of better screening.
"I certainly don't think wheat is the source of all evil, but there are some people who, if they avoid wheat, they feel better," she observes. "The part that's difficult to tease out is if it's truly the wheat, if that's what they're focusing on. If they're avoiding wheat, they're usually focusing on higher-quality foods altogether."
While the wheat-free trend has posed challenges to Vermont's traditional bakers and grain growers, it has also created new business opportunities — for gluten-free bakeries. McIsaac says Fletcher Allen now sources more baked goods from Essex Junction's West Meadow Farm Bakery. Other small businesses, such as South Barre's Vermont Gluten Free Bakery, have sprouted and flourished as more Vermonters give up gluten.
Mother and daughter Jean and Joye Mudgett started Vermont Gluten Free Bakery in 2008, after the former, at age 61, was told she had celiac disease. When she gave up wheat, "It was like a light went on: This is what it is to feel good. I had never felt so good," says Mudgett, a lifelong home baker who'd endured decades of cramps and malaise. Yet another misery awaited her — the state of gluten-free foods. "Everything I tried was worse than cardboard. It was awful," she recalls.
Gradually, Mudgett finessed more palatable gluten-free breads and pastries, using her family as guinea pigs. She and her daughter perfected a substitute flour using rice, tapioca and cornstarch. Word spread about their products. Samples the pair dropped off at City Market and Healthy Living Market and Café were immediately snapped up, and a business was born. "It just took off," Joye Mudgett says. "There was a great need.'
Nutritionist Jones takes issue with that word "need," even as she acknowledges that at least 1 percent of Americans suffer from celiac disease. She points out that a "maximum of 7 percent" of Americans have a true gluten intolerance, yet millions more are pursuing gluten-free diets as the "diet du jour."
Jones has seen dietary fads come and go; she's been in the field since the 1970s — when, ironically, she asked some of her students to develop products for the gluten intolerant. "Then, we thought the incidence was one in every 2500 or 3000 people," she says.
Since then, Jones' area of specialty has been carbs and grains. Though she says it's clear the incidence of celiac disease has increased in the last 50 years, she is rankled by some of Davis' bolder assertions. For instance, the author maintains that gliadin (a protein in wheat) is a product of genetic engineering, akin to an opiate, that makes wheat so addictive consumers eat 440 more calories a day than they might otherwise.
Like George, Jones dismisses the "Frankenwheat" claim. "There is no genetically engineered wheat sold anywhere on this planet," she says.
Though Jones "can't address his motives," she observes that Davis has skillfully tapped into the penchant for trendy diets. "The diet-book market is incredibly lucrative. This is just another low-carb diet," she says, and it troubles her.
"The 25 percent of women who are cutting out bread and cereal is problematic," Jones adds, because they may not be getting their daily dose of fiber.
How far will the wheat-free trend go? Red Hen's George thinks bakers may be seeing the light at the end of the tunnel. "I think some people are starting to question this a little bit, whether it really makes sense to discard a food that people have been eating for 10,000 years," he says.
Can Vermont's local wheat-growing movement weather some defections? Grower Gleason seems mellow about the kerfuffle. "Your customers kind of come and go," he says. "Businesses go out of business, and you always have to keep pursuing new markets."
"Returning to Our Roots," the Ninth Annual Grain Growers Conference. Thursday, March 14, 9:30 a.m. to 5 p.m. at the Essex Resort & Spa. $40-45. Register online at uvm.edu/extension/agriculture/.
The print version of this article was headlined "The Trouble With Wheat".