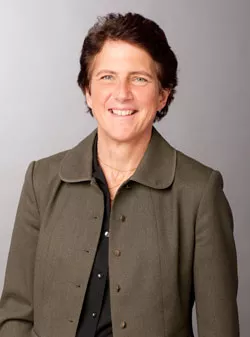 After more than a decade of hawking huggable stuffed animals at Vermont Teddy Bear Company, Liz Robert, the company's former "Chief Bear Officer," is pedaling, er, peddling a new product. The 54-year-old businesswoman and recreational cyclist recently bought Terry Precision Cycling, a women's bicycle and apparel company. By the end of December, she will have moved the company to Burlington from a suburb of Rochester, N.Y., where it's been located since Georgena Terry founded it 25 years ago.
Under the leadership of Terry, a mechanical engineer with a passion for frame building, the company has earned recognition in the cycling community as a female-friendly brand. Terry, 60, pioneered women-specific saddles and built bike frames to fit female geometry. Relying heavily on direct marketing, the company typically sent out about two million catalogues a year.
But Terry Precision Cycling began to founder as larger cycling companies started offering more options for women. Georgena Terry never wanted to be a CEO — she just wanted to build bikes and components — and as the industry became more competitive, the company needed new leadership, Robert says.
Robert was dismissed as CEO of Vermont Teddy Bear in September 2008 over disputes with the private equity firm that owned the majority of the company. In May, after exploring other potential business options, Robert bought the majority of Terry's common stock, making her the owner and CEO. Georgena Terry will remain with the company as president and will focus primarily on the bicycle side of the business.
One of Robert's first executive decisions was to move the company to Burlington. She's banking on the state's reputation as an outdoor enthusiast's playground to add value to the Terry brand.
Plenty of outdoor recreation companies already call Vermont home, including Burton, Rome, Eesa, Darn Tough, Drop, Ibex and Isis. Others have left — Tubbs Snowshoes and Mad River Canoes, as well as the U.S. offices of Rossignol, LINE and Karhu skis — but their departures haven't diminished the state's collective passion for the outdoors. According to a 2006 survey of the Vermont recreation economy by the Outdoor Industry Association, 29 percent of Vermonters bike regularly. And, as more people commute by bicycle, that percentage is bound to grow.
All of which fits perfectly with Terry's mission to "get more women's butts on bikes."
What Terry will gain in marketing cachet more than makes up for the fact that Burlington happens to be a pricier place to do business than Rochester, Robert reasons. The company had to shed employees to make the move and will spend more on salaries due to the increased cost of living.
While Terry will only employ about 15 or 16 people, it's the perfect-sized business for the state, says Vermont Chamber of Commerce executive director Betsy Bishop. Plus, Robert's plans to use the Vermont brand to sell Terry products dovetail with the chamber's mission of selling the state's active lifestyle. "Liz had the vision of saying this company belongs in Vermont because this is what Vermont is and this is what we make," Bishop says.
Though Robert looked at other Vermont locations for the company, she ultimately alighted on Burlington for the city's entrepreneurial spirit. Robert calls Burlington "the genesis for all great consumer products," noting that globally successful companies such as Ben & Jerry's, Burton and Vermont Teddy Bear all got their start in the Queen City.
Terry's proximity to Jager DiPaola Kemp Design can't hurt, either. The company will be housed inside the Maple Street firm that has helped create brand identities and product lines for Nike, Xbox 360 and Burton. And JDK has signed on to design and help market a whole new line of women's cycling and leisure apparel for Terry. JDK, which has worked with other bicycle and component manufacturers, including Giant and SRAM, will also design bikes for Terry.
Upgrading the look of Terry products is one of Robert's priorities. At present, the company's target market is composed of women roughly between the ages of 36 and 54. Robert sees that demographic skewing younger in the coming years. "We want to emphasize the fashionable side of cycling," she says. "We're trying to introduce an element of style."