Eric Milano perches atop a gleaming BMW R 1200 GS. He accelerates as he leaves behind midday traffic in South Burlington, and within moments he's slowing down to navigate a shady dirt road that meanders under lush foliage and past small dairy farms.
It's vistas like this that Milano hopes will convince dedicated motorcycle tourists to make Vermont their next destination. Banking on the state's scenic appeal from the back of a motorbike, he launched MotoVermont — the state's first motorcycle touring company — last year.
"I love motorcycling, and I think it's a really unique way to experience a place," says the avid rider.
His timing was perfect. Milano's business goes hand in glove with what are now the two fastest-growing segments of motorcycle culture: dual-sport riding (which combines riding on dirt and paved roads) and adventure touring. But even as motorcycle touring has grown in popularity across the United States, enthusiasts such as Milano say Vermont has been slow to capitalize on the trend, and that the state could, and should, be doing more to attract motorcycle tourists.
He hopes to fill the gap: MotoVermont is a one-stop shop for motorcycle tourists to Vermont. Milano's company provides free pickup and drop-off for customers from the nearby airport. For between $99 a day for a lightweight Kawasaki and $179 a day for the most luxurious BMW, Milano will outfit a motorcyclist with all the essential gear and custom-tailored routes for exploring the state's roadways.
Milano moved to Vermont 10 years ago and by now knows its back roads well. In fact, it was around the time he moved to the state that he rode his first motorcycle. "I was actually always kind of scared of motorcycles," he reveals, but, like many riders, he was quickly hooked. Milano admits it can be a dangerous hobby. He isn't foolhardy, but, in his estimation, "I think the risk is worth it."
His customers have to confront that risk head-on when they sign a thick liability disclosure agreement before heading out to explore Vermont's winding roads. Renters must be at least 25 years old and have a valid motorcycle endorsement on their driver's licenses.
Milano's business is the first devoted primarily to motorcycle rentals in Vermont, and his business is catching on. Last year, he says, was in many ways a trial run — and he's already had renters from as far away as India, Denmark and Japan. He's had plenty of domestic riders, too — everyone from business travelers who want to get out and explore, to couples setting off on New England road trips.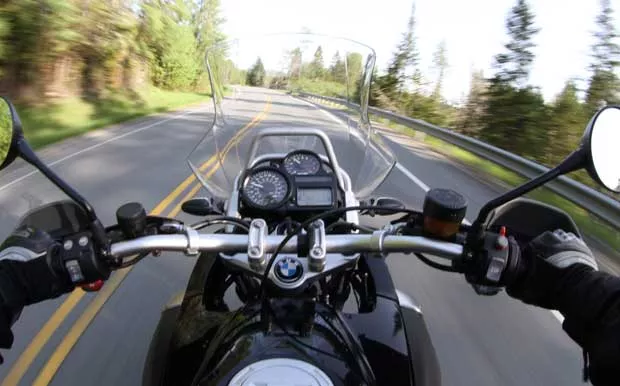 Among the many reasons Milano likes riding in Vermont, he says, is that automobile drivers here are willing to share the road — an important consideration, given that more than half of all motorcycle accidents involve another vehicle.
"The drivers here are extremely respectful," Milano says. He speculates that it's because "Vermonters have [an] adventurous side."  Milano is not alone in his opinion that Vermont is a great place to ride a motorcycle; Bob LoCicero, who runs the website motorcycle-vermont.com, asserts that it's the best in New England. Riders can follow long stretches of road through rural landscapes without having to change speed too frequently. Even during peak seasons such as fall foliage, LoCicero says, plenty of roads remain lightly trafficked. All the factors that make Vermont attractive to tourists in general — friendly people, scenic views, great food — attract motorcyclists, too, he points out.
But, while other tourists may not worry about the quality of Vermont's roads, that means everything to motorcycles: Good roads are to bikers as good snow is to skiers, LoCicero explains. Leaving aside its infrastructure issues, LoCicero says that Vermont is well positioned to take advantage of motorcycling trends. More than half of the state's roads — 8000 of 14,000 total miles — are unpaved. (Some, he jokes, "qualify as barely paved.") For dual-sport riders, that's a great mix.
Milano isn't the only entrepreneur who stands to benefit from motorcycle traffic: Increasingly, innkeepers are realizing that motorcyclists can be a valuable source of business. Carina Thorsson owns the Gray Ghost Inn on Route 100 in West Dover. Located beside a ski resort, the inn gets most of its business during the winter months — so Thorsson decided to recruit motorcyclists to fill rooms during the slower summer season.
She began marketing her inn as "motorcycle friendly." Word spread quickly, and soon Harley-Davidson chapters were planning destination rides up to the inn. "It's just a fantastic group of people," says Thorsson. "Once people find out that some place or some state is motorcycle friendly, they'll come, without a doubt." Milano hopes so, too. He took this reporter out for a half-day ride, which peaked in the hairpin turns of Smugglers' Notch. High in the mountains above Jeffersonville and Stowe, the air was cool and fragrant, the road shaded by the dense forest and dramatic rock cliffs.
"This is a motorcycle nirvana," Milano says.
Le mototourisme pourrait-il être la nouvelle manne du tourisme au Vermont?
Sur sa rutilante BMW R 1200 GS, Eric Milano accélère et laisse derrière lui la circulation de l'heure du midi à South Burlington. Quelques minutes plus tard, il ralentit; la petite route de terre sinueuse où il roule maintenant est ombragée et ponctuée de petites fermes laitières.
Eric Milano espère que ces paysages sauront attirer au Vermont les adeptes du mototourisme. Misant sur l'attrait pour eux de ces panoramas, il a lancé l'an dernier Moto Vermont, la première agence de mototourisme de l'État.
« J'adore faire de la moto, dit-il, et selon moi, c'est un excellent moyen de découvrir une région ».
Il a choisi le bon moment pour lancer son entreprise. Celle-ci est parfaitement en phase avec les deux segments du motocyclisme qui connaissent actuellement la croissance la plus rapide : la moto trail (qui permet de rouler autant sur les chemins de terre que sur les routes pavées) et le mototourisme, ou voyage à moto. Pourtant, même si cette forme de voyage a pris de l'ampleur aux États-Unis, les mordus comme Eric Milano estiment que le Vermont a été lent à réagir et qu'il devrait en faire plus pour attirer les motards.
C'est dans cette optique qu'il a fondé MotoVermont, un guichet unique pour les touristes qui voyagent à moto au Vermont. L'entreprise offre un service de transport gratuit à partir de l'aéroport. Moyennant une somme variant entre 99 $ par jour pour une Kawasaki de base et 179 $ par jour pour une BMW plus luxueuse, Eric Milano fournit tout l'équipement nécessaire et des itinéraires personnalisés pour explorer le Vermont.
Il habite cet État depuis 10 ans et connaît bien ses petites routes. C'est en fait lorsqu'il s'y est établi qu'il a commencé à faire de la moto. « En fait, j'avais un peu peur des motos », avoue-t-il, mais comme plusieurs motocyclistes, il est vite devenu accro. Il admet que c'est une activité qui comporte des risques et il ne commet pas d'imprudences. « Mais en définitive, les risques en valent la peine », conclut-il.
Ses clients ne peuvent d'ailleurs pas faire abstraction de ces risques, car il leur demande de signer un épais contrat de responsabilité avant de prendre la route. Ils doivent avoir au moins 25 ans et posséder un permis de conduire valide pour la moto.
L'entreprise d'Eric Milano est la première du genre au Vermont et son chiffre d'affaires est en croissance. L'année dernière a été une année d'essai en quelque sorte, mais il a déjà eu des clients provenant de l'Inde, du Danemark et du Japon. Beaucoup de motocyclistes des États-Unis aussi, autant des personnes en voyage d'affaires voulant explorer la région que des couples partis à la découverte de la Nouvelle-Angleterre.
L'une des raisons pour lesquelles Eric Milano aime se promener à moto au Vermont, c'est que les conducteurs automobiles y partagent la route avec courtoisie; c'est une considération importante étant donné que la moitié des accidents de moto impliquent un autre véhicule. « Les automobilistes ici sont très res-pectueux, dit-il. C'est sans doute parce que les Vermontois ont le sens de l'aventure. »
Eric Milano n'est pas le seul à croire que le Vermont est formidable pour les motocyclistes. Bob LoCicero, qui s'occupe du site Web motorcycle-vermont.com, affirme que c'est le meilleur endroit en Nouvelle-Angleterre. Les motards peuvent faire de longues distances, dans des paysages champêtres, sans devoir changer de vitesse trop souvent. Même pendant les saisons les plus achalandées, comme l'automne, Bob affirme qu'on peut toujours trouver des routes peu fréquentées. Et puis, comme il le fait remarquer, tout ce que le Vermont a à offrir aux touristes en général – des habitants sympathiques, des panoramas époustouflants, une excellente cuisine – attire également les motocyclistes.
Si l'état des routes du Vermont n'intéresse pas les autres touristes outre mesure, elle est d'une importance capitale pour les motocyclistes. Bob LoCicero explique que la qualité du bitume est pour les motards ce que sont les conditions de la neige pour les skieurs. Si on oublie les questions d'infrastructure, il affirme que le Vermont est bien placé pour tirer parti des tendances dans le domaine de la moto. Plus de la moitié des routes de l'État, soit 12 875 km sur 22 500 km, ne sont pas pavées. (« On peut même dire, ironise-t-il, que certaines sont à peine pavées. ») Pour les amateurs de moto trail, c'est un heureux mélange.
Eric Milano n'est pas le seul entrepreneur à bénéficier du mototourisme. De plus en plus, les aubergistes réalisent que les motocyclistes sont une clientèle très intéressante. Carina Thorsson, propriétaire du Gray Ghost Inn, une auberge située sur la route 100 à West Dover, à proximité d'un centre de ski, fait le gros de son chiffre d'affaires pendant les mois d'hiver. Elle a donc décidé de cibler les motocyclistes pour remplir l'hôtel pendant l'été.
Elle a commencé par faire la publicité de son établissement en indiquant la mention « Bienvenue aux motocyclistes ». Le mot s'est répandu et des groupes Harley-Davidson se sont mis à planifier des sorties dont la destination était son auberge. « Les motards sont des personnes formidables, dit Carina. Dès qu'ils apprennent qu'un endroit ou un État fait la promotion du mototourisme, ils sont au rendez-vous. »
Eric Milano souhaite qu'il en soit ainsi. Il a d'ailleurs emmené l'auteur de ces lignes faire une balade d'une demi-journée en haut de Smugglers Notch par la route en lacets. Là-haut, dans les montagnes au-dessus de Jeffersonville et de Stowe, l'air est frais, ça sent bon, la forêt est dense et les falaises, impressionnantes.
« C'est le nirvana à moto, rien de moins », conclut Milano.
The original print version of this article was headlined "Hello, Moto"